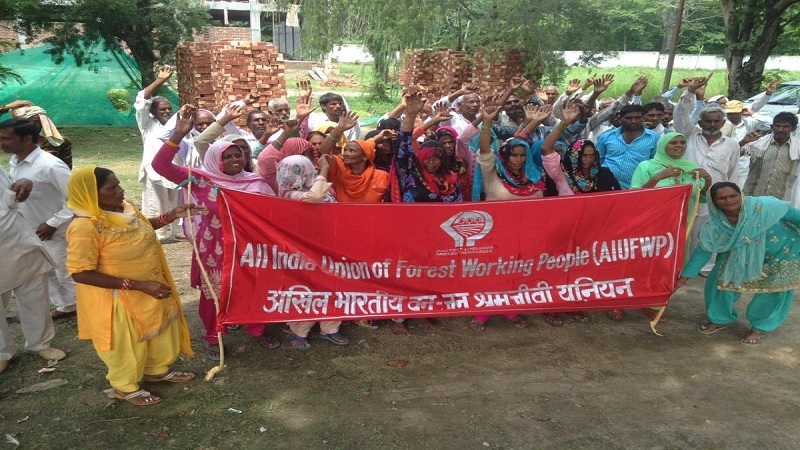 The All India Union of Forest Working People (AIUFWP) has announced its second national conference from December 1, 2021 to December 3, 2021 in New Delhi. It will discuss land, legal and constitutional rights of adivasis and other minorities in India at this conference. AIUFWP leaders Jarjum Ete, Ashok Chaudhary, Sokalo Gond, Roma Malik, Munnilal and Citizens for Justice and Peace (CJP) General Secretary Teesta Setalvad will be participating in the three-day event along with other speakers such as Land Rights Movement leader Hannan Mollah, NTUI leaders Gautam Modi and Thankappan, APIWA leader Kavita Krishnan, Bharat Jan Vigyan Jathha Dinesh Ebrol.
On the first day, leaders will discuss how forest rights issues intersect with land rights, the ongoing farmers struggle, draft amendments to Forest Conservation Act (FCA) 2021, draft Environment Impact Assessment (EIA) 2020, attack on workers' legal rights, Muslims and other minorities and Dalits. The keynote address will be given by Setalvad. The proceedings will take place starting 3 PM at the Constitution Club.
"The idea is to collectively mobilise mass peoples' movement groups and organise programmes at the national level highlighting the anti-people government policies and corporate loot of India's natural resources," said the AIUFWP in its press release.
On the second day, the AIUFWP will gather at the Gandhi Peace Foundation to discuss forest rights struggles, the milestones of the persisting battle, its challenges and future course of collective actions and strategies.
"Since the onset of independence, forest dependent communities in large numbers have been fighting for their forest rights. Though in 2006, the Forest Rights Act (FRA) was passed with the intention to compensate for historical injustices meted out to these communities, implementation at the ground level is still lackadaisical," said the AIUFWP.
Despite the enactment of the FRA, forest-dependent communities continue to face violence and discrimination by the forest department, police, paramilitary forces and district administration. According to leaders, more community members are stopped from entering forests – their land rights are cancelled without proper investigation and they are threatened, manhandled and implicated in false cases. For this reason, the union's regional community leaders will talk about reclaiming tribal folk's physical and political space in all regions and building a comprehensive development programme in forestry and agriculture along with traditional local industrial development on Thursday.
"Owing to Covid, 2020 has seen the livelihood of forest communities, landless farmers, tenant and migrant laborers, and fishermen folks affected in an unprecedented way. In the last two years, we've witnessed the government bringing forth anti-people laws and masses protesting against those with all their might," said the AIUFWP.
By this, it referred not only to contentious laws like the FCA and EIA amendments, but also the labour codes and farm laws that have recently been repealed. Still, the fact remains that the Covid-19 pandemic and ensuing lockdown resulted in forced evictions of forest-dependent communities from the forest areas by the government department.
To address this, the AIUFWP members will also explain how to build an inclusive health, education and social security programme while encouraging future generations to continue the struggle against hegemonic regimes. In spirit of its inclusive endeavour, the AIUFWP will also talk about alliances with working-class struggles and curbing of labour rights by the current regime.
The third day will be a continuation of the previous day where members discuss future plans of action.
"The AIUFWP has always endeavored to emphasize the implementation of FRA (2006). It is vocal about issues like land rights movements, the historic farmers and peasants protest, and in upholding legal rights of workers, minorities and Dalits against any and all kinds of atrocities meted out to them," it said.
Related:
Nearly 20 days later, MoEFCC shares FCA proposal in regional languages
Jal, Jungle, Zameen: Chhattisgarh Adivasis march 300kms to oppose coal mining projects
Dilution of environmental laws, a persistent tactic: AIUFWP
India farmers, Adivasis and forest dwellers condemn FCA draft changes
Forest Conservation Act: GoI suggests fundamental changes Act, despite widespread objections