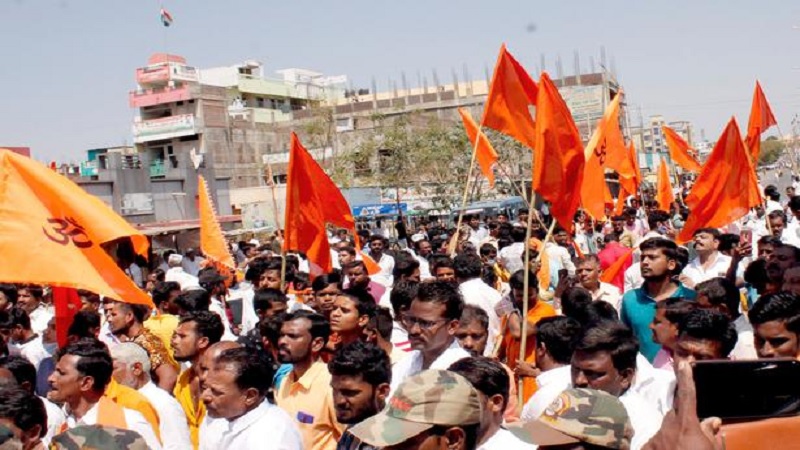 Image Courtesy:thehindu.com/Photo Credit: ARUN KULKARNI
"They broke down our door and took him away in front of my eyes, he was just sitting at home. They said they were arresting all the Muslims. But we have done nothing. They took my husband away, he is a businessman, has asthma and they did not let me give him his food and medicine when I went looking for him at the local police station," Marium Begum (name changed on request) sounds scared.
Her husband is one of the reported 165 Muslim men arrested under various sections, but she does not know why or where he is. "We are terrified, there are no men left in our colony, just women and children," she says, recalling that the community only wanted to go to the dargah near their home and pray on Shab-e-barat as they do each year. But, no one was able to pray at the dargah, as there was commotion. "Someone in the neighbourhood has even died of shock as a result," she told SabrangIndia from Aland in Kalaburagi district where Union Minister Bhagawanth Khuba, led his colleagues, and a large a right-wing mob came for a 'purification' ceremony at a reported Shivling (symbol of Hindu god Shiva), named the Raghava Chaitanya Shivalinga in the Ladle Mashak Dargah.
कर्नाटक के आलंद (गुलबर्गा) में मुसलमानों का आरोप है कि पुलिस उन्हे परेशान कर रही, उनके बच्चों को उठा कर ले गई, पुलिस के उत्पीड़न के कारण एक महिला एवं एक व्यक्ति की हार्ट अटैक से मौत हो गयी है, हिंदू संगठनों ने दरगाह में शिवलिंग होने का दावा किया है, इलाक़े मे धारा 144 लगी हुई है। pic.twitter.com/W8nSLngoJo

— Ashraf Hussain (@AshrafFem) March 2, 2022
Ladle Mashak Dargah authorities had planned a procession and Shab-e-Barat, a religious congregation in remembrance of the deceased, on March 1. Right-wing organisations also announced they will conduct a 'purification puja' to a Shivalinga located in the dargah premises. It was also the occasion of Mahashivaratri, which the Sri Ram Sena insisted was the day they must perform their 'purification' ceremony.
As a precautionary measure, Kalaburagi Deputy Commissioner Yeshwanth Gurukar imposed Section 144 in Aland for five days – from February 27 to March 3, stated news reports. Entry of Sri Ram Sena chief Pramod Mutalik and right-wing activist Chaitra Kundapur into Kalaburagi district was barred. Siddalinga Swamy, head of Andola Karuneshwara math in Jewargi taluk and the State president of Sri Ram Sena, was also barred from entering Aland taluk.
However, a large number of right-wing activists, including members of the ruling BJP and the Sri Ram Sena, gathered in Aland despite these orders. Chaos ensued, and as per local media, arrests followed, mostly of Muslims. Now, officially the situation is "under control", but the hundreds of local residents, mostly Ansaris, who say they descended from Ladle Mashak pir who is venerated in the dargah, say they are still vulnerable. There is police presence outside the homes and mostly women remain at home as the men have been "detained or arrested." According to a report in the Indian Express, as many as 167 people have been arrested and five First Information Reports (FIRs) registered. All the cases have been registered against Muslims for allegedly throwing stones and displaying weapons during attempts by both groups (Muslims and Hindu groups) access to the Ladle Mashak Dargah on Monday—despite the imposition of prohibitory orders, Aland police told the media.
A planned disturbance say locals
"Subhash Rukmayya Guttedar, the Bharatiya Janata Party's MLA representing Aland was once known as a secular man, however that is no longer the case," said a local resident. According to locals the Hindutva 'leaders' such as Kali Swami and Pramod Muthalik, of Sri Ram Sena-Rashtriya Hindu Sena, have been giving open hate calls to target Muslims, including their dargahs and mosques, especially in Karnataka. The Sri Ram Sena scheduled a 'purification' puja at the Ladle Mashak Dargah and reportedly informed the authorities, According to locals, the authorities allowed a limited number to do so after discusions, however, prohibitory orders were put in place as the Muslim day of remembrance of the deceased was also on the same day.
However, the right wing allegedly breached the orders, came in a large mob and dangerous chaos ensued in the lanes of the colony that has existed around the dargah for hundreds of years according to the locals. On the day, police and the administration had a tough time dealing with an "emotionally charged mob led by Union Minister Bhagawanth Khuba, BJP MLAs Subhash Guttedar, Rajkumar Patil Telkur and Basavaraj Mattimadu, and BJP State vice-president Malikayya Guttedar" reported The Hindu adding that the right-wing activists set off from the residence of Subhash Guttedar, MLA of Aland, and headed towards the dargah when they were stopped by the police near the bus stand and told about the prohibitory orders being in force.
According to sources, it was eventually decided by the police and community leaders that all efforts will be made to maintain peace and only 10 people will offer puja to the Shivalinga in the dargah premises. But the Hindutva group breached that agreement and the entire mob attempted to reach the dargah premises, some sat on a dharna outside the local bus stand.
The local Muslims came out of their homes on hearing this and questioned the authorities for 'applying prohibitory orders only to Muslims and not to right-wing activists' stated the news report, and locals too confirmed this to SabrangIndia. Some also objected that the authorities allowed 10 people from the right-wing organisations to offer puja in the dargah premises in the first place. According to news reports, there were some incidents of stone pelting, but locals say they were not armed with anything. The vehicles of the Deputy Commissioner, Superintendent of Police and Assistant Commissioner were damaged, reported the Hindu. "We just came out hearing people were going to the dargah. Some had plain sticks, handles of brooms, and we were peaceful. There is no Shivalinga structure, there is a stone next to the dargah and that is treated with respect by all," said a local.
Since that day, the locals have alleged that Muslims, including some women, have been placed under arrest, and the shutters have been downed by shops and businesses. However, while the authorities claim the situation is now normal, cases filed against those who violated prohibitory orders [under Section 144 of CrPC] people have been arrested. Superintendent of Police Isha Pant, told the media that there is rumour mongering in the area, but those left behind say the aftermath is as bad as the day of the clash. Two persons have reportedly died of "heart attack due to shock," say locals adding that they are not being allowed to bury the dead in the dargah as per the community tradition. "They are not allowing us to go in and dig the grave, our community members are always buried in the dargah, near our dada (grandfather/ancestor)," say the locals, adding that before this incident they have never had to seek "police permission" to bury their dead in their own ancestral graveyard. "Where shall we keep the body now," asks a woman.
SabrangIndia reached out to Praveen Sood, IPS, Director General & Inspector General of Police, and was told he is busy in meetings. The report will be updated when he responds.
Related
Harsha Jingade's sister distances herself from calls for boycott of Muslims
Who is lobbying to get activist actor Chetan Kumar deported to the US?
Hate Offender: Kali Swami, calls for 10 Muslim heads to avenge 'one Hindu death'
Pirana: Attempts to erase the history of the 600-year-old dargah?
Exclusionary urban planning of Bombay Hotel area, Ahmedabad, has created class, religious inequities