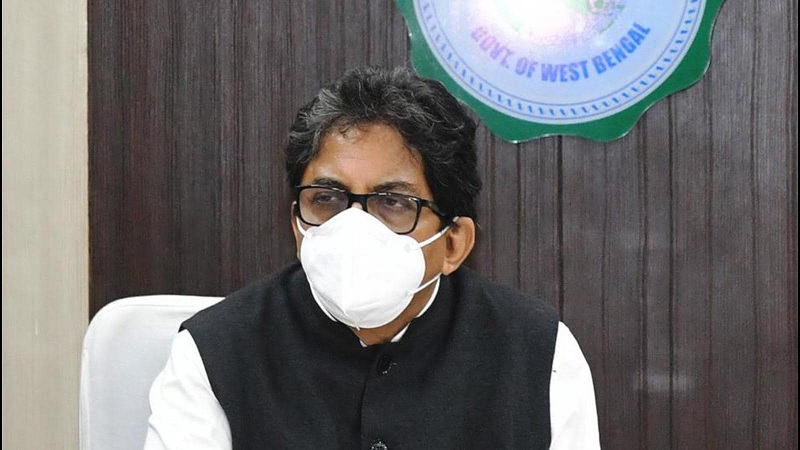 Image Courtesy:hindustantimes.com
Just when Mamata Banerjee thought she had won the round by appointing Alapan Bandyopadhyay as her Chief Adviser after his retirement, thus preventing his transfer to Delhi, the former West Bengal Chief Secretary has been issued notice under the Disaster Management Act.
The Centre has asked him to explain in writing by Thursday as to why action should not be initiated against him for failing to attend a Cyclone Yaas review meeting presided over by Prime Minister Narendra Modi in Kalaikunda.
The Telegraph reports that the Centre's stand is that by abstaining from the meeting Bandyopadhyay had violated section 51 (b) of the Disaster Management Act, 2005.
However, it may be recalled that in her letter to the Prime Minister on Monday, Banerjee had clearly explained the circumstances that led to her and Bandyopadhyay not attending the meeting on May 28, 2021. Banerjee had said in her letter, "I had pre-scheduled aerial surveys and review meetings in the affected areas myself, but I re-scheduled everything to rush to Kalaikunda to attend the meeting with you accompanied by the Chief Secretary of my State." Banerjee did aerial surveys in North and South Parganas before flying to Kalaikunda, but they got stuck in Sagar as flight permissions were delayed to accommodate the PM's movement. However, both still managed to reach by 2:30, well in time for the meeting.
"I wanted to have a quiet word with you, a meeting between the Prime Minister and the Chief Minister as usual. However, you revised the structure of the meeting to include a local MLA from your party and I am of the view (based on my knowledge of affairs of the State for about 40 years) that he has no locus to be present in a PM-CM meeting," Banerjee had reminded Modi in her letter. Thereafter, Bandyopadhyay was in touch with a senior official accompanying Modi, requesting him to sort out the matter or organise a PM-CM meeting. However, "Despite a series of messages, we got no positive result or response."
Thereafter Banerjee's letter reveals that she did indeed meet Modi and personally hand over a report to him, and sought permission to proceed to Digha where a meeting was due and participants were waiting. "You expressly permitted us to take our leave. The matter must and ought to end there," Banerjee had said in her letter.
However, some parts of this narrative do not match with the Centre's version of events. The Telegraph reports that in their letter sent to Bandyopadhyay on Monday night the Centre claims, "The Prime Minister and other members of his entourage waited for nearly 15 minutes for the officers of the state government to arrive." The Centre's letter goes on to say, "In view of the absence, the Chief Secretary was called by an official as to whether they wanted to participate in the review meeting or not. Thereafter, Chief Secretary, Government of West Bengal, arrived, along with the Chief Minister of West Bengal, inside the meeting room and left thereafter immediately."
This clearly establishes that both Bandyopadhyay and Banerjee did indeed arrive in the meeting room, though does not mention anything about handing over of the report and skips straight to both leaving immediately, leaving the matter of seeking permission before leaving rather nebulous. However, it is hard to believe that a CM could just walk away from a PM's meeting without his permission, and if permission to leave was indeed granted, how can the Centre still claim that they skipped the meeting?
SabrangIndia had previously reported that on May 28, the Centre had passed an order asking Alapan Bandyopadhyay to report to Delhi on May 31 by 10 A.M. The timing of the order was interesting given how Bandyopadhyay was all set to retire on May 31, but was given a three-month extension by the Centre on May 24 at the request of the state government.
The reason behind the sudden volte face was widely believed to be Banerjee and Bandyopadhyay's alleged absence during the Kalaikunda meeting. In fact, Banerjee had addressed the elephant in the room in her letter to the PM saying, "I really and sincerely hope that this latest order is not related to my meeting with you at Kalaikunda. If that be the reason, it would be sad, unfortunate and would amount to sacrificing public interest at the altar of misplaced priorities."
Related:
WB Chief Secy retires, becomes Mamata Banerjee's Chief Adviser
Untenable, unprecedented and unconstitutional: Mamata Banerji on WB Chief Secy's transfer order
Mamata Banerjee transfers IPS, IAS officers shortly after taking oath