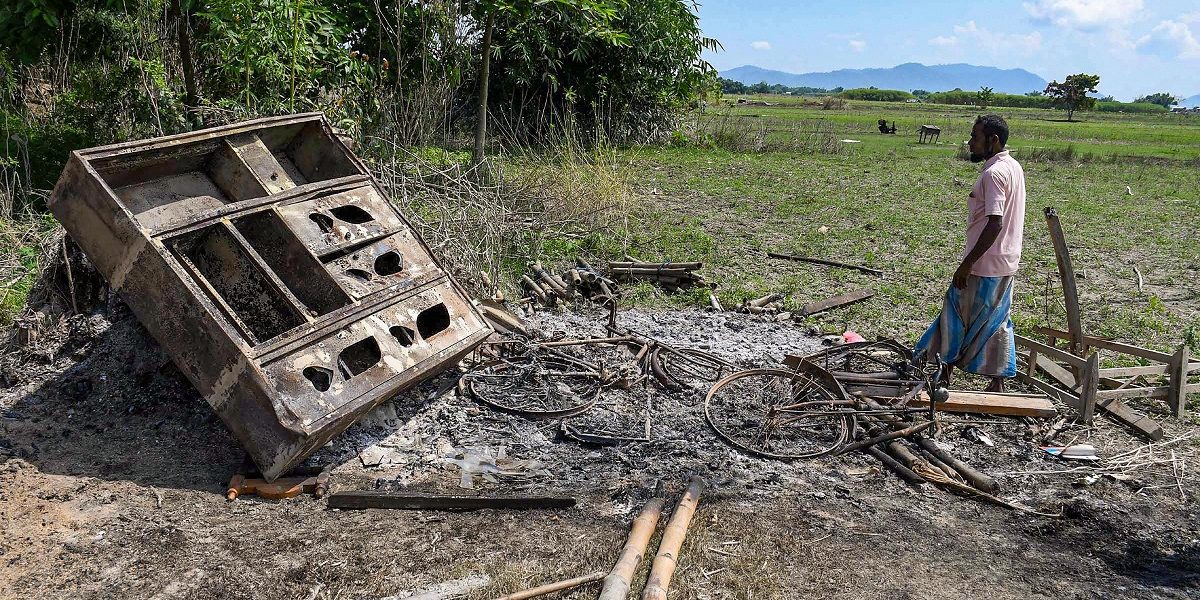 Image: PTI
This year, the Assam government continued to further its exclusionist, often communal, agenda via a variety of policy decisions and initiatives that deliberately ignore or leave out minority groups or do little to alleviate their suffering. While the initial months of the year were spent campaigning in the run up to the Assembly elections, the communal agenda that was laid out even in the election manifesto was hard to miss, and picked up pace after Himanta Biswa Sarma was sworn in as Chief Minister.
Yet another NRC reverification plea
Soon after taking oath as the 15th Chief Minister of Assam, Himanta Biswa Sarma said his government would re-verify the National Register of Citizens (NRC) list. Addressing a press conference soon after the swearing in ceremony, Himanta Biswa Sarma said his government "wants re-verification of 20 per cent in the bordering districts and 10 per cent in other districts" in the NRC list. The areas where reverification is sought most, invariably lie in regions close to the Bangladesh border, and are home to a large number of Bengali-speaking Hindus and Muslims.
The Assam NRC final list was published on August 31, 2019 that excluded a staggering 1.9 million people (19 lakhs) from the list including hundreds of those who did not submit their claims. No reasons for rejection have been made available for this exclusion so far, as the process remains in limbo due to the diversion of resources to combat Covid-19.
In May this year, Assam's State Coordinator of the NRC moved Supreme Court demanding a reverification of the NRC published on August 31, 2019 saying that due to major irregularity many names of ineligible people had made it to the list. In his intervention application, he also prayed for the deletion of ineligible voters from the voters list and seeks update of the 1951 NRC. The application states that there was absence of backend verification of electoral rolls and the process of Office and Field Verifications being used to check applications was unable to detect "Manipulated or manufactured secondary documents".
This is a curious allegation given how crores of taxpayer funds were invested in the mammoth exercise of conducting the NRC update, and it involved multiple layers of checks and balances. However, what appears to have disappointed the regime is how many Muslims still manages to make it into the final NRC. The other minority considered a thorn in the regime's side is that of Bengali Hindus.
Both these communities – Bengali speaking Hindus and Muslims – have been accused of being "outsiders", "infiltrators" and "illegal migrants" from Bangladesh. This despite that fact that a large community of Bengali speaking people was settled in the state by the British. While Bengali Hindus were resettled here to help with the administration on account of their English language skills, Bengali speaking Muslims often served as hardy farm labourers in the various large-scale agricultural enterprises since way before Independence. The entire region that is spread across West Bengal, Bangladesh, Assam and even parts of Myanmar was a highly porous region and people moved across freely through it, mainly for employment purposes.
It is noteworthy that a similar plea was made before the Supreme Court previously by Assam Public Works, an NGO that is at the center of the NRC case in the SC. It demanded a complete reverification of the list. But the apex court rejected the plea on July 23, 2019 saying, "We have also read and considered the response of Mr. Hazela, the learned Coordinator on this aspect of the matter and specifically, the stand taken by him in his report dated 18.7.2019, which is to the effect that in the course of consideration/adjudication of the claims, re-verification to the extent of 27% has already been done. In fact, in the said report, the learned Coordinator has mentioned district wise figures of such re-verification which has become an integral part of the process of consideration of the claims and objections on account of the procedure adopted. In that view of the matter, we do not consider it necessary to accede to the prayers for a further sample verification as prayed for on behalf of the Union of India and the State of Assam."
Read more here.
What's worse is that the exclusion from the NRC has also placed hurdles in the path of availing various government schemes using Aadhaar. At present an estimated 27 lakh people do not have access to Aadhaar related benefits, many haven't even been issued Aadhaar cards! Additionally, people continue to be served new notices every day that require them to defend their citizenship before Foreigners' Tribunals (FT). These people are either dubbed doubtful or D-Voters by the Election Commission, or seen as "Suspected Foreigners" by the Assam Border police who then refer them to FTs. This has only added to the woes of people who are facing "othering" and marginalization at an unprecedented scale.
Two-child policy
Shortly after being sworn in, Himanta Biswa Sarma proposed a two-child policy for the state of Assam. Sarma insisted that it was "the only way through which we can eradicate poverty and illiteracy from the Muslim minority of Assam." The fact that he categorically named the Muslim community showcases how the singular aim of the policy was to control the size of Muslim families. But this is not the first time such an idea has been floated.
It is noteworthy, that in 2019, the Assam Cabinet had approved the "two-child" norm as mandatory for getting a government job or continuing in one. Even before this, in 2017, the Assam Assembly had passed a Population and Women Empowerment Policy according to which people with more than two children are barred from contesting local body elections. This was seen as a direct attempt to restrict the number of Muslims in the state administration given their traditionally large families.
Now, there is no denying that child marriage is prevalent among a large number of unlettered members of the community. Also, many of them reject family planning and contraception due to religious reasons. Thus, not only is there a high rate of teenage pregnancies, women continue to bear children for a larger part of their fertile years. In fact, in a video interview to SabrangIndia's sister organisation Citizens for Justice and Peace (CJP), Professor Abdul Mannan of the Guwahati University had explained the reasons behind the growth in Muslim population.
However, other scholars have also addressed the paranoia surrounding the Muslim rate of growth and even addressed graver issues surrounding the lack of family planning. SY Quraishi in his book The population Myth: Islam, Family Planning and Politics in India pointed out, "Family planning acceptance is also dependent on delivery of health services to the communities and individuals in question. Here, again we find Muslims lagging. According to NFHS-4 data, only 77 per cent of Muslims women in the age group of 15-49 has received antenatal care from a skilled provider, which is the lowest among all religious groups. They also lag behind in accessing delivery services at healthcare facilities and receiving advice on family planning from community health workers. This results in lower acceptance of family practices by the community."
Read more here.
Cow protection law
Another law that can be seen as aimed at minorities is the new cow protection law. The provisions of the Assam Cattle Preservation Bill, 2021, that was passed in the State Assembly on August 13, 2021 despite an Opposition walkout, are such that can lead to increased scrutiny of the dietary habits of minorities, but also lead to marginalization and ghettoization.
The new law replaces the Assam Cattle Preservation Act, 1951 and prohibits the sale and purchase of beef in areas inhabited by non-beef-eating communities and within a radius of 5 km of a temple or a satra (Vaishnavite monastery). Other provisions include greater scrutiny of the process to obtain a "fit for slaughter" certificate by a Veterinary Officer, stricter rules regarding transport of cattle, especially across state lines, and restrictions on the sale and purchase of beef in area inhabited by Hindus and other non-beef eating communities. This Bill has certain provisions that can be misused to harass people, particularly those hailing from beef-eating communities.
For example, if a person from a beef-eating community lives in an area inhabited predominantly by non-beef eating communities, he will either have to give up beef consumption or ensure sale and purchase are carried out in an area outside the neighbourhood. Bringing home purchased meat could also be difficult given how it will be difficult to prove where it was purchased. A virtual target could be placed on his back, only because of what he eats as neighbours could feel empowered to surveil and complain against such people. Sometimes, such complaints can be made out of sheer vendetta or for gentrification purposes.
Similarly, if a new temple or satra is built in any area, automatically a 5 km radius around it becomes a no-beef zone, thus causing inconvenience to beef-eating residents of the area. This can once again be used as a strategy to push beef-eating communities into ghettos and further marginalise them. This could also be a shot in the arm for cow-vigilantes and lead to communal violence and mob lynching in the name of cow-protection.
Placing the burden of proof that cattle are being transported for agriculture or animal husbandry on the transporter of the cattle also makes them vulnerable to surveillance or even attacks by cow-protection groups.
The Bill also gives wide powers to the police to enter and inspect premises where they suspect any offense under the Act is being committed. This can be used as an intimidation tactic against minorities. Moreover, corrupt officials can easily turn this into an extortion racket.
Imprisonment for 3-8 years appears harsh for such a crime, and a fine of Rs 3-5 lakhs is rather steep.
During the session on August 13, the Opposition Congress, AIUDF and CPI (M) proposed at least 75 amendments and asked the government to refer the bill to an Assembly select committee for further discussion, but these proposals were rejected by Sarma. Samra only accepted one amendment, to remove 'buffaloes' from the definition of cattle in the Bill. In protest, thus, the opposition walked out. After Speaker Biswajit Daimary announced the bill as passed, slogans of 'Bharat Mata ki Jai' and 'Jai Shree Ram' were heard from the BJP MLAs in the House.
Read more here.
Lip service to Tea Tribes
Assam's Tea Tribes were given a raw deal yet again, with the state's Chief Minister steering clear of making any concrete commitments when it comes to specific demands of the community, despite holding a five-hour long meeting with representatives of the tea tribes as well as intellectuals on August 30. The final outcome of the meeting was just a promise to set up a few sub-committees to study the needs of the community and submit a report.
In colonial times, after tea leaves were found growing by a British officer named Robert Bruce in 1823, the British brought several people hailing from Adivasi and tribal communities of other Indian states (present day Uttar Pradesh, Bihar, Jharkhand, Odisha, Andhra Pradesh and Chhattisgarh) to work in tea estates in Assam. By 1862, there were 160 tea estates in Assam. Many of these communities have been granted Scheduled Tribe (ST) status in their home states.
In Assam, these people came to be known as the Tea Tribes. They are a heterogenous, multi-ethnic group and speak languages as diverse as Sora, Odia, Sadri, Kurmali, Santali, Kurukh, Kharia, Kui, Gondi and Mundari. They worked in these tea estates in colonial times, and their descendants have remained in the state to this day still working in tea estates, making Assam their home and adding to its rich socio-cultural tapestry. Today there are over 8 lakh tea estate workers in Assam and the total population of the Tea Tribes is estimated to be more than 65 lakhs.
Two of their greatest demands pertain to improvement in wages as well as being granted ST status in Assam. But after holding a marathon meeting titled "Humder Moner Kotha" which means "our thoughts", where Sarma met with and held detailed discussions with community leaders and eminent citizens, he artfully dodged these two demands. "We're exploring robust short to long term action plan for Tea Tribes. Assam Govt will constitute 7 sub-committees to study all issues and will submit reports by Dec 2021. Based on the recommendations, GOA will include provisions for their socio-eco upliftment in next Budget," said Sarma with no mention at all about granting Scheduled Tribe status to tea tribes or addressing the matter of their abysmal daily wages.
Read more here.
Eviction drives targeting minority families
Amidst all of the above, perhaps the most blatantly communal policy decision of the Assam state government has to do with eviction of "encroachers" from public land… a pet project of the Chief Minister. As we have pointed out, these elaborate eviction drives, always carried out amidst heavy deployment of police and paramilitary personnel are disproportionately targetting minority community families. The drives shockingly started during the monsoon season when the entire riverine region of the state gets flooded! The fact that all this happened amidst a raging Covid-19 pandemic showcases just how little the government cared about its own people, perhaps because it only saw the families being evicted as "outsiders" and "encroachers".
On September 20, as many as 200 families, all belonging to the minority Muslim community, were left homeless after they were forced out of their modest huts in Fuhuratoli in Darrang District. It is noteworthy, that 49 families nearby had been evicted from the same area on June 7. Then came the fateful day of September 23. At midnight residents of Gorukhuti were sent notice of eviction via Whatsapp, in complete contravention of set procedure and law. The next morning, they were thrown out of their modest huts, with little time to gather together their meagre belongings. District officials had arrived with armed police personnel, and when people protested the injustice, police opened fire. Two people, Maynal Haque and Sheikh Farid, were killed in the firing.
While Maynal Haque was a daily wage earner, responsible for feeding his family of elderly parents, a wife and three small children, Sheikh Farid was a 12-year-old boy returning home from a nearby Aadhaar Card centre. What was also shocking was how, again in complete contravention of set procedure, police did not shoot people below the knee. In fact, victims and survivors sustained bullet wounds to their head, face, chest and stomach.
And since then, at least three infants belonging to evicted have died, purportedly due to being forced to live in makeshift tents that offer little defence against the elements. The youngest was just 5 days old.
But instead of showing compassion, the administration took their policy of exclusion to another level when they submitted before the Gauhati High Court that land has been demarcated to rehabilitate evicted and displaced people, however, their citizenship will have to be ascertained before confirming their eligibility. On November 3, a Bench comprising Chief Justice Sudhanshu Dhulia and Justice Kakheto Sema was hearing a batch of petitions related to rehabilitation of these evicted families. Advocate General Debojit Sakia submitted that rehabilitation of evicted and displaced people will be carried out and that 1,000 bhigas of land were set aside for this purpose. However, in order to determine eligibility, it will have to be ascertained if the evicted people were indeed landless migrants, including ascertaining if they had a similar status in the districts from where they had originally migrated. He further said, it would have to be determined if they were landless on account of effects of erosion. Finally, he submitted that their names will have to be checked against the National Register of Citizens (NRC) to ascertain if they are indeed Indian citizens. Read more here.
Related:
Govt will re-verify NRC lists, enact a law against 'Love Jehad': Assam CM
Yet another NRC reverification plea moved before SC
Is the Assam CM's push for a "two-child policy" a tactic to exclude minorities?
No beef within 5 kms of temples: Assam's new cow protection bill
Assam Cattle Preservation Bill passed in Assembly amidst Oppn walkout and chants of 'Jai Shree Ram'
Assam Tea Tribes served another set of vague promises
Are encroachment removal drives in Assam selectively targeting the minority community?
Evicted families will be rehabilitated only if name appears in NRC: Assam Gov't to Gauhati HC