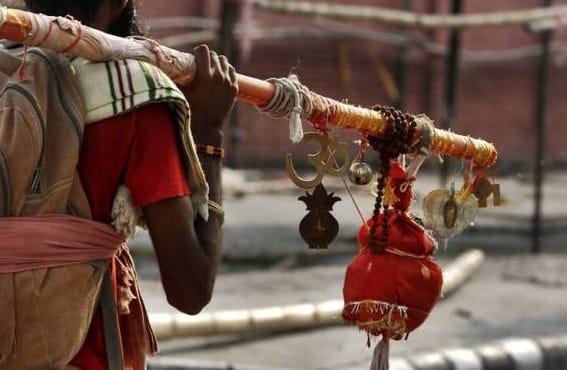 Representation Image

The Aligarh Police has filed an FIR against two men accused of raping a woman during the Kanwar Yatra, an annual pilgrimage undertaken by devotees of Lord Shiva, reported The Indian Express.
On March 13, the Aligarh Police tweeted that the woman couldn't keep up with her husband while carrying the Kanwar in Harduaganj. That's when two men, known to her, offered to drop her home on their bike, but took her elsewhere and raped her.
थाना हरदुआगंज क्षेत्र से सम्बन्धित घटना में अभियोग पंजीकृत है,अभियुक्त पूर्व से पीड़िता के परिचित है, #SPRA के नेतृत्व में अभि0 की गिर0 हेतु 02 टीमें गठित कर फिरोजाबाद व आगरा में सम्भावित स्थानों पर दबिश दी जा रही है। के सम्बन्ध में @sspaligarh श्री मुनिराज जी द्वारा दी गई #बाइट pic.twitter.com/SdknfAn6Px

— ALIGARH POLICE (@aligarhpolice) March 13, 2021
Aligarh's Senior Superintendent of Police, Muniraj G, has said that two police teams have been formed to apprehend the accused men. "One team went to Agra and another to Firozabad. Strict action will be taken against the accused. The woman has also been sent for her medical check-up", he said.
On March 1, there was ruckus in the Uttar Pradesh Assembly over the alleged rape and murder of a 16-year-old Dalit girl in Aligarh district, reported the IE. The body of a Dalit teenager who had gone to get fodder, was found dumped in the wheat fields near her village on Sunday, February 28.
According to the Uttar Pradesh police, the teenager had reportedly gone to cut grass for fodder and had not returned home as usual by evening. The police have confirmed that she has been murdered, and her body was found later that evening. According to the Amar Ujala, it is being suspected that the teenager may have also been sexually assaulted.
BSP Legislature Party Leader Lalji Verma reportedly demanded a debate over the issue of rising crime against women especially Dalits. Parliamentary Affairs Minister Suresh Khanna responded in the Assembly that an FIR had been registered in the case and five teams have been formed to track down the culprit, as per a report in the IE. But BSP members walked out of the House alleging that women were not safe in the state and adequate action was not being taken against perpetrators.
According to the latest data stated in the National Crime Record Bureau (2019), Uttar Pradesh reported the highest number (59,853) of incidents of crimes against women and also the highest number of crimes against girl children under the Protection of Children from Sexual Offences Act, 2012 with 7,444 cases.
Related:
Dalit teenager killed, body dumped in Aligarh field
Uttar Pradesh records highest crimes against Dalits: NCRB
UP: Three men arrested for sexually assaulting a working woman
Unnao: Dalit girls found tied up in fields; 2 dead, 1 critical
Woman allegedly gang raped, brutalised inside UP temple
Uttar Pradesh: 19-year-old woman allegedly gang-raped when returning from Navratri event