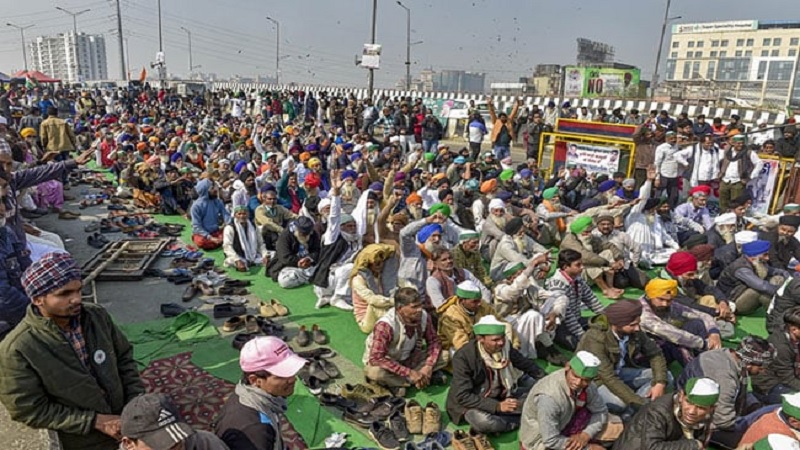 Image Courtesy:ndtv.com
"I will hang from the stage but I will not leave the stage," farmer leader Rakesh Tikait said, when he spoke to the hundreds of farmers who have been sitting on a peaceful protest at Ghazipur for over two months now. Late on January 28.,Tikait who has also been here at the protest said "attempts were being made to create violence, we were ready to talk, but they want to create trouble, the Police will be responsible if something happens."
As shown on a live report by NDTV, Tikait said he will continue the sit-in protest, and even wait for drinking water to be brought. According to news reports Uttar Pradesh administration has also served a notice to Tikait and the protestors to vacate the spot, citing this is causing "public nuisance". He had earlier said he would be available for discussions with the police and administration as a law abiding citizen, however things took a stressful turn when some officials reached the stage where the farmer leaders were speaking from urging supporters to stay calm and peaceful.
At the time of going to press, no arrests have been made yet, but according to multiple media sources, a police crackdown on the farmers protest at Ghazipur seems imminent. The CCTV cameras, water supply, food supply, have already been discontinued from the area, reported multiple media houses. According to reports, the Ghaziabad District Magistrate has also ordered all protesters at Ghazipur to vacate the spot else they are likely to be removed later at night.
Heavy police deployment was posted at the protest site since January 26, and it has now increased manifold, more barricades have been put up and buses have been lined up.
Democracy at Stake ?

Electricity & Water supply cut and heavy Police deployment at Ghazipur border.#FarmersProtest #ghazipurborder pic.twitter.com/Zi8dMJ15hj

— Kisan Ekta March (@KisanEktaMarch) January 28, 2021
The Ghazipur border and the Delhi-Meerut highway has been sealed on one side since November 26, when the protest by farmers, demanding the repeal of the farm laws, began. After January 26 chaos, including the tear gas and confrontation at Akshardham crossing, less than 10 kilometers from the protest venue, security deployment was intensified. On January 28, security personnel also conducted a flag march at the Ghazipur border.
Related:
Farmers protest sites remain on high alert on Delhi borders
We stand unwaveringly with the farmers' struggle: AIKSCC
SKM asserts farmers unity remains intact!
Why did Delhi Police mislead us, not stop the outsiders who initially broke the
Attempt to vilify the farmers protests will create unhealthy atmosphere
Kisan Ganatantra Parade: How the mainstream media ignored ground realities
Deep Sidhu defends himself! Claims Red Fort was a result of public anguish
Amit Shah chairs high-level meeting, directs additional security