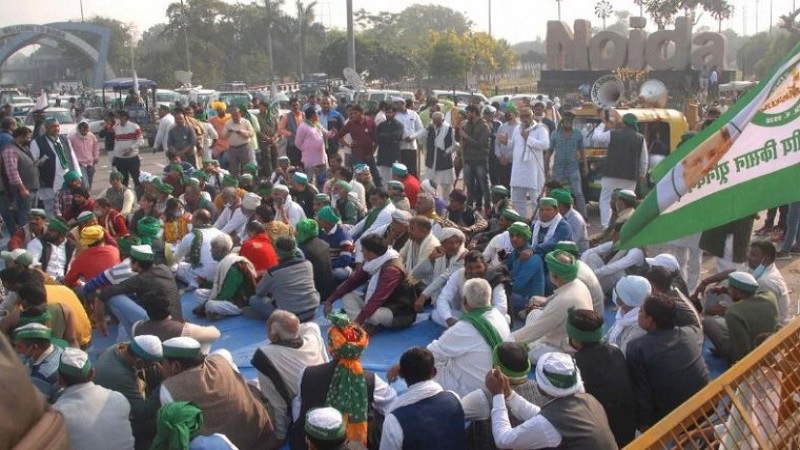 Image Courtesy:magzter.com
Sick of the central government's patronising behaviour, Indian farmers reiterated their demand of repeal of the three agriculture laws as the whole and sole agenda of the farmers' movement, during a press conference at Singhu border on December 4, 2020.
All India Kisan Sangharsh Coordination Committee (AIKSCC) General Secretary Hannan Mollah said that the organisation has called for a Bharat Bandh on December 8 all over India where roads and other modes of communication will be closed down similar to previous protests. As per reports, this will be followed by picketing of all Ambani and Adani malls.
"The central government cannot play with us. They call these discussions, trying to show people that they are trying to talk with us. However, they have spent every discussion trying to convince us about the benefits of these laws. Henceforth, we will only agree to talks if they submit their agenda in wiring. We have studied these laws and understand it better than the central government. Farmers know them better than the government. We don't want your [the government's] lecture," he said.
Earlier in the day, Delhi police sent a notice to Mollah on December 3 charging him with seven years of imprisonment for protesting at Parliament Street on September 25. At the time, Mollah was present at Jantar Mantar in Delhi for a routine protest meeting. Yet, city police filed a complaint against the farmers' leader and called him to court on December 10.
"The BJP [Bharatiya Janata Party] Government is taking recourse to Epidemic Diseases Act, 1897 to curb political protests. This is a clear violation of fundamental rights and the BJP Government is seeking to clampdown democratic protests on the pretext of the pandemic and the lockdown," said the AIKSCC in a press release.
The organisation strongly condemned the "cowardly effort" by the BJP Government to use police force to intimidate leaders and activists protesting against anti-Farmer Acts.
Further, they accused the Union government of misusing provisions of the epidemics Act throughout the lockdown specifically on farmers protests against government policies and against organisations building resistance to the government.
"Violations by RSS-BJP on numerous occasions are ignored. We call upon all democratic organisations to rise up to protect our right to protest. We demand unconditional withdrawal of cases filed across India on protesting farmers, workers and activists," they said.
Accordingly, the organisation called upon all farmers units nationwide to protest against the attack on their democratic rights and the notice issued on Mollah December 5.
"Effigies of Narendra Modi, Amit Shah, Adani and Ambani will be burnt all across India in large numbers. Our only demand now is the repeal of the three Acts," said Mollah.
Related:
We will gherao Delhi if laws are not withdrawn: Farmers' leaders
Govt must repeal the new farm laws: Civil society
Govt buys itself time to negotiate, tells farmer unions to submit point-by-point objections
Will the Agriculture Minister try to convince farmers to suspend their protest?
Intentions as pure as Gangajal: PM to farmers
When sports stars, politicians return awards citing betrayal of farmers, the world notices
Go ahead, call me a Khalistani!
Farmers Protest: Bad journalism is doing more damage than water cannons!