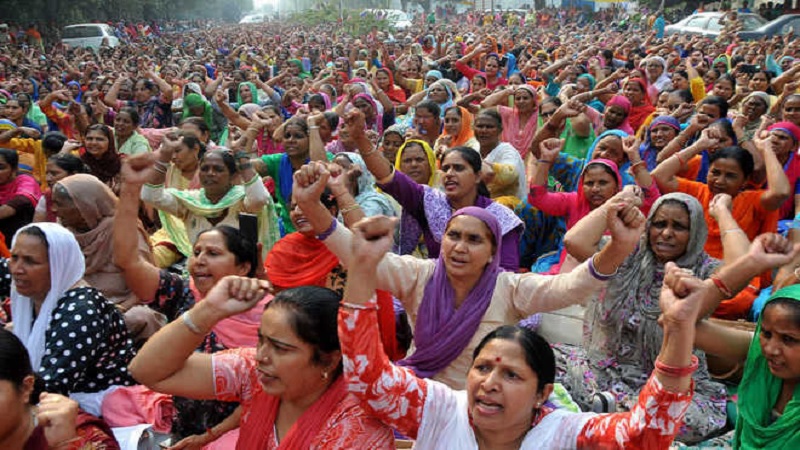 Image Courtesy:tribuneindia.com
The All-Punjab Anganwadi Workers' Union called for a state-level protest followed by a march towards Vidhan Bhawan on March 4, 2021 to reiterate long-standing demands of workers, Union President Hargobind Kaur told SabrangIndia.
"The Punjab government treats us like second-class citizens. Home Ministry officials take a long-time meeting with us and even then, they tell us they can't do anything. It is horrible how they are treating us," said Hargobind Kaur.
The anganwadi leader talked about how for at least five years, workers have been demanding minimum wages of monthly Rs. 24,000 and Rs. 18,000 for anganwadi workers and helpers respectively. Yet workers only receive Rs. 7,500 per month while neighbouring Haryana pays Rs. 11,000 per month to its workers.
In response, Social Security and Women and Child Development Department Principal Secretary Raji Srivastava told SabrangIndia, "Workers are asking for more wages after referring to payment from other states. We have sent their demands to the finance department. We will address their problems with due consideration."
Kaur questioned what happened to the money sent by the central government to pay people at anganwadis. Similarly, she pointed out that while pregnant women received as much as Rs. 6,000 cash incentive under the Pradhan Mantri Matru Vandana Yojana (PMMVY) anganwadi workers and helpers haven't received their dues for three years. The scheme has now been clubbed with the integrated child development services (ICS) as per the 2021-22 budget considering both schemes "suffered greatly" after the lockdown and closing of Anganwadi centres. The revised estimate for PMMVY – Rs. 1,300 crore for 2020-21 – was barely half of what was initially allocated for the program.
Another demand of the Union is the provision of smart phones as promised in 2012. The Union leader said that the central government has already given the money for the same but the state government has not finished the process.
"The state government has the money but we have no idea how it is being used. The Home Ministry tells us they will talk to the Finance Minister. Meanwhile, the Chief Minister hasn't met us once," she said.
Last year, the Union demanded regularisation of their services and payment of creche workers' salaries along with the above demands. At the time, the government made efforts for the same and paid ex-gratia amounts of Rs. 1 lakh and Rs. 50,000 to retired anganwadi workers and helpers respectively.
However, creche workers have not received wages for the last 22 months, said Hargobind. Srivastava said that a statement regarding the same has been sent to the finance department. Further, creches do not have food to feed their children since January 2017, she claimed.
Similarly, anganwadi facilities also have not been upgraded to supply water, efficient toilet services. This despite the fact that anganwadi workers were among the frontline workers during coronavirus.
"After all this, they say anganwadi workers protest too much. That is why we are alive. On March 4, we will assemble in the evening and reiterate our longstanding demands," said Hargobind Kaur.
When asked about the pending improvements, Srivastava said, "We have taken up a focussed approach to solve these problems since December 2020. Roughly by February 28, there will be 100 percent water supply in anganwadis. Toilets will also be available soon, by March 31."
Related:
Allahabad HC seeks response from UP Gov't over Anganwadi Project implementation
Reopen Anganwadi Centres, ensure proper nutrition to women and children: SC
Will Anganwadi workers ever get their due?
Lakhs of anganwadi workers observe 'Lalkar Diwas'