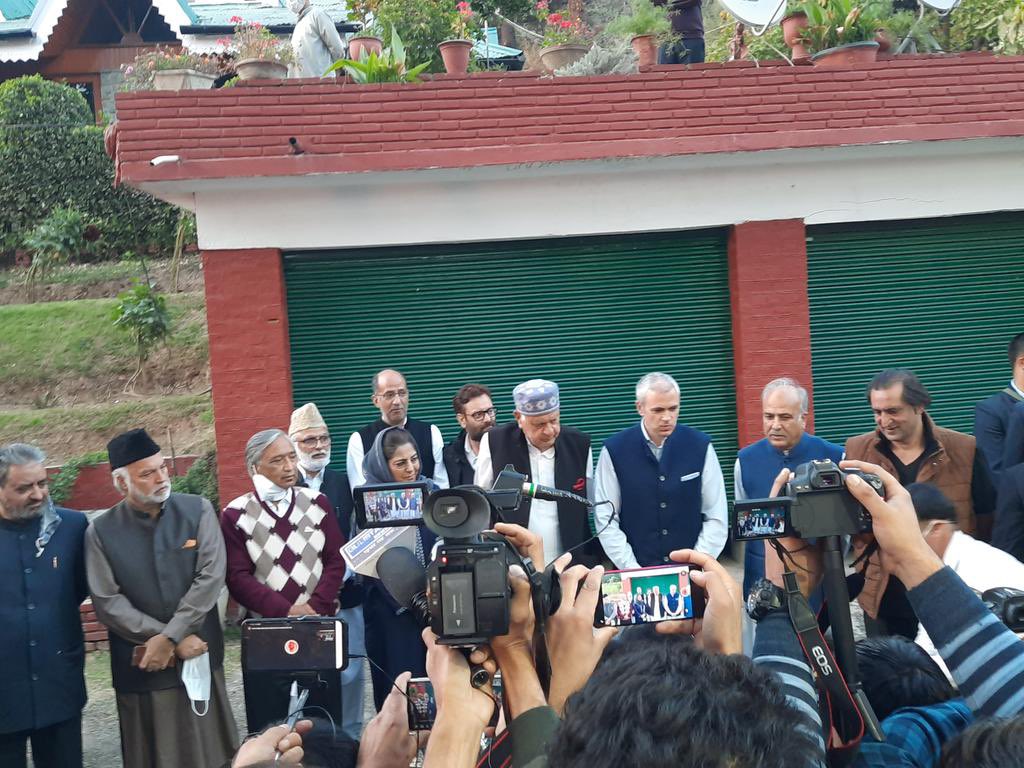 Politics in the Union Territory of Jammu and Kashmir is all set to see massive ground activation as most regional parties have come together on Thursday to form the People's Alliance that will jointly fight against the abrogation of Article 370 in Jammu and Kashmir.
"We have named this alliance as People's Alliance for Gupkar Declaration. Our battle is a constitutional battle, we want the government of India to return to the people of the State the rights they held before 5th Aug 2019" – Dr Farooq Abdullah. pic.twitter.com/lCz9vDHT83

— Sarah Hayat Shah (@SaraHayatShah) October 15, 2020
All the signatories to the Gupkar declaration have given a formal name to the grouping: People's Alliance. The alliance will constitutionaly fight for the restoration of August 4 position of J&K. pic.twitter.com/HJJfdF4DGo

— Najmu Saqib (@SAAQQIIB) October 15, 2020
Most of these leading politicians, who met at National Conference (NC) president Farooq Abdullah's home on Thursday, were under detention, on various charges including the PSA, till a few days ago. The Peoples Democratic Party (PDP) president Mehbooba Mufti was the last to be released at nearly midnight, a couple of days ago. After her release from a 14 month-long detention, Mehbooba Mufti, was met and invited by former Jammu and Kashmir chief minister Farooq Abdullah and vice-president Omar Abdullah to join a meeting of Gupkar Declaration signatories on Thursday.
My father & I called on @MehboobaMufti Sahiba this afternoon to enquire about her well-being after her release from detention. She has kindly accepted Farooq Sb's invitation to join a meeting of the Gupkar Declaration signatories tomorrow afternoon. pic.twitter.com/MR9IQPFW2T

— Omar Abdullah (@OmarAbdullah) October 14, 2020
The "People's Alliance" has pledged to "uphold the Gupkar Declaration," passed by them in 2019, to protect and defend the identity, autonomy and special status of Jammu and Kashmir. These 'pro-India' political forces of Kashmir will fight for the restoration of Jammu and Kashmir's special status and the resolution of the larger Kashmir issue, as the leaders had declared when they were released after long periods of detention. The parties include: National Conference, People's Democratic Party, People's Conference, the CPM and other outfits.
This united force is something that the J&K Union Territory administration, and the Bharatiya Janata Party-led union government will now have to engage with. The last time the union government had put a blanket lockdown on the state, and detained all major political leaders and activists, before revoking Article 370 and the bifurcation of J&K into two Union Territories (UTs). The BJP desperately needs a new political strategy now. The alliance is a worrying development for New Delhi, reported The Telegraph, because it comes at a time when the country faces an aggressive Chinese army on the Ladakh frontier. China accuses India of "unilaterally" creating the Union Territory of Ladakh, and the August 5 moves are seen as the main reason behind the Chinese offensive, stated the news report.
According to former chief minister Farooq Abdullah the alliance felt that "the political issue of the state has to be resolved as quickly as possible and that can only be done through dialogue by peaceful means with all the stakeholders who are involved in the problem of Jammu and Kashmir". The NC president and Srinagar MP, appeared in front of the media with his son, former chief minister Omar Abdullah, former chief minister Mehbooba Mufti, Sajad Lone of the People's Conference, the CPM's Mohammad Yousuf Tarigami and other leaders. The Congress, which was part of the Gupkar Declaration, did not turn up for the meeting, stated The Telegraph.
"All the rights snatched from us should be returned. (Also) Kashmir's political issue is awaiting a solution for a long time. We want steps to be taken to ensure its immediate resolution," Farooq Abdullah told the media.
The Telegraph quoted a "leader privy to the meeting" as saying, "We want a structural response to last year's assault on our identity. They (Centre) have humiliated the people of Jammu and Kashmir, particularly those who stood by the idea of India, by taking away our identity, dividing our state into two units and reducing them to Union Territories."
While the leaders were busy with the meeting at Farooq's residence, anger was writ large on faces of ordinary Kashmiris passing by, the news report noted, adding that, "many on motorcycles and cars swore under their breath at the leaders". It stated that "Kashmiris in general have accused the leaders of strengthening India's cause in Kashmir by betraying the dominant azadi struggle."
The two-hour meeting at Farooq's Gupkar residence also saw Mehbooba stepping out of her residence for the first time after her release. She first went to her father Mufti Mohammad Sayeed's grave at Anantnag's Bijebehara.
But what is this Gupkar Declaration?
It is a resolution issued on August 4, 2019 after an all-party meeting was held at the Gupkar Road residence of the NC president. The meeting was held on the eve of the
Abrogation of Article 370 and bifurcation of Jammu and Kashmir. According to news reports the various who met that day unanimously resolved to be united in their effort to "protect and defend the identity, autonomy and special status of Jammu and Kashmir against all attacks and onslaughts."
More than a year after the Gupkar Declaration, six political parties in Jammu and Kashmir who were signatories to the declaration, issued a joint statement released and reiterated that they were committed to strive for the restoration of Article 370 and 35A, reported The Week. "We are committed to strive for the restoration of Articles 370 and 35A, the Constitution of J&K and the restoration of the state and any division of the state is unacceptable to us. We unanimously reiterate that there can be "nothing about us without us". This was stated by many non BJP leaders including NC president Farooq Abdullah, PDP president Mehbooba Mufti, JKPCC chief G. A. Mir, CPI(M) leader M. Y. Tarigami, JKPCC leader Sajad Gani Lone and ANC leader Muzaffar Shah in August 2020. According to a report in The Outlook magazine resolution was also passed by smaller parties including Awami Ittehad Party (AIP) of Engineer Rashid, Jammu and Kashmir Peoples Movement of Shah Faesal. A day later, on August 5, 2019, the BJP government revoked Article 370 and arrested over 8,000 people including the three former chief ministers, other local leaders and enforced a complete security and communication lockdown.
The statement issued a year later by these leaders had added that "the series of measures undertaken on 5 August 2019 was grossly unconstitutional and in reality measures of disempowerment and a challenge to the basic identity of the people of J&K." According to a report in Firstpost, the political parties jointly stated, "We want to assure the people that all our political activities will be subservient to the sacred goal of reverting to the status of J&K as it existed on 4th August 2019." It was also reported that attempts to hold an all party meet in August 2020 were 'scuttled' as "Central agencies blocked all roads leading to Farooq's residence with barricades and concertina wires."
However it is yet to be seen if all the 'opposition' parties can stay on the same path in the days ahead. As former PDP leader Altaf Bukhari who now leads his Apni Party alleged that that for local parties, the Gupkar Declaration was the " local parties' means to grab power in Jammu and Kashmir,". Altaf Bukhari, told The Print that "politicians in Kashmir are "hoodwinking" the people and "creating a smokescreen" by demanding the restoration of Article 370. He alleged that both PDP and NC leadership knew about New Delhi's impending move on 4 August, 2019.
However, now, that her detention is over, Mufti has already said she will "take back what was taken away from the people of J&K." Her first words after the release were: "I have been released after a period of over a year… during this the August 5 black decision has played on my heart and mind.. all the time… I am aware that what Delhi Durbar snatched away undemocratically we have to take it back. We have to continue to struggle to solve the Kashmir issue. It is not an easy path…"
After being released from fourteen long months of illegal detention, a small message for my people. pic.twitter.com/gIfrf82Thw

— Mehbooba Mufti (@MehboobaMufti) October 13, 2020
Mufti has also taken it as a personal challenge to avenge the "insult" and "humiliation" she says she and others faced on August 5 when Article 370 was repealed "illegally" and in an "anti-democratic" manner.
According to a report in The Outlook magazine, two prominent non BJP leaders still remain out of the Alliance. Former legislator Engineer Rashid was arrested on August 14, 2019 and is still lodged in Tihar jail. IAS officer turned politician Shah Faesal had stepped down from his own party's presidency and took a sabbatical from politics soon after his release from detention.
Now the Alliance leaders will also have to reach out to other regions including the leadership in Ladakh. Already there is resentment in Kargil against Ladakh being turned into a Union Territory, stated The Outlook reports, adding that leaders in Kargil leadership are also seeking restoration of statehood and Article 370, and those in Leh want "exclusive land and job rights for permanent citizens of Ladakh."
Related:
Cannot forget the insult of August 5: Mehbooba Mufti
MHA: Over 200 still detained under PSA in J&K
Shah Faesal, 2 PDP members all set to be released
PSA – a tool for Centre to rid the valley of political resistance?
J & K's PSA Law: How Draconian is Draconian?
100 Days into J&K Reorganisation, Fake News Blurs Reality