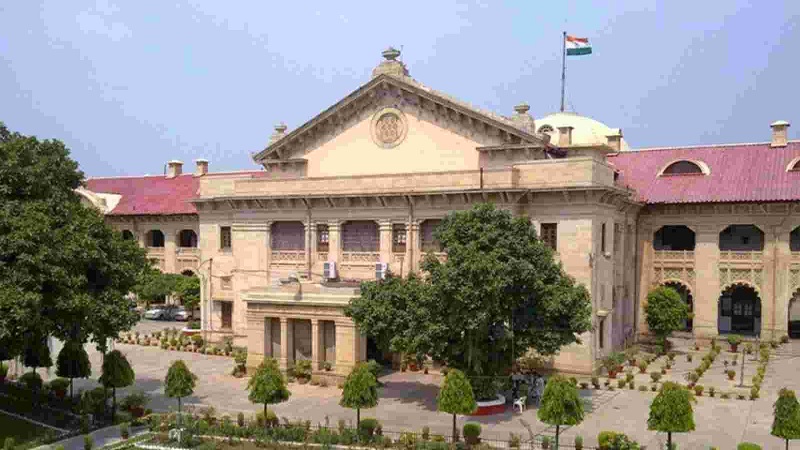 Image Courtesy:livelaw.in
Allahabad High Court has granted bail to a man accused under the U.P. Prohibition of Unlawful Religion Conversion Act while observing that the complainant was a major and was in a relationship with the applicant.
The applicant, Sonu Rajpoot a.k.a Zubair was charged under sections 376 (sexual assault), 420 (cheating) and 506 (criminal intimidation) of IPC as also under the U.P. Prohibition of Unlawful Religion Conversion Act. The counsel for the applicant argued that he has been falsely implicated. It was contended that the alleged incident took place on November 28, 2020 but the FIR was filed on December 29, 2020 and the delay is unexplained.
He asserted that the complainant on her own free-will travelled with the applicant as is evident from the FIR itself as both of them were in love and used to spend time together. But then she states that on the day of occurrence the applicant established a physical relationship against her wishes. He further stated that the medical examination of the survivor was conducted on January 4, 2021 whereby the doctors opined there were no signs of force. He submitted that the informant claims that she did not know the applicant was a Muslim until she saw his name written in the register of the hotel where she had gone with him and a dispute arose. He argued that the informant was a consenting party, a major aware of worldly affairs, and used to spend time with the applicant out of her own volition.

The bench of Justice Samit Gopal observed that it is apparent that the victim/first informant is a major girl and that the applicant and the informant "were in relationship since long and she used to spend time with the applicant and used to travel with him and went to a room of a hotel on her own sweet-will." The court stated that in the facts and circumstances of this case, the nature of evidence and no possibility of tampering with the evidence, the applicant can be enlarged on bail.
The court allowed the bail application and directed that the applicant be released on bail on furnishing a personal bond and two sureties each in the like amount, on the condition that he will not tamper with evidence; will attend the court on every date; will not delay the disposal of trial in any manner and shall not misuse the liberty of the bail.
The order may be read here:
Related:
The accused has the right to have bail plea heard in reasonable time: Allahabad HC
Rape allegations become false once marriage is admitted: Allahabad HC
US Government lambasts India on Freedom of Religion