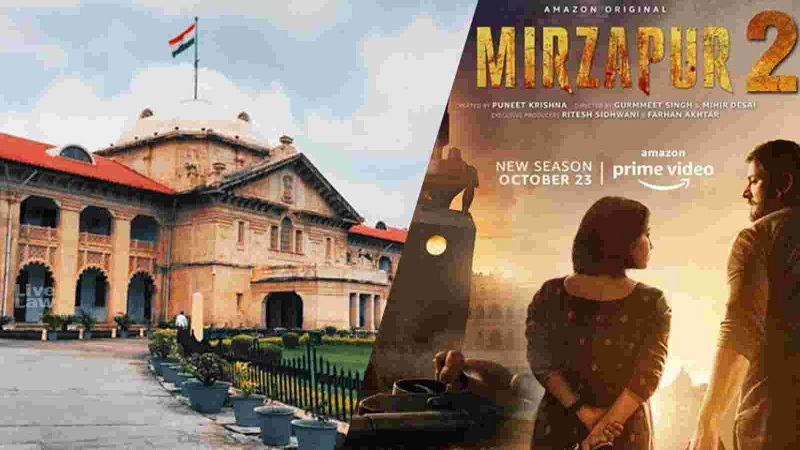 Image Courtesy:livelaw.in
A Bench of Justice MK Gupta and Justice Subhash Chand of the Allahabad High Court has stayed the arrest of Amazon Prime's show Mirzapur's producers Farhan Akhtar and Ritesh Sidhwani.
According to LiveLaw, the court has also issued a notice to the State Government and the complainant in the matter seeking their reply. A local journalist Arvind Chaturvedi had lodged an FIR against the series' producers/ petitioners on January 17, 2021 at Kotwali Dehat Police Station (Mirzapur) for allegedly showing Uttar Pradesh in bad light.
The producers and others were booked under sections 295-A (deliberate act to outrage religious sentiments), 504 (intentional insult to breach peace), 505 (public mischief) of the Indian Penal Code and section 67A (publishing or transmitting sexually explicit content) of the Information Technology Act.
As per the FIR, the primary allegation of the complainant was that certain content in the web series titled "Mirzapur" depicts the town and the places within it as anti-social and infested with crime and that the series promotes illicit relationships, abusive language, casteism and portrays a wrong/ polluted picture of the legal system.
The FIR further states that the portrayal of the town of Mirzapur in such a manner is far away from reality of life in Mirzapur and thereby has hurt his sentiments. The informant has also alleged that some of his friends/acquaintances have started calling him "Kaaleen Bhaiya" who is the antagonist in the series and is involved in various illegal activities.
The petitioners, Farhan Akhtar and Ritesh Sidhwani had submitted before the Court that the series was purely a work of fiction, which is specifically clarified by way of a disclaimer at the start of each episode which apprises all its viewers that the said series respects all faiths and religions and that all places and events in the show are completely fictional, as reported by LiveLaw.
They have also contended that the web-series is a fictional work of art and needs to be appreciated in light of the exercise of creative freedom by its makers as provided under Article 19(1)(a)- freedom of speech and expression and under Article 19(1)(g) that encompasses freedom of trade.
A week ago, the Supreme Court Bench headed by Chief Justice SA Bobde heard a plea seeking ban on Mirzapur and issued notices to Amazon Prime Video, the Central Government, and Excel Entertainment that produced the show.
Tandav, another Amazon Prime web show got into trouble after days of trolling over hurting religious sentiments. The Uttar Pradesh police filed a case against the creators of the web series, after BJP leader Kapil Mishra sent a legal notice to Amazon. On January 27, Supreme Court refused to grant interim protection to the accused persons/makers apprehending arrest from police departments of six states!
Related:
Tandav controversy: Convenient distraction from an on ground crisis?