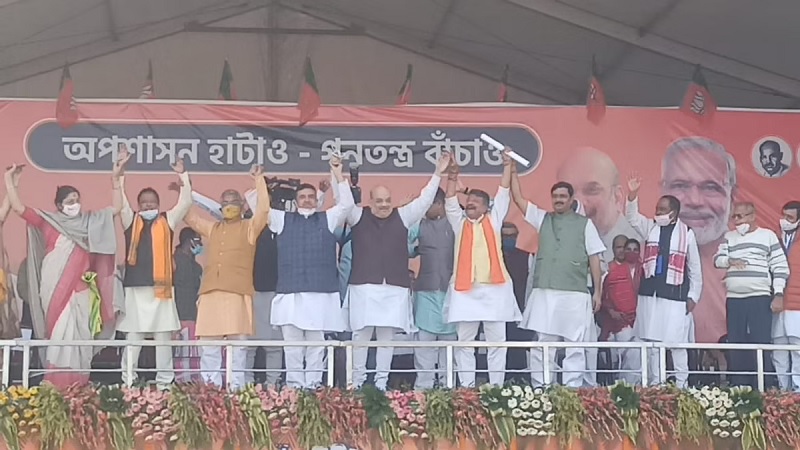 Image Courtesy:freepressjournal.in
Former Trinamool Congress (TMC) member Suvendu Adhikari was inducted into the Bharatiya Janata Party in Bengal today by none other than Amit Shah. But Adhiari wasn't the only one to switch sides.
At a rally in Paschim Medinipur, attended by the BJP top brass including national general secretary Kailash Vijayvargiya, Bengal BJP chief Dilip Ghosh, and other important leaders such as Mukul Roy, Rahul Sinha and Saumitra Khan, the BJP welcomed into its fold: one Member of Parliament (MP), nine Members of Legislative Assembly (MLA), one ex-Minister, one Minister of State, 15 councillors, 45 chairman and 2 Zila Panchayat officials from other parties including the TMC, Congress and the Communist Party of India-Marxist (CPI-M).
Addressing the rally Shah fired his first salvo against TMC Founder and Bengal Chief Minister Mamata Banerjee saying, "Didi accuses BJP of encouraging people to switch parties. But tell me this… which was your original party?" Banerjee had left the Congress to set up the TMC. "This is just the beginning. By the time of the election, you will be left all alone," Shah warned Banerjee.
He accused Banerjee of failing to uphold her own "Ma, maati, maanush" (Mother, soil, people) slogan by slipping into corruption, appeasement and nepotism. "All you care about is making your nephew the next Chief Minister," accused Shah. He further accused her of depriving people from benefits of social schemes such as direct bank transfers and health insurance.
He then went on to talk about the attack on BJP president JP Nadda's convoy on December 10 saying, "If you think throwing stones is going to scare us, remember, the more violent you get, the louder our opposition to you will get." He accused TMC cadres of killing 300 BJP party workers.
"You gave 30 years to the Congress, over 20 years to the Communist Party and 10 years to TMC. About time you gave BJP at least five years, so we can make Bengal 'Sonar Bangla'. Let's root out the TMC," urged Shah before ending with chants of "Jai Shree Ram" and "Vande Mataram".
Earlier in the day, Shah had visited the Ramkrishna Ashram in Kolkata and visited the home of Swami Vivekananda. He also claimed to have had lunch at a peasant's home that was offered to the peasant due to the PM's housing scheme and with no help from the state government.
Two things are noteworthy here; Midnapore or Medinipur has a huge Muslim population and the community is viewed as a traditional vote bank of the TMC, with Banerjee regularly accused of appeasing Muslims. Secondly, the loss of Suvendu Adhikari is a huge blow to the TMC given how influential he is among various levels of the party's cadres. In fact, TMC MP Sunil Mondal and five sitting MLAs from TMC also left the party and joined BJP within days of Adhikari's exit.
With assembly elections scheduled to take place next year, the battle for Bengal is only going to get hotter.
Related:
BJP convoy attack: Bengal officials to ignore MHA summons?
One dead as BJP rally turns violent in Bengal
BJP getting overconfident in Bengal after Bihar win?