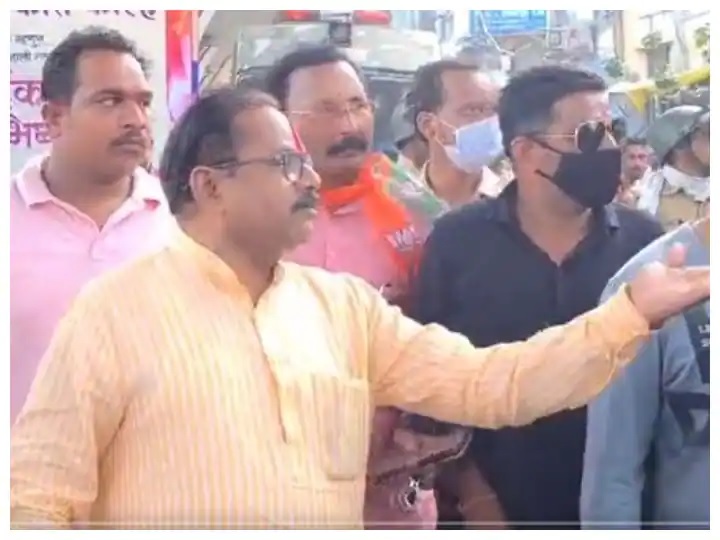 At least 188 people have been arrested in connection with the violence that ensued on two consecutive days in Amravati. On Friday, November 12, incidents of stone pelting were reported during a bandh called by Raza Academy to protest the alleged persecution of Muslims in Tripura. The following day, Hindutva groups called a bandh to protest the violence, but their own protest was far from peaceful.
Minority-owned shops targeted
Shops and vehicles owned by members of the minority community were set on fire in Rajkamal chowk. According to police, they were grossly outnumbered when a mob of over 6,000 members and supporters of Hindutva groups such as the Vishwa Hindu Parishad (VHP) and Bajarang Dal, along with many local leaders of the Bharatiya Janata Party (BJP), arrived at the location and started targeting shops and establishments owned by members of the Muslim community.
BJP leaders arrested
While a curfew has been in effect since Saturday, police have been arresting several accused in both instances of violence, including several leaders of the BJP. On Monday, November 15, police arrested former agriculture minister Dr Anil Bonde, former state minister Pravin Pote Patil, Amravati spokesperson Tushar Bharatiya, Mayor Chetan Gavande, and other party members such as Nivedita Choudhary, Mangesh Khond, Surekha Lungare and Radha Kuril. They were produced before a court and granted bail.
Then on Tuesday, Amravati police arrested five more BJP leaders including three sitting corporators. These are former BJP party president of Amravati city Jayant Dehankar, BJP leader Badal Kulkarni, and three corporators – Pranit Soni, Lavina Harshe, and Sandhya Tikle, who is also a former mayor. They were also presented before a court and granted bail.
But what cannot be denied is that all these people are influential local leaders and the violence could not have taken place without their knowledge.
A police official told Indian Express, "Till now, a total of 188 accused have been arrested. For Friday's violence, 91 have been arrested from both communities and 97 for Saturday's violence from both communities. On Saturday night, some violence took place in the jurisdiction of Kholapuri gate police station and Nagpurigate police station."
A heavy police deployment has been made in these areas.
Relaxation in curfew
The curfew that was imposed in Amravati was lifted for a brief two-hour window between 2 P.M and 4 P.M to allow people to purchase groceries and medicines on Tuesday. From Wednesday onwards this window period is likely to be extended for four hours. However, internet services were made available for only half an hour between 3:30 P.M and 4 P.M. Internet services are likely to remain suspended even on Wednesday.
Related:
Violence erupts in Maharashtra after bandh call by Raza Academy
Amravati: Curfew, police lathi charge mark Bandh called by Hindutva groups
Amravati violence: Minority owned shops targeted during bandh by Hindutva groups