Under the pretext of fighting Naxalites, the state's law enforcement agencies have been repeatedly harassing and intimidating lawyers and activists.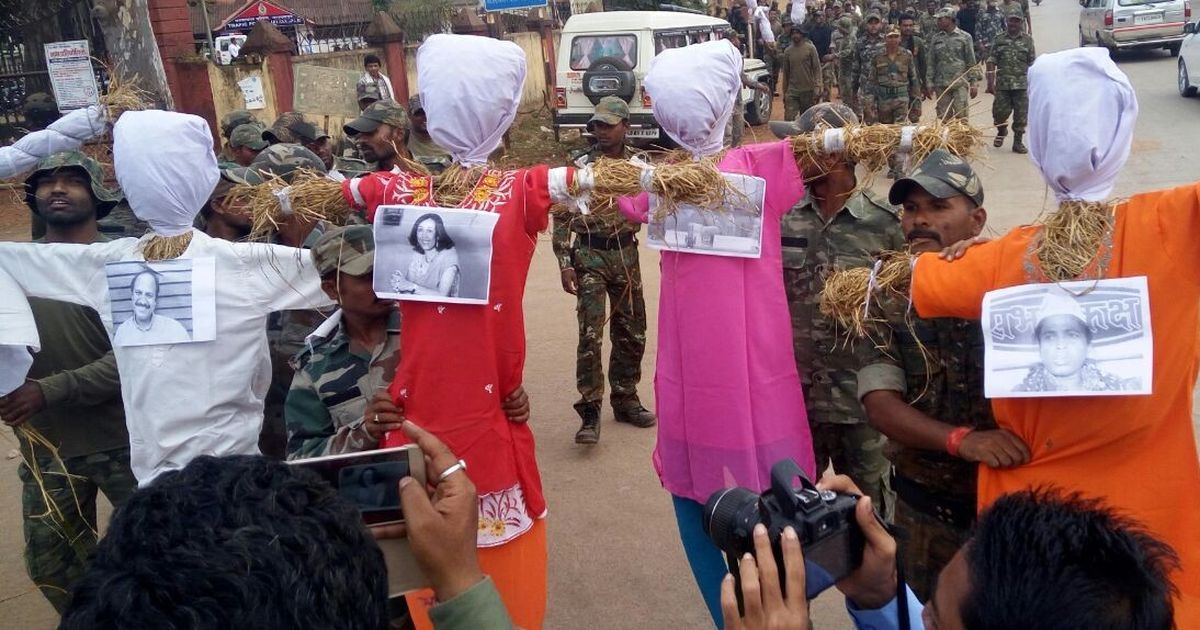 On January 24, a group of advocates organised
a small protest meet
in Mumbai to highlight how lawyers and activists across India are being targeted for confronting government-sanctioned atrocities.
One state is of particular concern in this regard.
According to a fact-finding report released by the non-profit forum Indian Association of People's Lawyers, activists and lawyers in Chhattisgarh have consistently been attacked by the state government and the police under the pretext of tackling the region's Naxalite problem by trying to paint them as sympathisers of the radical group.
These are lawyers and activists who have been instrumental in exposing the rampant fake encounters, kidnappings, sexual assaults and forced surrenders of supposed Naxalites in the state. A recent example is the attack on activist Bela Bhatia on January 23, when a group of men barged into the academic's home in Chhatisgarh's Parpa village and ordered her to leave the village in 24 hours, else they would burn her house down.
The report was released at the protest meet on January 24, marked annually since 2010 as the Day of the Endangered Lawyer. It contains details of an investigation conducted by a team of 12 advocates in Chhattisgarh's Bilaspur district on March 26 and 27.
The team comprised lawyers from Maharashtra, Telangana and Chandigarh, including Surendra Gadling, Mahrukh Adenwala, Monica Sakhrani and M Venkanna. The lawyers conducted detailed interviews with lawyers and social activists working in Chhattisgarh.

Targeting JagLAG
According to the report, the government of the mineral-rich state of Chhattisgarh, especially in the highly militarised Bastar region, is trying to "terrorise" dissenters. The report also speaks of the growing prominence of right-wing Hindu fundamentalist groups in the state, who have been targeting Adivasis, Dalits and Christians.
The fact-finding investigation was prompted by media reports of the harassment of lawyers from the Jagdalpur Legal Aid Group, a non-profit that was set up by a group of advocates in 2013 to provide free legal services to Adivasis in the Bastar region, who often had no one to help them if they were accused in criminal cases. Lawyers from JagLAG – as the group is colloquially called – soon realised that there were large-scale police atrocities taking place in Bastar, including fake encounters of Adivasis dubbed as Naxalites. Their interventions in these cases led to growing hostility with the local police.
Among the first to openly target JagLAG lawyers was Bastar's inspector general of police, SRP Kalluri, who, in a press conference in April 2015, claimed that strict action would be taken against NGOs providing legal aid to Maoists. Under Kalluri, the local police began spreading rumours about JagLAG being a group of "bogus" lawyers involved in "suspicious activities".
According to the fact-finding report, the propaganda against JagLAG resulted in the Bastar District Bar Association filing a complaint against the group, questioning its lawyers' credentials. JagLAG's advocates were registered with the bar council in Delhi and not the one in Chhattisgarh. Taking advantage of this, the Bastar District Bar Association passed a resolution in October 2015 disallowing lawyers not enrolled in the state from practicing. While members of the Bar Association followed and intimidated JagLAG lawyer Shalini Gera on a number of occasions, several judges too did not allow her to present her cases or submit applications.
JagLAG challenged the restrictions on its lawyers and it was November 2015 by the time the state's Bar Council allowed Gera and her colleagues to practice again. Gera eventually registered with the Chhattisgarh State Bar Council. But since then, she and other JagLAG lawyers have been targeted in numerous other ways.

Samajik Ekta Manch
According to the fact-finding report, the Chhattisgarh state and police have also co-opted non-state organisations to target supposed Naxal sympathisers. These organisations, like the Samajik Ekta Manch and the Mahila Ekta Manch, have been used by the police in Bastar as instruments to target lawyers and human rights activists working to expose state-backed atrocities against Adivasis.
The Bastar District Bar Association has been using the platform of the Samajik Ekta Manch to abuse JagLAG. The Manch was also a sponsor of a seminar on the "Naxal Problem" conducted by Kalluri in January last year, according to the report. In February, members of the Samajik Ekta Manch demanded action against JagLAG and attacked the home of Scroll.in contributor Malini Subramaniam, after she wrote a number of reports on police atrocities.
The police, says the fact-finding report, has been complicit in the harassment of lawyers, journalists and activists like Bhatia, who has received multiple threats since October 2015, when she helped Adivasi women file a case against security personnel who had allegedly raped them. The intimidation tactics have included detaining and interrogating Shalini Gera's landlord and Subramaniam's domestic help.

Painted as Naxalites
While the harassment of the Jagdalpur Legal Aid Group has attracted some degree of national media attention, the fact-finding report highlights attacks on Chhattisgarh's lawyers dating all the way back to the 1990s.
Advocate Satendrakumar Chaubey, for instance, was branded as a "Naxal lawyer" in 1998 after he chose to defend villagers accused of attacking a police station in Ambikapur. In 1999, he was arrested and jailed for three months on charges of possessing "Naxal material", although the lawyer claims the "material" in question was actually his clients' case papers seized during a raid on his house. Eighteen years later, Chaubey's case is still pending in the National Investigative Agency court in Bilaspur, while visitors have stopped coming to his home.
Another lawyer, Rekha Praganiya, was arrested in March 2012 from her home in Chhattisgarh's Durg district and charged with sedition for her alleged involvement with Naxal activity. According to the fact-finding report, in Praganiya's case too, the police dubbed her client's case papers as incriminating evidence of her alleged Naxal activities. She spent more than a year in prison, during which the police allegedly projected her to the media as a dreaded Maoist. Praganiya was finally acquitted in June 2013, but has been ostracised by other lawyers since then.

Caste and communal lines
The report also lists a range of atrocities towards Christians, Muslims and Dalits in Chhattisgarh, perpetrated with virtual impunity by Hindu right-wing groups like the Bajrang Dal and Vishwa Hindu Parishad. These incidents include vandalising churches, assaulting priests and accusing members of the minority communities of being Naxalites. While Christian groups are usually accused of forcibly converting Adivasis, Muslim and Dalit groups are often accused of cow slaughter.
In April 2015, for instance, two Dalits cobblers, Anil Mochi and Sankar Ratre, were jailed after members of the extremist group Hindu Dharam Sena saw them skinning a dead cow on the railway tracks. Even though railway officials had themselves called the two Dalits to remove the electrocuted cow from the tracks, the Hindu Dharam Sena filed a "cow slaughter" complaint against Mochi and Ratre. While the Dalits were jailed for 40 days, the fact-finding report alleges that their lawyer faced intimidation from the deputy collector to stop fighting the case.
Dalit lawyers, like advocate Shobharam Gilhare, also alleged caste-based discrimination by the Bar Association. Gilhare said that when he was establishing practice in 2013, working out of the bar room, his work table was confiscated without explanation by the Association. He also claimed that other Dalit lawyers were made to work as domestic servants at the homes of other lawyers in the Bar before they could practice.
Courtesy: Scroll.in
Sabrangindia has a copy of the entire report titled "Attacks on Lawyers in Chhattisgarh" that may be read here.