The founder and executive director of Madurai-based human rights organisation People's Watch, Tiphagne was given the Nani A. Palkhiwala Award for Civil Liberties this year under the individuals category.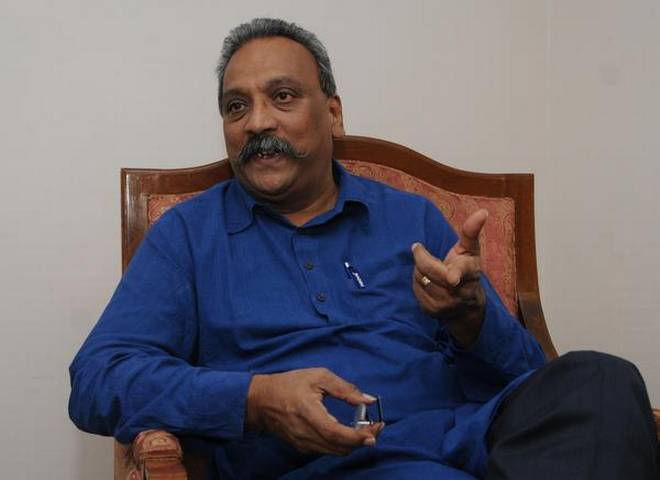 Mumbai: Henri Tiphagne, founder and executive director of Madurai-based human rights organisation People's Watch, was given the Nani A. Palkhiwala Award for Civil Liberties this year under the individual's category.  
The selection was made by a panel of judges comprising retired Supreme Court judges Sujata Manohar and S.N. Variava and Sudha N. Murthy, the chairperson of the Infosys Foundation. The award carries a cash prize of Rs 2.5 lakh and a citation.  
Saying that he was incredibly humbled to have been chosen at a time when India is tangled in several fights to preserve democracy and the right to dissent, he said, "The award is also a boost for continuing the fight for dissent, democracy and human rights not only in the courts of law, but also on the streets."  
The award was presented on the 16th Nani A. Palkhiwala Memorial Lecture delivered by Justice R.F. Nariman, Judge, Supreme Court of India, on December 15 in Mumbai.  
Tiphagne has previously received the Amnesty International's Human Rights Award in the year 2016.  
Tiphagne told The Hindu that the award cannot be seen as a recognition of his individual efforts, but for the collective work in defending human rights he had been part of with like-minded activists and victims of human rights abuse over the years.  
He said that at a time when there were several challenges to the principles of dissent and democracy in the country, he was humbled to receive this award in the name of a person who fought for these principles in the courts of law.  
"The award is also a boost for continuing the fight for dissent, democracy and human rights not only in the courts of law but also on the streets," he added.  
Full text of the speech:
Acceptance speech of Henri Tiphagne upon receiving the Nani A. Palkhivala Award for civil liberties and human rights 2018 at Mumbai on 15th December 2018.  
Justice Sujatha Manohar, Justice Rohinton Nariman, Respected Trustees of the Nani A. Palkhivala Memorial Trust, Ladies and gentlemen,   
Good Morning.  
I stand before you humbled to receive the Nani A. Palkhiwala prize for civil liberties at a time when we are seeing civil liberties at bay, increased authoritarianism and the rule of law under threat. I am honoured by this recognition of our work all of which was undertaken collectively. I, therefore, receive this award today on behalf of all my colleagues in human rights within and outside PW, all my ardent supporters at times of loneliness in our work like our senior Parliamentarian Mr. Vaiko who incidentally is here today all the way from Chennai to express his solidarity.  
I want to fondly remember my colleagues in People's Watch in our offices in Madurai, Bangalore, New Delhi, Bhubaneshwar and other colleagues in almost 15 states - who have stood together in one of the most difficult challenges faced by each one of us, since July 2012 till now - when our organizational bank accounts have been frozen using the Foreign Contribution Regulation Act 2010 and we were barred from receiving funds for almost 1500 days. This is the price we have to pay for human rights work. My colleagues have stood firmly with me, in midst of a lot of personal suffering and pain, and despite all odds, we continue undeterred. Some of them are also here this morning to thank you for recognising such challenging work through the award.  
I want to thank my Trustees Mr. Sathiamoorthy and Dr. Devasagayam - their absolute resilience, commitment and constant support is the sole reason we are where we are today.  
No human rights work is possible if the family is not with you. The sacrifices my wife Cynthia, my children Anita and Alina and my son in law Pradeep have undergone for the choices I have chosen in public life. And, most recently, my granddaughter, Navira, without whom my erratic work schedules would have consumed me.  
The fact that in this award I am in the company of former awardees like Maja Daruwala, Aruna Roy, Teesta Setalvad, all of whom have been close to me in my work is what makes this Prize a stand out. A stand out because it is a good moment for us here to recognise the values held by the person whose name it carries.   
Now that the pleasantries are over with, let's get to business.  
In 1975, when Mrs. Indira Gandhi called for Emergency, all of us had our civil liberties suspended.  I remember Mr. Justice V M Tarkunde incidentally from Maharashtra and Mr. K.G Kannabiran, both my mentors, describing the challenges. Their work between the 1970s and the 1990s has, in many ways, shaped the modern civil rights movement across the country today. That is when I was in law school and then joined the PUCL. We were all given the same map of India with identical legends, spread out all across the country and worked on issues including; better conditions for farmers, fighting untouchability, fighting caste discrimination, fighting manual scavenging, fighting for women's rights, fighting  violence against children, fighting honour killings, fighting against extrajudicial killings, fighting  torture, fighting for the rights of persons with disabilities, fighting for the rights of sexual minorities,  fighting poverty, fighting hunger, fighting homelessness, fighting for land rights and even fighting for environmental rights. Nearly four decades later, we are still fighting for the same issues, with the same map and identical legends.  
But the difference is today it has become quite a fashion to denigrate the work of people who defend civil liberties and human rights. Some of what I have heard is
- that HR is an alien concept;
- that we are agents of western governments;
- that talking about HR is a luxury;
- that we are anti-development if we raise voices against companies and businesses that violate human rights;
- that we are anti-national and finally that today we are URBAN NAXALS.  
Our work has always been through using legal and meta-legal interventions - in courts, in commissions, on the streets, as well as in the halls of the United Nations where our country wants a place in the security council. Is this wrong? What would have Dr. Ambedkar or Periyar or former Judges like Krishna Iyer, Bhagwati, Chinnappa Reddy, Tarkunde, have done in similar situations ...... we human rights defenders continue in their footpath. We are happy that this is what the NAP prize recognises and celebrates today.  
I want to recall every human rights defender, every voice of dissent, which directly or indirectly, alone or in a group, orally or in writing, in whichever way or form and in any profession, acted or raised concerns over matters of civil liberties and democracy in India today. Several such voices are killed and several others are in jails on fabricated and false charges.   
I want to recall my dear friend Sudha Bharadwaj and other friends who are in prison today a few hundred kilometres from here, termed as urban-naxals for decades of their human rights work and sacrifice. I remember their struggle, pain, persecution and false prosecutions that they all go through. These women and men are those who continue to inspire me to do what I was and am able to do.  Unfortunately, we have moved several steps backwards when it comes to freedom of expression, assembly and association. Dissent is the backbone of any democracy and today dissent, which is a symbol of free speech and expression, is criminalised and the dissenter jailed, killed and persecuted.  
I want therefore to dedicate this award to the work of thousands of defenders across India who continue to inspire me and thousands who have left their legacies, thoughts and inspirations behind them.  
But this will not do. It is time for the civil liberties movement in India to go back to the drawing boards. To stop bickering over ideological differences or political correctness and find new ways to collaborate. Journalists across the globe, have turned to collaborations with coders and programmers, to fight the fake news epidemic. Those of us fighting for civil liberties must understand the indispensable need for new thinking and the adaptation of old thinking to new circumstances to fight the increasingly diverse and complex challenges. We must regain lost credibility in rights-based work and move towards capturing short attention spans. If there was ever a time in history that needed the term activism to be redefined, it is now. Organisations like Amnesty, with their Innovation Labs and the Initiative on Human Rights Innovation by the New York University, are steps in the right direction.  
We hope that many will emulate this prize because it protects those like me who get it, affirms our work, believes in their honesty of purpose, enhances reputation and makes us believe in plunging ourselves deeper and with greater passion and dedication. I now want to seek your solidarity.  
One of our most passionate and rewarding work, that this closing our bank accounts has stopped, is our program of teaching human rights in schools through school teachers. We started this in 9 schools in Chennai in 1997 and till we were forced to close we were in over 18 states in almost over 15000 schools in classes 6 to 8 with over 10000 teachers and over 15,00,000 boys and girls engaged in studying Human Rights as a value for the new India to be built.  
Corporate social responsibility or local philanthropy has not come forward to support our young citizens bringing our Constitutional rights and values closer to their everyday life. Are you wanting to invest in a New India...? then do it by standing in solidarity with our Institute of Human Rights Education.... this will ensure an India where equality, diversity, tolerance to differences, are celebrated. Let this award build us together in building our new India with your support for human rights education.  
I would like to end with a quote by the American linguist, philosopher and social critic, Noam Chomsky:  
"Optimism is a strategy for making a better future. Because unless you believe that the future can be better, it's unlikely you will step up and take responsibility for making it so. If you assume that there is no hope, you guarantee that there will be no hope. If you assume there is an instinct for freedom, there are opportunities to change things, there's a chance you may contribute to making a better world. The choice is yours."