Organiser, An RSS Affiliate, Denies Role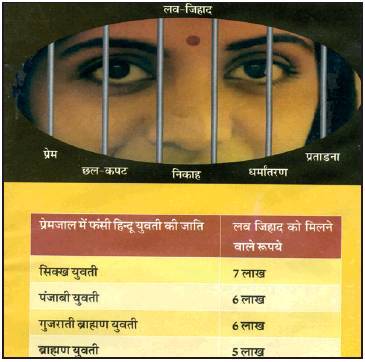 The Times of India reports that two booklets compiled by VHP and Bajrang Dal have been peddling anti-Muslim content at a spiritual fair organised here by an RSS affiliate. One of them, a manual being sold by VHP for Rs 5 each, advises use of words like "terrorists", "anti-nationals", "pro-Pakistanis", "womanisers", and "smugglers" to describe Muslims to women in Hindu households, pitching it as a campaign against 'love jihad'.
The second, a pamphlet VHP and Bajrang Dal activists are distributing for free, features a morphed photograph of actor Kareena Kapoor, in a niqab, and sporting a bindi. The pamphlet says Muslims have been using 'love jihad' to "convert Hindus for the last thousand years" and cites actors Aamir Khan and Saif Ali Khan as "examples… as they have deserted their Hindu wives to entrap other Hindu women". The booklets were being distributed at a five-day 'spiritual' fair organised by Hindu Spiritual and Service Foundation that began on Thursday. The organisers have denied the material was being distributed.
Not just that, on the directions of Primary and Secondary Education Minister Vasudev Devnani, it was made compulsory for all the students to attend the fair.
The fair is said to be organised for philosophically explaining that through traditional Hindu lifestyle, many contemporary challenges including women's honour, patriotism can be solved.
The right wing organisation Bajrang Dal was running an awareness program and distributing pamphlets on "Love Jihad" to all the female students attending the fair.
The manual cites Bollywood celebs Saif Ali Khan, Aamir Khan's marriages as examples of Love Jihad.
The Pamphlet also describes places of Love Jihad which includes Beauty Parlours, Mobile recharge Shops, Ladies tailor's shops and Muslim Feri-walas.
At fair, Bajrang Dal's booklet also explains ways to save Hindu women from "Love Jihad". It said, parents should "call Muslims as disgusting, terrorist, smuggler, traitor and Pakistan supporters in front of females at home."
The students were also asked to sign up for a campaign to declare Cow as "national mother" and switch to Vegetarianism.
A Baba named Jai Guru Dev, says people should become vegetarian to make their children's future brighter and save women's honour.
"This is a spiritual fair; we are not distributing literature on love jihad," HSSF co-secretary Rajendra Singh Shekhawat said. Titled 'Jihad and love jihad… Hindu girls beware', the 16-page VHP manual recommends parents monitor daughters' activities, scan their phones and warn them if a Muslim boy meets them at home. It also has a purported 'love jihad rate card' listing sums a Muslim man "stands to earn" for "luring and converting girls of various communities and regions".