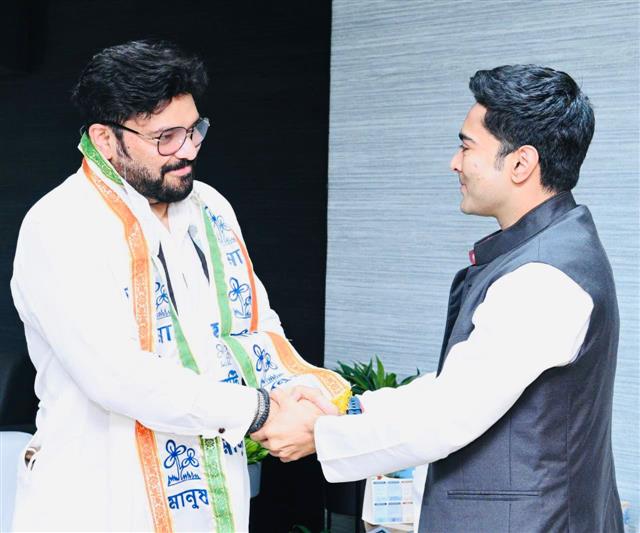 Side-lined by the Bharatiya Janata Party (BJP), after the drubbing it got in West Bengal elections, former Union Minister and singer Babul Supriyo had joined Mamata Banerjee-led Trinamool Congress on Saturday September 18. Till a few months ago, he was attacking the Chief Minister of his home state at every possible opportunity, but circumstances have forced him to sign a different tune now. He has also gone back on his own 'decision' to retire from politics, which he had shared soon after he was told to resign as a Minister of state for Environment. He had clarified that he will remain a Member of Parliament, but will not join any party and implied that he will work for the people.
It appears that the lure of a political office was too much, and soon enough Supriyo told the media that he joined the Trinamool Congress because: "If opportunity comes your way, you should decide, and I have decided to take this," reported NDTV, adding that he is the fifth BJP leader who has joined Trinamool Congress after the assembly election in May this year. According to news reports Trinamool leader, Kunal Ghosh said more BJP leaders "are in communication with Trinamool leadership. They are not satisfied with the BJP. One (Mr Supriyo) joined today, another wants to join tomorrow. This process will go on. Wait and watch."
While career politicians often jump ships and change parties if they feel "better opportunities" may come their way, Supriyo's move has raised eyebrows as he has been a rather devoted BJP man, who has always been focussed on attacking TMC in general and Mamata Banerjee in particular even calling her "Bengal's shame" and missing no opportunity to taunt her at a personal level. Often attacking her openly on social media directly tagging her. He had infamously said: 'Beti Paraya Dhan Hoti Hain…' when during TMC campaign Mamata Banerjee was called 'Bengal's own daughter". Supriyo shared a meme that said all daughters 'belonged to someone else' which showed Mamata Banerjee referring to herself as Bengal's daughter, and Union home minister Amit Shah responding with "Beti Paraya Dhan Hoti Hain, Iss Bar Vidaa Kar Denge… (will send her off this time)." According to reports Supriyo, added "Kar hi denge is bar vidaa" (Will send her off, for sure, this time), and shared the meme.
Bengal's Shame @MamataOfficial •
This is the display of Cheap Ego, a Nauseating Mindset that nurtures Dirty Politics – Nothing Less, Nothing more • But this filth has long been her USP so she's used to pardoning herself easily too•Her fall is just a matter of time @BJP4India pic.twitter.com/GsdBW9tlaL

— Babul Supriyo (@SuPriyoBabul) May 28, 2021
Even after the BJP's humiliating defeat in West Bengal assembly elections, Babul Supriyo had put on social media that he "cannot say that he respects the people's verdict" even though he later deleted it, media reported that the he an MP had said the people have made "a historic mistake" by electing "the cruel lady back to power". The BJP's bitter campaign had been focused on attacking Chief Minister Mamata Banerjee as a woman leader. Supriyo, a loyal follower of Prime Minister Narendra Modi whose 'didi o didi' chant has been recorded in history was perhaps just following the leader. The Trinamool Congress won with an absolute majority.
The BJP, then, gave Babul Supriyo a reason to "Quit Politics" on July 8 when it asked him to resign as a Union Minister in the Prime Minister Narendra Modi-led government when the cabinet was reshuffled. News reports now recalled that Supriyo had then tweeted:
"I'm surely sad for myself," he once again deleted the post and stated that he was happy that he quit "without a spot of corruption on me".
On September 18, Supriyo, wearing a scarf adorned with the party's election symbol, smiled when flanked by TMC leaders Abhishek Banerjee and Derek O'Brien, soon after he joined them. Supriyo had joined BJP and fought the 2014 general elections as their candidate from Asansol, West Bengal, defeating Dola Sen of Trinamool Congress. He was made Union Minister of State for Urban Development; Housing and Urban Poverty Alleviation. He has also served as Minister of State for Heavy Industries and Public Enterprises, and Minister of State for Environment, Forest and Climate Change.
His twitter timeline, may now serve as fodder for his critiques, and his new found 'opposition' in the BJP itself. Here are a few samples:
"Fake IAS, fake police officer, and now a fake CID officer… All of them have one thing in common; Photographic evidence of their closeness with various TMC leaders…!!
Fake IAS, fake police officer, and now a fake CID officer… All of them have one thing in common; Photographic evidence of their closeness with various TMC leaders…!! @MamataOfficialhttps://t.co/4krvKAiARU

— Babul Supriyo (@SuPriyoBabul) July 7, 2021
MLA Dibakar Gharami of Sonamukhi and seven BJP companions were brutally attacked by TMC goons at Manikbajar Panchayat area, but for Didi, maybe it is a small incident
How many more attacks will the opposition have to endure before our non-MLA CM stops denying the horrors of the day? MLA Dibakar Gharami of Sonamukhi and 7 BJP companions were brutally attacked by TMC goons at Manikbajar Panchayat area, but for Didi, maybe it is a small incident pic.twitter.com/5c0pddy2MJ

— Babul Supriyo (@SuPriyoBabul) July 5, 2021
On March 30, Supriyo, who was contesting the West Bengal assembly election from the Tollygunge constituency, had also courted controversy by allegedly slapping a man inside a party office in Kolkata. A video had gone viral, stated news reports, he later claimed that he did not "slap him but only gestured to do so".
There is more. During the 2019 Parliamentary polls, where the BJP made huge dents in the state's politics winning 18 seats of the 42 seats, Supriyo had a run in with the Election Commission with the latter then directing the West Bengal Police to register an FIR against Union Minister and BJP candidate from Asansol, Babul Supriyo, for allegedly trespassing into booth number 199 and threatening a polling agent and an officer. Supriyo was contesting that election that he won against actor Moon Moon Sen.
In that year, during a 2019 visit to Jadavpur University (JU) and Navamita Chandra, a film studies student, it was Supriyo who had controversially told the media : "Babul Supriyo looks me straight in the eye and says he's gonna get me beaten up very badly." Supriyo faced protests during his visits in both Asansol and Kolkata.
In 2018, he had also reportedly sparked a row after he threatened to "skin a break a man's leg" during an event in Asansol. The incident was reported by Indian Express, ironically, took place when the minister was addressing an event for the differently-abled persons.
In March 2018 after communal violence broke out in Assansol and while on a visit, there were protests and a person asked him to go back, Babul was quoted saying, "Chamra guthiye debo ekdom… (Will skin them alive). He lost his cool after someone from the crowd disturbed him during his address. This threatening statement was made after brute communal violence had broken out there and he lost his cool on his way to a relief camp in Kalyanpur as slogans were raised against him. Supriyo was then the Minister of State for Heavy Industry and Public Enterprises from Assansol.
4/5:Check this vdo too?Police file cases against me cuz I visit the Victims in my OWN constituency where victims belong 2 ONLY one community?Is that a crime in Bengal?Everytym the same story!!Police wil push&pull me&stop me frm talking 2 people cuz they r spelling the truth out? pic.twitter.com/CjL0osyjq6

— Babul Supriyo (@SuPriyoBabul) March 30, 2018
Supriyo can no longer afford to lose his cool. He is now in TMC, and Mamata Banerjee is in charge.
Related
RSS grows in West Bengal, but no match for Didi's outreach during Covid
Strong response if WB govt does not pass MSP Bill: SKM