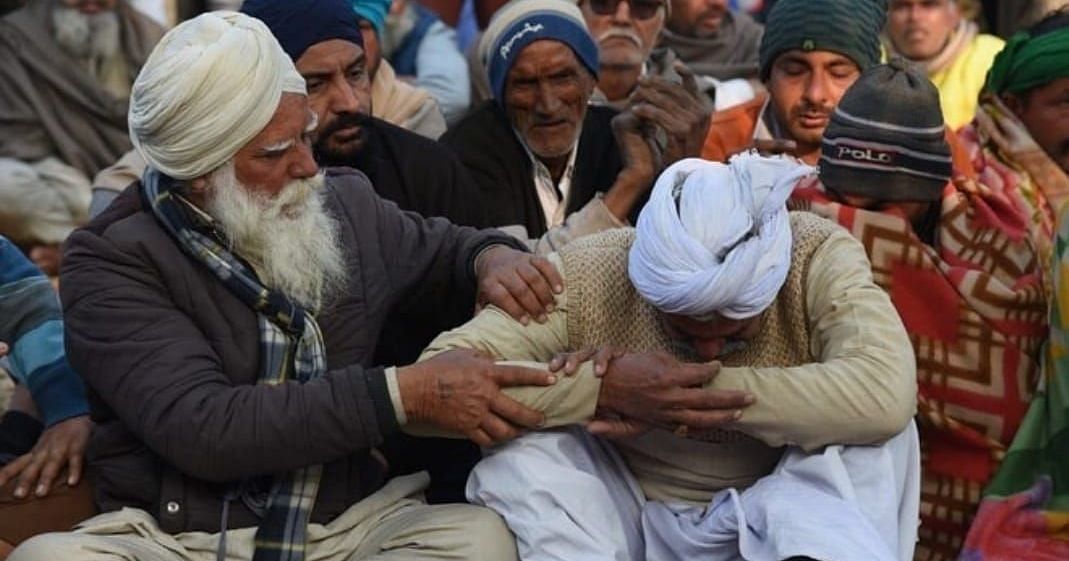 Image courtesy: Varinder Maddoke
Another name was added to the list of deaths by suicide on February 7, 2021, maintained by the farmers' organisation to keep a record of the "Human Cost of Farmers Protest." Three farmers also died while protesting the three anti-farmers laws at Delhi borders. As per farmer organisations, 214 have died for the cause so far.
52-year-old Karambir, who died by suffocation on Sunday, was found 2 km away from Tikri border. He left a note blaming the government's "nonchalant and arrogant attitude towards farmers' cause" as the reason for his death. The note, originally written in Punjabi, said, "Dear Farmer friends, the Modi government is giving only dates for discussion…no one knows when the dark laws [on farming] will be repealed."
According to The Tribune, Karambir was from Singwal village in Jind district and was a part of the protest since the last week of November. Other protesters said they found his body in the morning called the police for a postmortem report. The body has now been handed over to kin. Many villagers and farmer activists attended his cremation while chanting 'Kisan ekta zindabad' slogans. He is survived by his wife and three daughters.
Meanwhile, two Punjab farmers died at the Tikri border due to a heart attack on the same day. 60-year-old farmer Sukhmander Singh was the block Nihal Singhwala President of Bharatiya Kisan Union (BKU-Kadiyan) while 66-year-old Lakha Singh of BKU-Rajewal had been protesting at Tikri border since November 26, 2020.
Another farmer Karamveer also died at the age of 48 years at the Dhansa border near the Delhi-Haryana State border on Sunday. The post-mortem report of the Haryana farmer is awaited.
According to farmers' records, 13 people, including a person from Tamil Nadu, have died by suicide while participating in the farmers' protest. The website says that the data is maintained, "to remind everyone of the human cost of the protest lest one forgets what this fight is against. This is also to commemorate the participation of these martyrs towards a cause that is bigger than just farmers' rights and is emerging as a movement for the rights of the entire humanity."
Such incidents have risen over days since the farmers struggle intensified. For those struggling during these troubled times help is available via calls by NGOs such as AASRA that offers a 24×7 helpline number, 91-9820466726 in both English and Hindi while another helpline available is 915298782. Similarly, Sumaitri offers assistance in Delhi 011-23389090.
Related:
India needs a Battle for Love, a Satya Shodhak Resistance against RSS: Arundhati Roy
SHOCKING! Nearly 3 lakh farmers died due to loan debts in the last two decades!
Farmers rights are human rights: Protesters at Tikri Kalan
144 peasants died during farmers' struggle since November 24, 2020
To be food secure, India must grow its own food grains: JNU professors
Over 42,000 workers from informal sector allegedly die by suicide