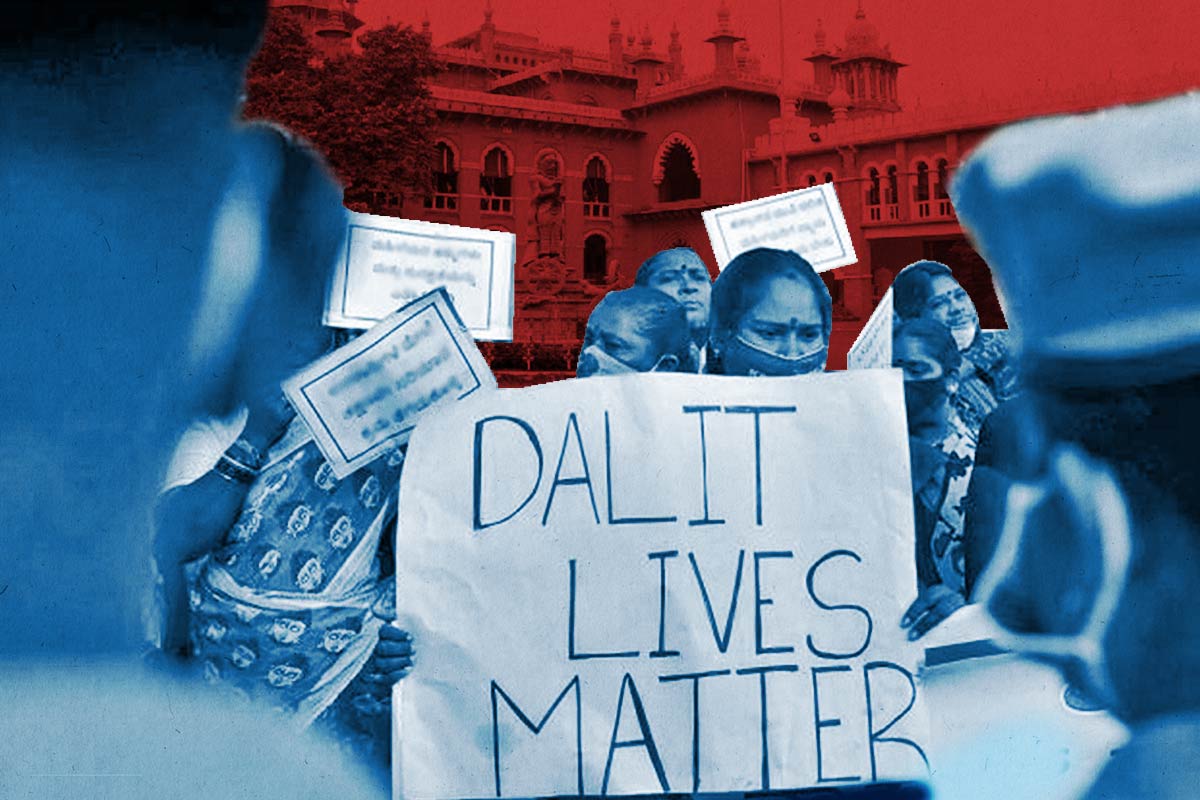 A series of atrocities committed against the Dalit community have made national headlines this April. Ironically this is also the month that we dedicate to celebrating Dalit history. "Honour" killings, caste-based intolerance leading to murders, rapes, and even enforced "penance" are only a few instances of these incidents. In many cases, the perpetrators were apprehended, compensation was announced, and outrage was registered by all. Such incidents, however, are just a drop in the bucket compared to the violence and oppression that Dalits continue to face in India.
The situation has deteriorated to the point where every day serves as a reminder of how caste oppression is systemic and woven into the fabric of Indian society, some of which is exacerbated by government negligence or even complicity, given that state and law enforcement structures are heavily influenced by a bias towards more privileged sections.
Although the month of April is celebrated as Dalit History Month, a month which is significant for Dalit communities because the month marks the birth and death anniversaries of significant Dalit leaders and social reformers who participated/led movement against systemic discrimination, with Dr. Bhim Rao (Babasaheb) Ambedkar birth anniversary on April 14, Jyotirao Phule's birth anniversary on April 11 and Mangu Ram Mugowalia's death Anniversary on April 22, there has been no let up in the targeted violence.
How much has the condition of Dalits in the country really improved in 2023?
The incidents
Rajasthan:
The death of a Dalit man, who was allegedly killed by a group of persons from the privileged castes people in Rajasthan's Barmer district, has resulted in some widespread outrage. The political class is however relatively silent while civil rights groups have spoken up.
On April 13, Kojaram, aged 40, was killed around 10 in morning, in Barmer's Asadi village over a six-year-long land dispute. The killing was protracted and brutal, tortuous. Significantly, the victim, now dead, had filed nine cases of harassment over the years pointing to assault, encroachment, and disputes with the police. In four of these cases, charge sheets had also been filed, and the accused has previously been imprisoned, (India Today). Despite this he had to lose his life to a violent attack!
According to the report filed at the Girab police station after Kojaram's death by his son Indra Kumar, Kojaram had left for the farm around 7:30 a.m. with his two daughters – Mamta and Jhamu – to take the goats to the field, when they were attacked by a group of about 16 people wielding sharp weapons.
According to NDTV, the accused kidnapped the victim's two daughters and threatened them. It is also being alleged that a video made rounds on social media where an injured Kojaram was seen screaming for help with his daughters.
According to the police report, two people – Sadularam and Chagu Devi – rushed out of their homes to save Kojaram, but the attackers stopped them and threatened to kill them if they tried to help the victim. Sadularam had then subsequently informed the police and, with help from others, put Kojaram in a car and took him to the Barmer hospital, where he was declared dead on arrival.
According to senior police authorities, after attacking Kojaram, the suspects went to his home and told family members they had killed him before fleeing, reported News24. According to India Today, the assailants from the privileged castes have been identified as Narendra Singh, Jitendra Singh, Ravindra Singh, Raipal Singh, Gulab Singh, Mahendra Singh, Vikram Singh, Khim Singh, Bihari Singh, Jograj Singh, Devi Singh, Sadul Singh, Sawai Singh, Nakhat Singh, Ram Singh and Dev Kanwar's wife Gulab Singh.
Narendra Singh and Vikram Singh had allegedly abused Kojaram's wife while he and his family were having dinner on March 14 around 1:30 a.m., according to a previous complaint filed by Kojaram on March 15. According to the complaint, the accused brought a tractor and threatened not to leave without killing Kojaram. The police had allegedly registered the complaint but did not take any action. Kojaram had expressed concern about an unfavorable incident happening to him.
Family members have claimed that they had often alerted authorities about the dangers they faced, but callously, no action was taken. It is also being alleged that there was no land dispute other than the fact that Kojaram, a Dalit man, was living across the house of a Rajput family. Caste discrimination and intolerance cost Kojaram his life, including ignorance shown by the authorities. Kojaram's family is now protesting the murder and demanding jobs for two members as well as Rs 1 crore in compensation.
The post can be viewed here:
राजस्थान: एक और जातिगत हत्या!

बाड़मेर में एक SC मजदूर कोजाराम मेघवाल की लोहे की रॉड से पीटकर हत्या कर दी गई। इस हत्या के पीछे पुलिस की उदासीनता भी जिम्मेदार है।

चूंकि हत्यारे राजपूत हैं। अतः पीड़ित की अनेकों शिकायतों के बावजूद भी पुलिस मूकदर्शक बनी रही।
pic.twitter.com/wCFc4cxKbB

— Suraj Kumar Bauddh (@SurajKrBauddh) April 12, 2023
Before this incident, another incident of caste based atrocity against a Dalit woman was reported from Pachpadra police station area of the Barmer district of Rajasthan. On April 6, a Dalit woman was raped and set afire. She died during treatment at a government hospital in Jodhpur. The 44-year-old woman had suffered around 50 per cent burn injuries due to a highly inflammatory chemical that was thrown at her. The woman was initially admitted to Nahata hospital in Balotra for treatment but was later referred to Jodhpur as her condition worsened, as reported by India Today. On April 9, the Dalit woman died of burn injuries during treatment.
According to media reports, the family of the Dalit woman had staged a protest outside the mortuary hospital for more than 18 hours demanding justice, before agreeing for a postmortem. The relatives of the woman also alleged that the police hesitated to register the case initially. The Dalit community had protested over the incident and demanded the family should get Rs 1 crore compensation, a government job and capital punishment for the accused. After getting assurance from the district administration of getting their relevant demands were completed, the family members ended their protest and agreed for postmortem.
According to police, the woman in her complaint stated that 30-year-old Shakoor Khan, her neighbor, had trespassed her house and raped her. After the incident, when the accused felt that the woman would reveal his identity, the accused threw thinner on the woman, set her afire and fled the spot.
On April 7, the police had registered a case under relevant sections of the Indian Penal Code and the Scheduled Caste and Scheduled Tribe (Prevention of Atrocities) Act and detained Shakoor Khan. The accused was initially booked under IPC sections 376 (rape), 326 (voluntarily causing grievous hurt by dangerous weapons or means), 450 (house-trespass to commit offence), and some sections of the Scheduled Castes and Scheduled Tribes (Prevention of Atrocities) Act. But later the sections of murder under IPC Section 302 were also added to the FIR.
Uttar Pradesh:
A group of property dealers allegedly attacked a Dalit man in Lucknow's Indira Nagar in order to stop him from selling his land. According to the police, the accused also made casteist remarks and demanded extortion from him, reports Siasat Daily.
According to other media reports, Deen Dayal of Rasoolpur Sadat village in Indira Nagar sold his land to one Vishal Yadav, and the sale deed was recently registered at the Bakshi Ka Talab registrar's office. Several days later, Deen Dayal and Vishal went to the field to show him the land, where they were met by property dealers Abhijeet Vishen, Pawan Yadav, Anand, and 5-6 unidentified people.
According to the victim's account, the accused surrounded them and called them by their caste in a derogatory way, enraged that the victim had dared to sell the land without paying extortion to the accused. "After that, they opened fire on us. I was fortunate to escape the bullets. They then attacked us with bricks, injuring both me and Vishal. The miscreants fled the scene, warning us not to return to the land," the victim stated.
The post can be viewed here:
A group of youths, working as property dealers, allegedly attacked a Dalit man here to stop him from selling his land. They hurled casteist remarks and demanding extortion from him in Lucknow's Indira Nagar, the police said…https://t.co/fzKpw5ZVZQ

— HindutvaWatch (@HindutvaWatchIn) April 13, 2023
In yet another instance of caste-based discrimination, the owner of a marriage hall has been charged for allegedly canceling a reservation after learning that the groom was a Dalit. Raees Abbasi, the owner of the hall, denied the allegations, while police assured the family that the wedding would take place at the venue.
As reported by the Republicworld, Circle Officer of the area, Ruchita Chaudhary, informed that Jaideep, who had had booked the hall of Raees Abbasi for the marriage of his sister, had filed a complaint in the said incident. In his complaint, it was provided that "Jaideep had booked the hall of Raees Abbasi for the marriage of his sister scheduled for April 9. When Abbasi came to know that the groom is a Valmiki (Scheduled Caste community), he informed me that the reservation has been cancelled and I should look for another venue,"
However, Abbasi said he did not cancel the booking but was averse to the cooking of non-vegetarian food at the venue. "I only opposed the cooking of non-vegetarian food at the venue. I neither said any caste-related thing to anyone nor was the booking cancelled," he had told PTI.
Hyderabad:
On April 9, an incident of "honour" killing was reported, in which a Dalit youth was stabbed to death by his girlfriend's relatives due to caste differences. The incident occurred in Nalgonda's Nidamanur mandal. Irigi Naveen, 21, of Tripuraram Mandal's Annaram village, was identified as the deceased.
According to the police, the girl's relatives murdered Naveen when he approached them with a marriage proposal. According to ETV Bharat, Miryalaguda Deputy Superintendent of Police (DSP) Venkatagiri, Naveen fell in love with a girl from the same village four years ago.
Both families were opposed to the relationship because the young couple belonged to different castes. It has been claimed that Naveen consumed poison prior to the attack, after the girl's family had objected to their relationship, for which he was hospitalised. Following this, the girl's relatives Navadeep, Manideep, and Shivprasad threatened to kill Naveen if he met her again.
On Sunday, the day of the killing, Naveen and his friend, Eta Anil of Annaram village, had traveled to Palvai Tirumal of Guntipalli in Nidamanur Mandal to meet with the girl's family and persuade them to accept their marriage proposal. Thirumal, Naveen's friend, had also called the girl's family to talk. Post this, around nine people with sharp weapons arrived at the spot on three two-wheelers and attacked Naveen and his friends.
Anil and Thirumal managed to flee while the bike-riding miscreants brutally thrashed Naveen and stabbed him in the chest and stomach with sharp weapons, according to DSP Venkatagiri. Naveen died on the spot before anyone could come to his aid. The miscreants fled the scene. Based on Anil's complaint, a case has been filed against the girl's family members, and the police have begun an investigation to apprehend the accused. According to ETV Bharat, Halia Circle Inspector Gandhi Naik and Nidamanur Sub Inspector Shobhan Babu are leading the investigation.
The post can be viewed here:
तेलंगाना : प्रेम करने की दलित युवक को मिली सज़ा, जातियाँ अलग होने की वजह से लड़की के परिवार वालों ने चाकुओं से गोदकर की हत्या@TelanganaCOPs https://t.co/FL3ImPaXo8 pic.twitter.com/5K06JHtkyY

— Dalit Times | दलित टाइम्स (@DalitTime) April 10, 2023
West Bengal:
On April 14, Ambedkar Jayanti, seven days after three tribal women were forced to crawl and perform the "Dandavat Parikrama" in Balurghat, police have arrested two people under the SC and ST (Prevention of Atrocities) Act, among other provisions. According to reports in The Indian Express, amongst those arrested are Biswanath Das, an aide of Paradipta Chakraborty, former district Mahila Trinamool Congress, who was arrested a day after the incident; and Ananda Roy, general secretary of Balurghat Town Trinamool Youth Congress. Roy also works as a contract employee for the Balurghat Municipality.
On April 6, the local BJP unit held a program in which it claimed that over 100 people, mostly women, had joined them. A next day, on Good Friday, the three women had allegedly crawled from close to the BJP's local office to the TMC's district headquarters. According to the Indian Express, the three tribal women – Martina Kisku, Thakran Soren, and Shiuli Mardi – seen crawling in a 27-second video purportedly from the BJP to the TMC office in Balurghat as "penance" for joining the BJP, said they were never with the BJP.
Pradipta Chakraborty, president of the district TMC women's wing, told the media the same day that the three women had been duped into joining the BJP and had performed the "parikrama" as "penance" before rejoining the TMC.
The act was captured on camera, causing widespread outrage. Sajal Ghosh, public prosecutor at Balurghat district court has provided that in the above mentioned case, two persons were arrested in this case (and) booked under IPC Sections 505 (incitement), 509 (insulting the modesty of women) and SC, ST Atrocities Act. It has been further provided that these accused were produced in court and remanded to judicial custody, and will be produced in court again on April 17.
According to the Indian Express, in addition to the above mentioned sections, section 3(1)(r) of SC and ST Atrocities Act, which deals with intentionally insulting or intimidating with intent to humiliate a member of a Scheduled Caste or a Scheduled Tribe in any place within public view, has been invoked.
Mrinal Sarkar, district TMC chief, spoke to the Indian Express and stated that "One of those arrested is in a party post. He will be removed soon. The police will take action against the guilty and will have to see that innocent people are not harassed in the case."
Conclusion
Caste dynamics pervade every aspect of life in vast areas of India, and thought not exclusive to, are manifest more sharply in rural areas. An overall indifference among the political class and citizenry blunt the much needed outrage to this continuing systemic violence and exclusion. As can be seen from the cases reported in April 2023, the malaise cuts across regions and occurs in states governed by different political dispensations. Often the violence is heightened as more articulate sections among Dalits oppose oppressions and denial and demand basic rights. Incidents of brute violence by teachers within schools showcase the discrimination within schools, killings and rapes display the worst kind of manifest violence. The continued prevalence of manual scavenging, denial of access to public facilities such as public taps, temples, and burial grounds, the Indian Constitution's guarantees of equality and liberation continue to be denied to India's most depressed sections, the Dalits.
The incidents also demonstrate that there is a systemic non-accountability of the law and order machinery in our country, as well as widespread infringements on the Dalit community's rights. The community's constitutional guarantees of right to life, liberty, and dignity under Article 21 remain on paper, and their rights guaranteed under Articles 15 and 17, which prohibit caste discrimination and abolish untouchability, remain violated. Stringent sections of the Scheduled Caste and Tribes (Prevention of Atrocities) Act, 1989 amended in 2015 also stand violated.
For any measure of state and societal accountability to be ensured, a political and executive will needs to be displayed. Combined with accountability from the judiciary and law enforcement machinery.
Related:
March 2023 Round up of attacks on Dalits
How long will Dalits and Adivasis students succumb to violent caste discrimination before effective measures are created?
Dalit MBBS female intern allegedly died by suicide due to caste discrimination
Dalit Sanitation Worker Dies by Suicide in Gram Panchayat Office in Telangana
Courts say, calling a person by caste name is not an offence: Explained
Manual Scavenging continues unabated, Indian Govts turns a deaf ear to acknowledge this systemic, extreme violence