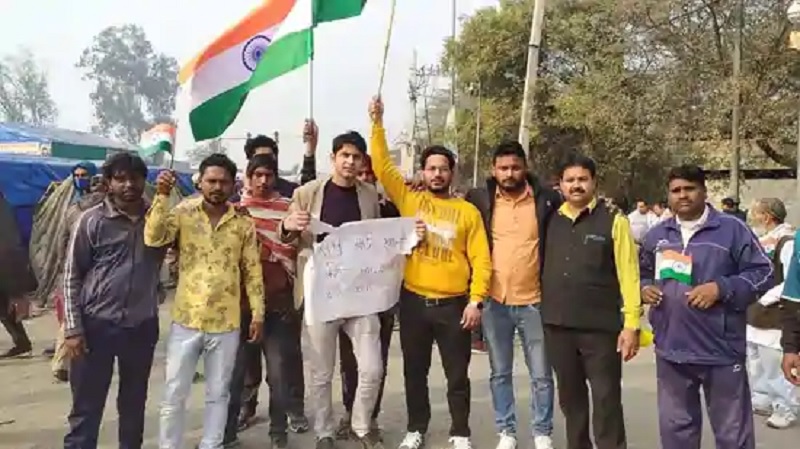 Chanting "Jai Sri Ram" and "Bharat Mata Ki Jai", a group of people, who identified themselves as residents of villages in Narela and from near Singhu border held an anti-farmer rally on January 28. The group, with many members carrying the National Flag, has demanded that the protesting farmers "vacate Singhu border".
They chanted slogans such as "India will not tolerate insults to the Tricolour", which seems a reaction to the misinformation being spewed that the National Flag was removed or disrespected by farmers on January 26. It has already been reported by multiple news outlets and fact checkers that when hundreds of farmers reached the Red Fort on January 26, the Tricolour atop the fort continued to fly high as always. Some farmers hoisted a 'kesari' Sikh flag on another vacant pole at the Fort's ramparts. The flag, hoisted by the farmer was the "Nishan Saheb" – a flag representing Sikh faith which was soon maliciously interpreted as a 'Khalistani flag.' Farmers were also seen unfurling the Indian national tricolour flag along with Kisan Ekta and Nishan Sahibs.
However, as the controversy continued for days, this group claiming to be local residents of nearby villages, along the Singhu border, say they have "given farmers a 24-hour ultimatum to vacate the place…" According to News24, these people are demanding that the road be emptied and that they will not tolerate that policemen were injured. "We were tolerating them for two months. But we will not tolerate them insulting the Tricolour", said a resident who said he was from Narela (in Delhi). He added that if the farmers did not vacate in a day, people from 40 villages from Narela will descend on the farmers and "sort them out".
#BREAKING : सिंघु बॉर्डर पर आसपास के गांव और हिन्दू संगठनों ने किसानो को जगह खाली करने के लिए 24 घंटे का अल्टीमेटम दिया… #KisanAndolan #FarmersProtests@varunjournalist pic.twitter.com/wmJbxA2dHt

— News24 (@news24tvchannel) January 28, 2021
This brings back chilling memories of a statement made by BJP leader Kapil Mishra in Jafrabad just before the February 2020 Delhi violence.