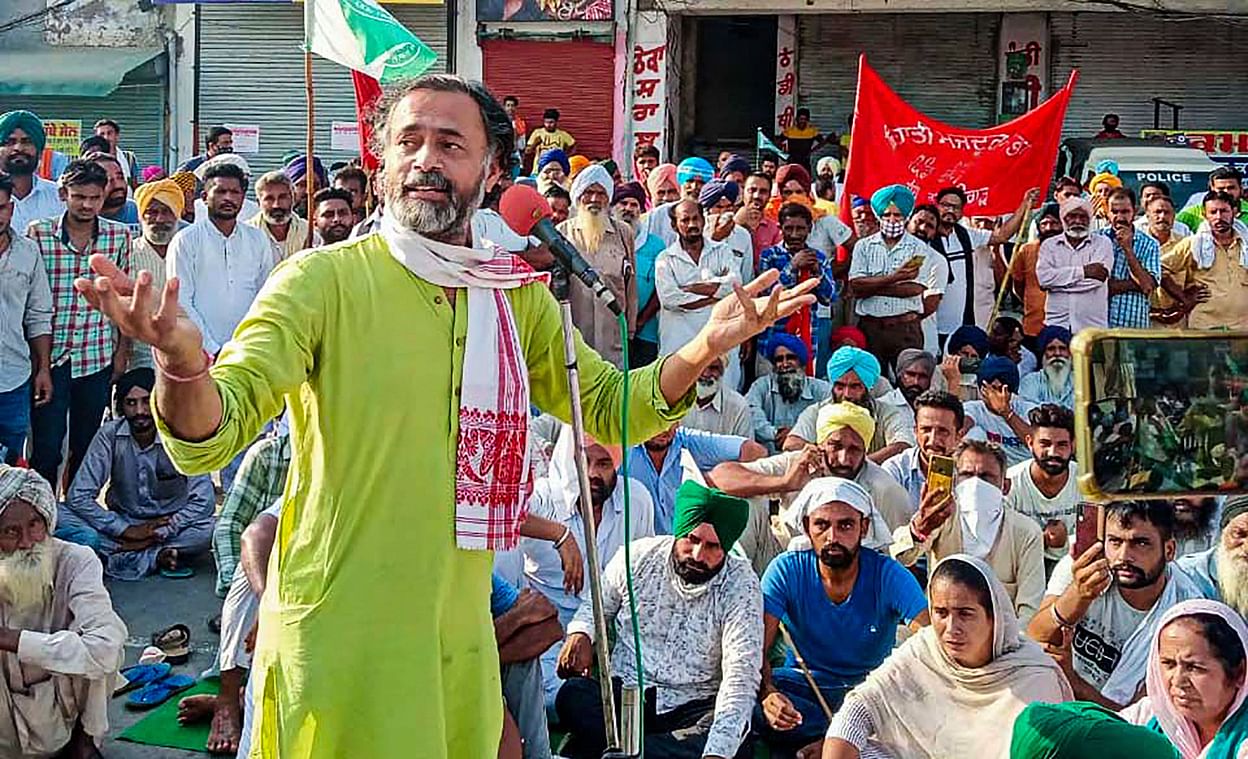 Image courtesy: PTI
Karnataka is the first state to bring forth evidence of the damage done to government mandis by the new farm laws, said Samyukt Kisan Morcha (SKM) leader Yogendra Yadav in a press conference in Bangalore city on March 7, 2021.
The law permitting private trade outside the government mandi in the state came into force on May 15, 2020 despite the Supreme Court's stay order. SKM and other farmer leaders visited Gulbarga and Ballari districts of the state under the MSP (Minimum Support Price) Dilao Abhiyan, to observe the effects of the new provisions and the promise by Prime Minister Narendra Modi on MSP for all farmers.
Following visits to the Gulbarga market and Upaj mandi, leaders said that if the arrival of crops from 15 May 2020 to 28 February 2021 in all state mandis is compared to the arrival in the same period of the previous year, then it foreshadows the closure of markets.
"After the implementation of the new law, compared to last year, this year, the arrival of paddy in the mandis has come down by 27 percent, maize by 26 percent, tur dal by 24 percent and gram by 29 percent," said the SKM.
It may be noted that the production of these four crops has increased compared to 2020, yet arrival of crops for sale decreased in the mandis, indicating that the trade has begun outside mandis.
"What has happened in Karnataka is a precursor to the destruction of mandis across the country," said Yadav.
Further, market visits revealed that most crops in Karnataka are currently sold well below the MSP fixed by the government. On March 5, seven out of eight crops sold in Ballari were sold below MSP. Maize sold for Rs. 1,459 per quintal instead of Rs 1,850 per quintal. Similarly, jowar was sold at Rs. 1,728 per quintal instead of Rs. 2,640 per quintal. Millet sold at Rs. 1,482 instead of MSP Rs. 2,150 and gram sold at Rs. 4,182 per quintal instead of Rs. 5,100 per quintal.
Urging farmers to expose such lies, Yadav asked, "What is the meaning of MSP was, is and will remain? If MSP is there then why does the farmer not get it? If it is not, why doesn't the Prime Minister stop false propaganda?"
Meanwhile, Jamhoori Kisan Sabha President Satnam Singh Ajnala from Punjab, confirmed that maize farmers were similarly robbed in Punjab. Former chairman of the Agricultural Price Commission of Karnataka Dr. Prakash Kammardi cited figures of the previous year and pointed out that farmers in Karnataka are forced to sell 72 percent of their crop below MSP.
"Every year a farmer has to bear a loss of Rs. 3,119 crore. If we compare current market prices to the MSP suggested by the Swaminathan Commission, we will see that state farmers have suffered a loss of Rs. 20,339 crore last year. If the government spends Rs 10,500 crores every year, then MSP can be provided to all farmers as per the Swaminathan Commission," said Kammardi.
Related:
100 days of farmers' struggle: Agitation evolves and grows stronger
Delhi Police allegedly detain 25 women and a toddler
Karnataka farmers ask: Where is MSP Modi ji?
India's farmers and workers to commemorate Anti-Privatisation Day on March 15
Labour activist Shiv Kumar granted bail by Haryana court
Nodeep Kaur case: NHRC seeks report from Haryana Police over alleged custodial torture
IT raids, govt's desperate attempt to attack farmer supporters: SKM
Farmers focus on assembly election stating "govt only understands votes"