Ninth Circuit Court of Appeals sides with lower court ruling by saying that re-instituting ban would do more harm than keeping injunction in place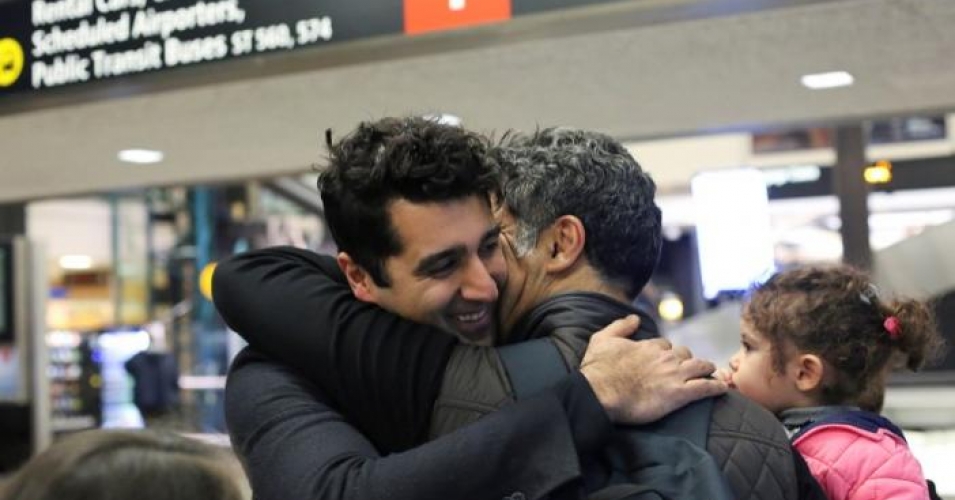 Iranian citizen and U.S green card holder Cyrus Khosravi (L) greets his brother, Hamidreza Khosravi (C), and niece, Dena Khosravi (R), 2, after they were detained for additional screening following their arrival to Seattle-Tacoma International Airport to visit Cyrus, during a pause in U.S. President Donald Trump's travel ban in SeaTac, Washington, U.S. February 6, 2017. (Photo: David Ryder)
In the latest legal blow to President Donald Trump's attempt to institute a controversial immigration and travel ban targeting seven predominantly Muslim nations, the Ninth Circuit Court of Appeals on Thursday unanimously sided with a lower court which earlier this week imposed an injunction against Trump's executive order.
Reuters reports:
The ruling from the 9th Circuit, which followed a hearing on the case on Tuesday, does not resolve the lawsuit, but relates instead to whether Trump's order should be suspended while litigation proceeds.
Two members of the three-judge panel were appointed by former Democratic Presidents Jimmy Carter and Barack Obama, and one was appointed by former Republican President George W. Bush.
The government could ask the entire 9th Circuit court to review the decision "en banc" or appeal directly to the U.S. Supreme Court.
The three judges said the states had shown that even temporary reinstatement of the ban would cause harm.
Read the full Ninth Circuit decision here (pdf).
Omar Jadwa, director of the Immigrants' Rights Project at the ACLU, which has also challenged the policy, welcomed the decision.
"The appeals court's refusal to reinstate the Muslim ban is correct," Jadwa said in a statement. "We will keep fighting this un-American executive order until it is permanently dismantled."
Meanwhile, Sahil Kapur, national political reporter for Bloomberg, points out some key takeaways from the ruling: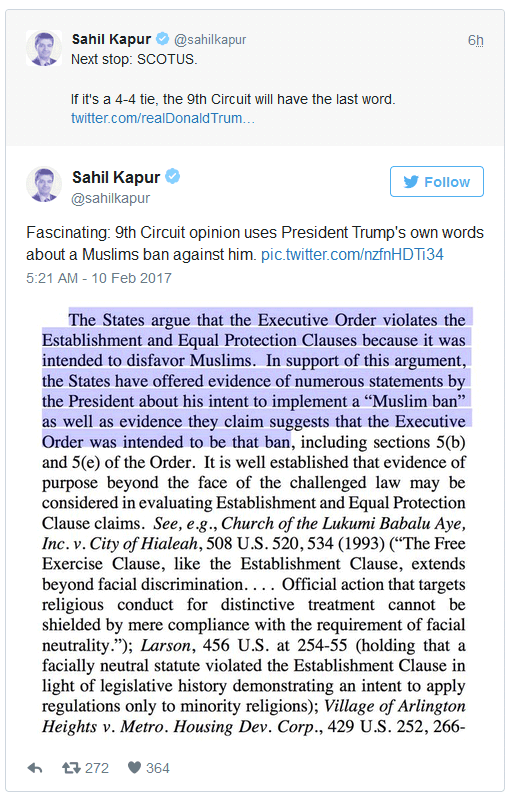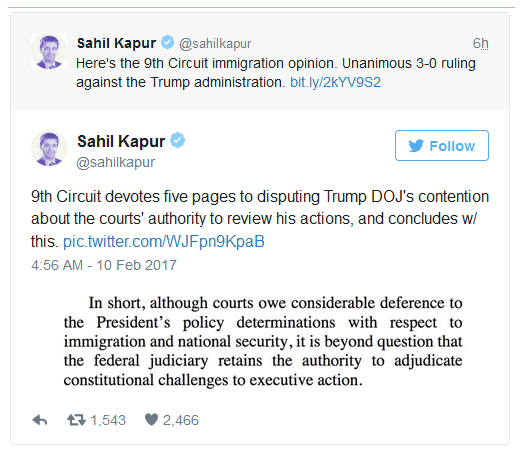 And whereas President Trump himself responded to the ruling by tweeting, "SEE YOU IN COURT, THE SECURITY OF OUR NATION IS AT STAKE!"" — it was ACLU attorneys who said they look forward to the opportunity: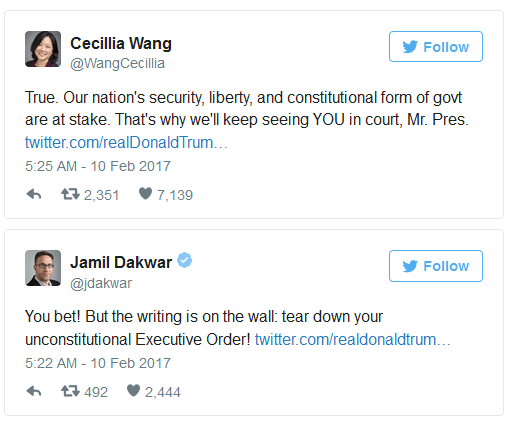 Courtesy: CommonDreams