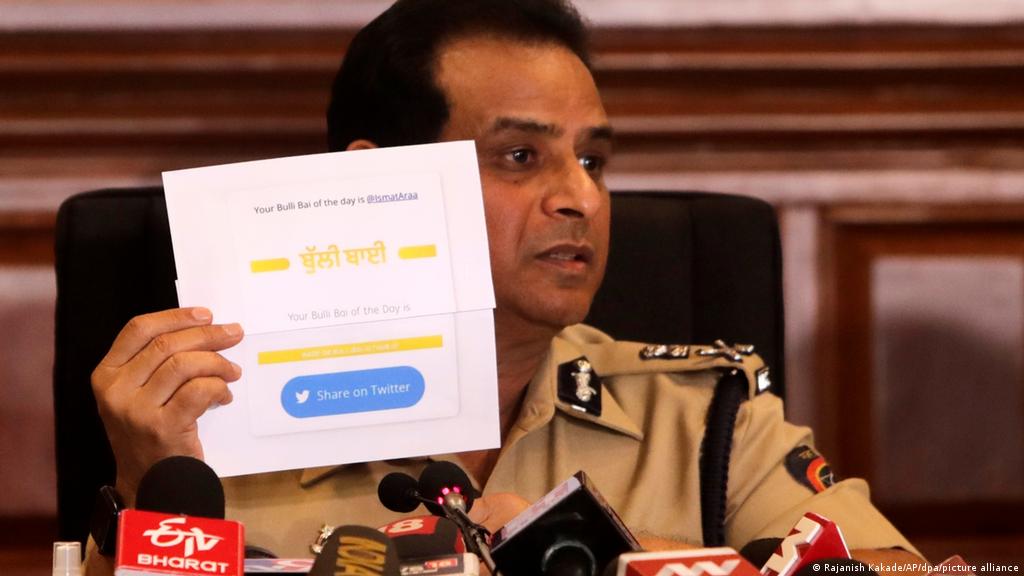 Mumbai Chief of Police Hemant Nagrale speaks during a press conference following the arrests of several people for their alleged involvement in the Bulli Bai app | Image: https://www.dw.com/

In wake of two successive apps that provide an online platform for "auction" of Muslim women, an ecosystem of TRADs has come to light. These TRADs are the ones running an elaborate social media campaign to popularise these apps. So, what are TRADs?
The word first came to light when the Delhi police revealed that both Aumkareshwar Thakur (arrested from Indore in the S**li Deals case) and Niraj Bishnoi (arrested from Assam in the B**li Bai case) were members of TRAD groups online. According to the police, Thakur had joined a TRAD group named Tradmahasabha using the @gangescion Twitter handle. He reportedly told the police that the idea to target and defame Muslim women came from discussions among members of this group. However, he appears to have deleted his online footprint.
Simply put, TRADs are Hate groups comprising people who identify as "Traditionalists" or "Trads". Additionally, the name is also an acronym of sorts and stems from the fact that these groups are operating predominantly on Telegram, Reddit, 4chan and Discord (thus TR4D or TRAD). The Hate content created and shared on such apps is also shared widely using other social media platforms such as Twitter where these "trads" are often very active, busy trolling anyone who does not agree with their extreme right-wing supremacist views. Members of these hate groups claim to be preserving tradition by targeting those who speak up against it – people like outspoken Muslim women whose images, names and Twitter handles were used in both the auction apps.
In an interview to The Quint, journalist Alishan Jafri says, "It's largely an organic movement through which thousands of young people make friends online because of their extremist far-right views and genocidal 'humour'. It's a movement driven by only hate for Muslims, Dalits, Sikhs, and other minorities."
After the arrest of Aumkareshwar Thakur, a senior police official told Indian Express, "These are some 'traditional' and conservative groups. I saw them… the members seem to have oppressive views — from the caste system to women empowerment. They condemn changes happening around us (in society) and often share texts from scriptures or offensive memes." IE further reported that most platforms are "rife with casteist slurs, abuse aimed at Ambedkar, and talk of replacing the Constitution with the Manusmriti." The content is also extremely Islamophobic.
However, some of them have views so extreme that they think the present Narendra Modi-led government isn't doing enough to crack down on those who go against tradition. Journalist Alishan Jafri told The Quint, "Many of them believe that the Chaturvarna system should be strictly enforced and Manusmriti must replace the Constitution of India. They even dislike Prime Minister Modi and consider him to be unfit to be the PM. They mock his caste and his supposed inability to deal with the minorities with an iron hand, especially post-Bengal violence," adding, "In the Trad world, glorification of anti-Dalit violence is quite rampant."
Given factors such as easy access to the internet, hate for lower-castes, women and minorities, and frequent quoting of scripture, it can be surmised that membership predominantly comprises educated people hailing from so-called "upper" castes. All of this is deeply unsettling especially in wake of the rise in open calls to genocide of minorities, given not only during the Dharm Sansad, but also previously via slogans like "Desh ke gaddaron ko, goli maaro s***on ko," (Translation: Shoot the traitors) that was originally directed at people protesting the Citizenship Amendment Act (CAA) that was openly discriminatory towards Muslim refugees. The slogan thus essentially labelled minorities as traitors.
But while it is easy to identify online trolls, it is difficult to keep a tab on "trads" given how they usually operate in their own groups. It is, therefore, harder to stem this online radicalisation of privileged youth, who it appears are not only harbouring extreme opinions, but are also comfortable with the idea of the Hate spilling offline and having consequences in the real world.
This is reminiscent of the Alt-Right movement in the United States, where Hate and supremacist ideas spread like wildfire online courtesy members of groups like Q Anon. The real-world impact was felt during the January 6, 2021 attack on the US Capitol. One therefore wonders what these young minds, already full of festering Hate, are planning next.
Related:
Four foot-soldiers arrested, but who is the real mastermind?
Bulli Bai case: Are arrests enough to quell the storm?
Citizens reclaim Varanasi ghats: VHP, Bajrang Dal's communal posters fail