District Administration Ordered to Explain Non-Renewal of Licenses, Govt asked to Produce Directive Before Court. Ayodhya Seer Threatens Suicide Unless UP CM Gives time to Muslims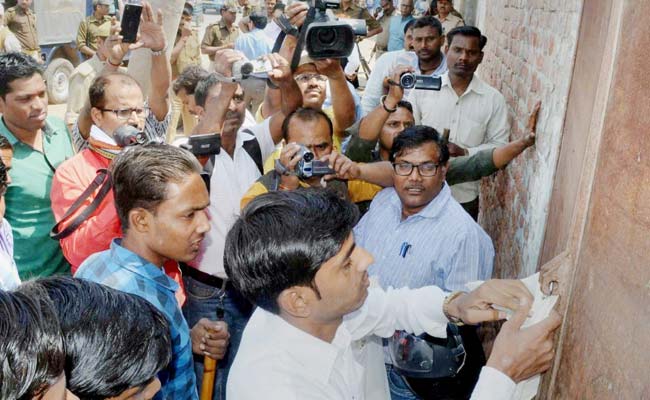 Image: PTI
The Lucknow HC yesterday expressed extreme displeasure over the arbitrary manner in which the administration has been acting on the UP government's directive for shutting down "illegal" slaughterhouses. The Lucknow municipal corporation has been asked to explain why it us not renewing licenses.
Meanwhile, a seer from Ayodhya has asked chief minister, Yogi Adityanath to grant a year's time to Muslim traders (for license renewal), failing which he has threatened to commit suicide. Responding to a petition filed by advocate Girish Chandra, the HC has ordered the state government to place before it the directive regrading slaughterhouses (issued
by the recently elected BJP government). April 3 has been fixed as the next date of hearing.
According to the Chandra, "poor meat traders are being made to pay a heavy price because of the mal-administrarion of the government and the city corporation." He added, "despite the Environment Ministry's notification that all slaughterhouses must be licensed, the civic bodies failed to issue licenses to over 300 slaughterhouses in UP. Nor did they renew licenses."
In 2015 itself, Chandra had filed a petition on behalf of 412 meat traders, demanding renewal of their licenses but no action has been taken till date.
Meanwhile, Ayodhya Seer, Swaminath Chaturvedi, said at a symposium in Delhi, "unless CM Adityanath grants a year's time to meat and fish traders, I will commit suicide in front of the state assembly." He added, "by his directive for immediate action overnight, the CM has turned lakhs of people jobless. The CM should give time till March 11, 2018 to enable Muslims to continue their trade and renew licenses."
He further said, "people's opinions should have been sought before issuing the directive on slaughterhouses."
He appealed to the CM, "Yogiji, you belong to the Nath sect and you are a Thakur. Therefore, you should follow the Raj Dharma and save the nation."