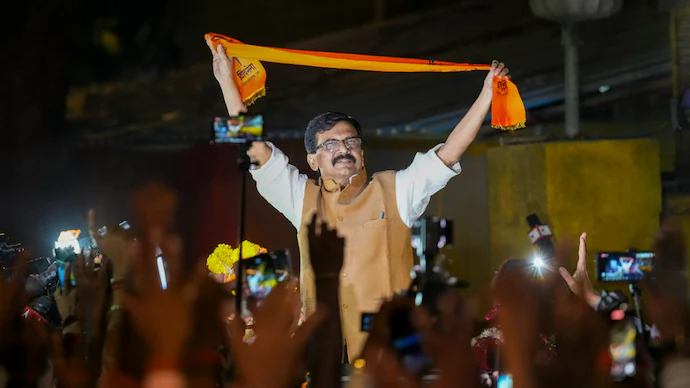 Image: PTI

A Mumbai special, PMLA court has granted bail to Shiv Sena MP (UddhavBalasaheb Thackeray group) Sanjay Raut in an alleged money laundering case, on November 9. Neither the PMLA Court nor the Bombay High Court granted a stay on the operation of the bail order and Raut walked free late evening on Wednesday to a tumultuous welcome, fire crackers bursting, by Shiv Sainiks. A visit to the iconic Siddhi Vinayak temple and a glowing tribute to India's judiciary were the fiery MP's first reactions on his release. "I have full faith in the Indian judiciary and truth has prevailed. Jail is Jail be it Andamans or Arthur Road,' Raut said on his release. "In a democracy, we thrive on differences. The question is how these are dealt with by the ruling regime," he added making a direct reference to the political manipulation of agencies like the ED and CBI by the Modi-Shah government.
The Enforcement Directorate (ED), which was investigating the case, had previously appealed to the court that the bail order does not take effect until Friday, i.e., November 11. However this was not accepted. The High Court will hear the plea against grant of bail on Thursday.
On November 2, the court had reserved its order on the bail plea after lengthy arguments over weeks by Additional Solicitor General Anil Singh, representing the Enforcement Directorate (ED) and advocates Abaad Ponda and Vikrant Sabne appearing for Pravin Raut and Sanjay Raut. Today, around 1.15 pm, Special PMLA judge MG Deshpande granted bail to both Sanjay Raut and Pravin Raut on a Rs 2 lakh bail bond each.
However, ASG Anil Singh immediately put forth an application asking the court to not give effect to the bail order for a week. Advocates Ponda and Sable opposed the request. Singh argued, "It is not that the courts have not been doing this to give breathing time to the agency. Don't give effect to the order for some time. It is a reasonable request. Every small order is tested in higher courts these days and so time needs to be given.
On this, Advocate Ponda said, as reported by msn, "I have objections on two grounds. One is the moral and factual aspects. It is not like when the ED approaches the high court, Pravin Raut will run away. They have a right to test every small order. But morally and factually, when it is a right of the accused to get liberty, it is not right to stay the order."
Pursuant to this, the Court rejected ED's application against Shiv Sena MP Sanjay Raut's bail and granted bail to Sanjay Raut and Pravin Raut with immediate effect.
Background:
Sanjay Raut was arrested on July 31, 2022 and is accused of committing offences under Section 3 read with Section 2(1)(u) of the Prevention of Money Laundering Act 2002 (PMLA).After spending a few days in ED custody following his arrest on August 1, Raut was transferred to judicial custody. He is presently incarcerated at the Arthur Road facility. The ED detained Pravin Raut in February of this year. The ED said that Raut received Rs. 3.27 crore from Guru Ashish Constructions Pvt. Ltd. (GACPL) through his "proxy" Pravin. This includes cash from the co-accused GACPL directors as well as funds sent through banking channels. Raut allegedly used to purchase houses in Mumbai and Alibagh using the said corrupt money.The Patra Chawl land fraud is centered on the 672 MHADA tenants who were supposed to receive their new homes but that never happened.
On March 31, 2022, the ED filed its initial chargesheet against Sarang and Rakesh Wadhawan, the DHFL's promoters, as well as Pravin Raut and his business. Sanjay Raut was the subject of additional allegations brought by the agency in September, along with some evidence against Pravin Raut.
According to the ED's argument, GACPL and MHADA entered into a contract for the renovation of Patra Chawl in Goregaon. It was intended to build flats for the chawl's 672 occupants. GACPL had the right to purchase a free sale component (FSI) of the land that belonged to MHADA and sell apartments to outside buyers. However, GACPL fraudulently transferred the FSI to multiple third-party purchasers and collected over 1,034 croreswhile failing to meet its obligations to the tenants and MHADA. This sum was given to HDIL and other sister organizations.
According to the ED complaint (chargesheet), Sanjay Raut and the directors of GACPL planned to launder money using the Patra Chawl Redevelopment Project. Due to Pravin Raut'sproximity to Sanjay Raut, the FSI was sold to GACPL. Sanjay Raut, according to ED, was involved in the development project from its conception until completion. In addition to MHADA officials and others, he attended meetings presided over by the Chief Minister and the Union Agriculture Minister for the redevelopment of the Patra Chawl.
According to the chargesheet, Sanjay Raut appointed PravinRaut as a director of GACPL in exchange for a 25% share without participating in the business in order to exert control over the project. Pravin Raut was merely Sanjay Raut'sfrontman, carrying out the actions and working behind the scenes. Sanjay Raut is accused by the ED of receiving 112 crores from HDIL, which he allegedly used to buy various assets and redirect to his family and business acquaintances. He was therefore intentionally involved in the production and transfer of criminal proceeds according to ED.
Related:
BJP using The Kashmir Files to win Assembly elections: Sena MP Sanjay Raut
Supreme Court declines Amnesty International plea against ED's freezing of bank account