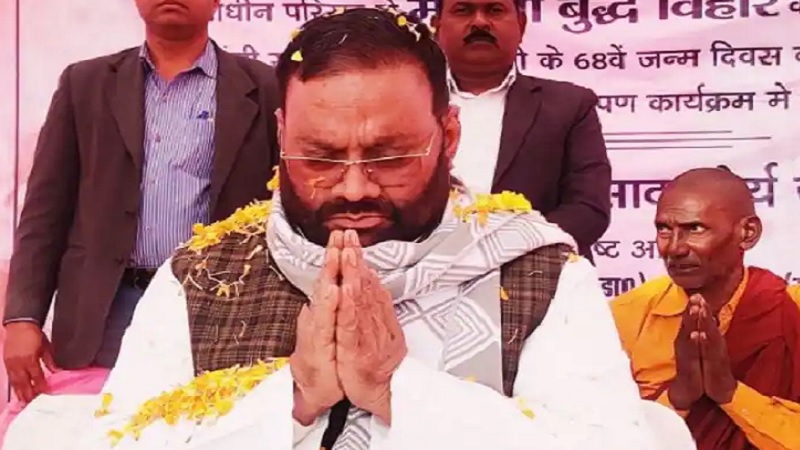 Image Courtesy:news.abplive.com
Uttar Pradesh's prominent OBC leader, and now Ex-minister, former Bharatiya Janata Party (BJP) man Swami Prasad Maurya was reportedly asked to appear before the court on December 12, however he did not show up.
Maurya has not yet officially joined the Samajwadi party, though he has met SP Chief Akhilesh Yadav who told mediapersons, "UP is tired of hatred politics, politics of insult and exploitation; UP will see change." Swami Prasad Maurya had told NDTV that his resignation "caused an earthquake in the BJP" adding that he "only quit as a minister. I will quit the BJP soon. For now, I am not joining the Samajwadi Party."
Swami Prasad Maurya resigned from the Yogi-government on January 11, days after the Election Commission announced Assembly elections for the State. He quit along with Roshan Lal Verma, Brijesh Prajapati, Bhagwati Sagar and Vinay Shakya. Maurya declared he had "rejected the BJP… there is no question of going back," and had reportedly even met Union Home Minister Amit Shah two months ago, about "Adityanath's style of working." While it is yet to be seen if the OBC leader joins Akhilesh Yadav and brings the non-Yadav OBC vote to SP, the arrest warrant in a 2014 case has surely added fuel to the issue.
Polls will be held in seven phases for the mammoth 403-seat UP Assembly from February 10 to March 7. According to news reports, SP Maurya now faces arrest over alleged hate speech and the warrant for his arrest has been put out in Sultanpur just a day after his resignation. He has now reportedly been asked to appear before the court on January 24 in a case of inciting religious hate. The case dates to when he was in Mayawati's Bahujan Samaj Party (BSP) and he had reportedly said, "Goddess Gauri or Lord Ganesha should not be worshiped during weddings. It is a conspiracy by upper caste-dominated system to mislead and enslave Dalits and backward castes."
An earlier warrant for his arrest was put on hold by the Allahabad High Court in 2016 stated news reports, adding that there have been many hearings in the case, the last was on January 6, when a Sultanpur court had asked him to appear on December 12. When he did not, the court renewed his warrant.
Related
BJP MLA Swami Prasad Maurya quits Yogi regime
With her poll strategist this time, Didi might be missing the wood from the trees!
Assembly election dates announced for five states
Gurugram: Hindu Sena leader seeks to intervene in contempt plea before SC
'No Entry' for non-Hindus at Varanasi Ghats?