At least 11 people were injured in a grenade attack in Guwahati on Wednesday evening. According to Assam police, suspected ULFA members threw a grenade in front of Guwahati Central shopping mall on Wednesday evening at around 7.40 PM.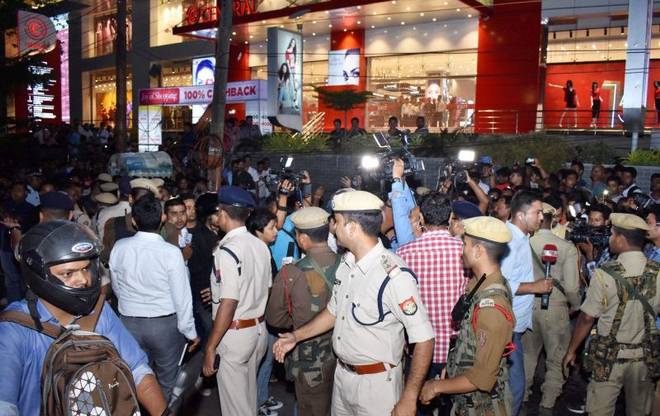 The place of incident is R G Baruah road in the heart of the capital city. The blast spot is only one and half kms from State Secretariat!
Dr Kula Saikia, the Director General of Police, Assam, who rushed to the spot immediately said that two motor bikers threw the grenade from the opposite side of the road aiming at a police picket. He said that the police are taking all steps to nab the culprits. He pointed out that it may be a cowardly act of militants or an act of frustration.
Both, Chief Minister Sarbananda Sonowal and opposition leader Debabrata  Saikia strongly and unequivocally condemned the incident. 
In his statement Debabrata Saikia said, "It is due to the failure of BJP government that terrorist forces are gaining strength once again and succeeded in conducting a grenade blast in the state capital." He also demanded that the home portfolio which is under Chief Minister at present should be given to someone else for more effective functioning of home department.
The injured have been identified as Amulya Ratan Mahato (SSB Jawan), Ramesh Lal (SSB Jawan), Bijay Kumar Shah, Fardin Shahnin Rahman, Ahmed Kumar, Kalyan Baishya, Lala Kumar Yadav, Edward Mamar, Hirakjyoti Barua, Amit and Richa Khasar (father and daughter).
Both the SSB jawans along with Bijay Kumar Shah, Fardin Shahnin Rahman and Ahmed Kumar are admitted in the Gauhati Medical College Hospital (GMCH). Meanwhile, Kalyan Baishya, Lala Kumar Yadav, Edward Mamar and Hirakjyoti Barua are admitted in KGMT Hospital in Geetanagar. Amit and Richa Khasar were admitted in Nemcare Hospital in Bhangagarh at Guwahati.