May 18, 2019 marks completion of 12 years of Makkah Masjid bomb blast and subsequent police firing which killed 9 people and injured more than 50 people.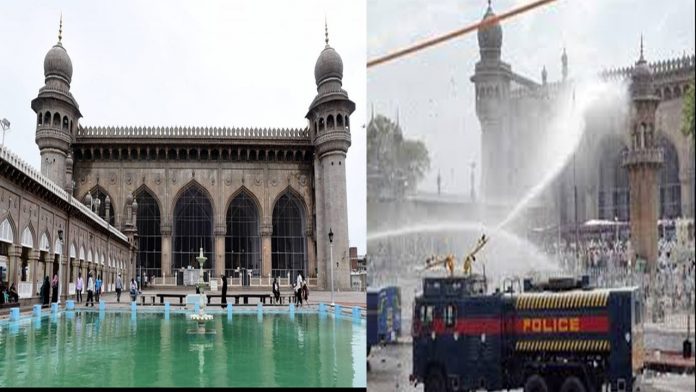 On this occasion Civil Liberties Monitoring Committee (CLMC) have issued a press release condemning the blasts and the injustice done to the victims, survivors and their families by acquitting the accused. In their press release , the CLM committee says that Makkah Masjid terror attack is a classic case of state sponsored terrorism. Expressing grave concern over the denial of justice even after 12 years of the Makkah Masjid bomb blast and subsequent police firing, they said, it is not just a matter of denial of justice to the victims but the collapse of whole criminal justice system. Because of the failure of the judicial procedure terrorists are roaming freely with total impunity. It should be noted that selective use of justice is the worst form of injustice.
Muslims have suffered from three sides on that unfortunate day – one being the blasts that killed and injured innocents who had gathered for the prayers; the second is the indiscriminate firing by the police again on the Muslims who were fleeing the place in terror and third is the false propaganda against Muslims accusing the community of planting bombs in their own mosque.
Even after 11 years those Muslims who have faced these tragedies have not fully recovered from the shock and grief. The Muslims in Hyderabad strongly believe that the government did not take appropriate measures to provide justice to them. That NIA appointed a special public prosecutor, an active member and office bearer of BJP in place of its regular public prosecutor and what followed was daylight killing of justice with entire trail getting sabotaged, witnesses including official witnesses getting hostile and crucial piece of evidences left to punch loopholes in the trail; resulting in crucial pieces of evidence getting side lined for want of supportive evidences which led to an utterly erroneous and shocking judgment pronounced on 16-04-2018 in which the trail court acquitted all the accused.
CLMC in their press release further state that it is high time that the whole nation combats and resists the policy of safeguarding the impunity of terror elements to save the secular and democratic fabric of India. A sincere approach to justice is the only way forward. Otherwise innocent victims, those falsely implicated in terror charges will be perpetually suffering unjustly.
CLMC demands the government of Telangana to initiate proper judicial process for ensuring justice for victims of blast case, including filing an appeal against the impugned judgment or ideally seeking a retrial to re-appreciate the substantial evidence available on record against the accused, by conducting a sincerely monitored prosecution, to restore the confidence of the public in justice delivery system.
Courtesy: Two Circle