While there is a rampant increase in the number of crimes in India, as per the latest report by the Bureau of Police Research and Development on vacancies in police organizations, 5.43 lakh police posts are vacant all over India with Uttar Pradesh recording the highest number of vacancies as on January 1, 2018. Strikingly, Nagaland became the only state where actual strength of police personnel exceeded the sanctioned strength.
Image Courtesy: India Today
As reported in
The Times of India
, there was a sanctioned strength of 24,84,170 police personnel as on January 1, 2018 across all states and union territories, however only 19,41,473 posts were filled i.e. 78%. Uttar Pradesh, a state replete with communal violence and mob lynching, had the highest number of vacancies at 1.29 lakhs.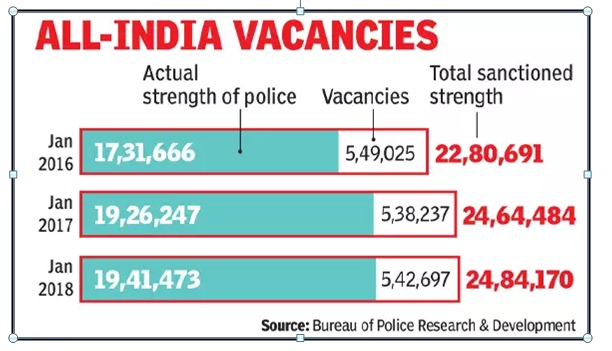 It is pertinent to note that the total sanctioned strength has increased by only 8% from 2016 to 2017 and 0.8% from 2017 to 2018. On the other hand, the number of vacancies, which should ideally fall down, is reduced merely by 2% from 2016 to 2017 and have again increased by 0.8% from 2017 to 2018. Interestingly, the percentage increase in the number of vacancies from 2017 to 2018 is equivalent to the percentage increase in the number of sanctioned strength in the same period. This clearly means that there were no new recruitments despite the sanctioned strength increasing. Further, the percentage of vacancies vis-a-vis the total sanctioned strength in each year remained more or less the same with a vacancy of 24% in 2016 and 22% in 2017 as well as 2018 (all figures are rounded up). Thus, in the past three years we have not managed to have a police force strength of more than 80%.
According to our government-mandated ratio, there should be one police personnel for every 547 Indians i.e. 1,828 for every 10,00,000 population. According to the United Nations, there should be an officer for every 454 people. However, in 2017 we had only 1450 police personnel, a deficit of 378 police personnel for every 10,00,000 population, as per our set standards. According to a 2010 report from the United Nations Office on Drugs and Crime,
India ranked 49
th
in a ranking of 50 countries, better than only Uganda, in terms of police to people ratio. That year, we had one police personnel for every 775 Indians. Therefore, there has been an improvement in our police to people ratio from 2010, however, we continue to perform poorly and are yet far away from meeting the standards.
Notably, Delhi, the capital city, had 11,819 police posts vacant as on January 1, 2018. Further, UP, the state having the highest population in the nation also has the worst police to people ratio with a vacancy of 1,28,952. It had only 2,85,540 personnel despite a sanctioned strength of 4,14,492. Interestingly, Nagaland is the only state in the country which is overstaffed with 941 more personnel than its sanctioned strength of 21,292 posts. The states with the highest vacancies include- Uttar Pradesh, Bihar, West Bengal, Telangana and Maharashtra, in the same order. The following table gives the status of police vacancies in few of the states in India.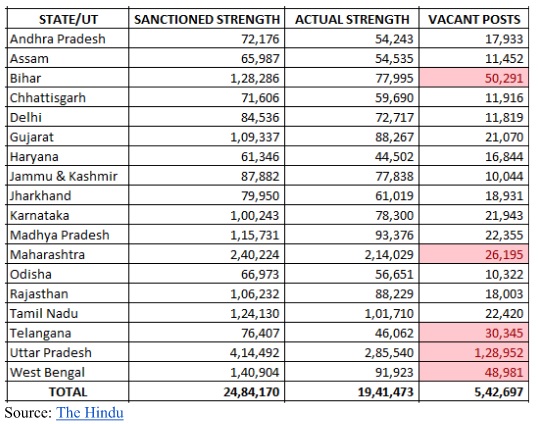 'Police' and 'Public Order' are State subjects under the Seventh Schedule of the Constitution of India and therefore, it is the primary duty of the State Governments to prevent, detect, register and investigate crime and prosecute the criminals. However, a lack of police force, due to multiple reasons such as recruitment delays, makes it difficult to constantly keep a check on the law and order situation of the particular state. Lately, various states have witnessed violence, communal riots and other crimes, with law and order crises erupting now and then in all states
Communal rioting in UP and West Bengal, political violence between the Left and the Right in Kerala, protests over water crisis in Chennai, lynching over cow slaughter or beef smuggling in Jharkhand and UP, are just some of the incidents that the respective state police have had to deal with in the last few years.
Though the breakdown of law and order and inadequate policing is partly also a result of lack of training, resources and other factors, shortage of constabulary and police officers also account for it. Internal security is very much a prerogative of police and efficient policing is needed in order to tackle threats. But for that, the police system needs to be efficient, effective and technologically sound. Therefore, it is high time that all the states, especially the ones having a sensitive law and order situation, pay attention to their respective police forces and fill up the vacancies.
Related Articles: