As human rights defender Khurram Parvez continued to be under allegedly unlawful detention for the 58
th
 day in Kotbalwal jail, unmindful of the wide condemnation of both his 
detention
 and the large 
numbers of illegal detentions
 in the Valley since July 8 this year, the Jammu & Kashmir (J & K) police  on Tuesday has arrested Jammu and Kashmir Liberation Front (JKLF) chairman Mohammad Yasin Malik and also put Hurriyat Conference chairman Mirwaiz Umar Farooq under house arrest, according to news 
reports.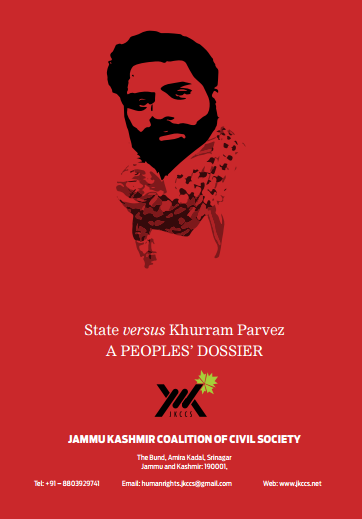 Image credit: JKCCS
On the 56
th
 day of Khurram Pervez's detention, November 9, the Jammu and Kashmir Coalition of Civil Society (JKCCS) released a '
people's dossier
' about Parvez to "once again draw attention to the unlawful detention" of the human rights activist, and "the ongoing violence against the people of Jammu and Kashmir." Parvez is associated with JKCCS as Jammu and Kashmir Programme Coordinator.  
The 27-page-dossier released talks about Parvez's work worldwide including and in the context of the violence inflicted by the Indian army on the civilians and instability caused by the heavy militarisation in the state.
Ever since the killing of Hizbul Mujahideen terrorist Burhan Wani on July 8 this year, continued illegal detentions, arrests and violence apart from other forms of state repression have shattered the fragile peace in the state. Worst has been the impact of pellets in firings by the army, para-military and police, actions that have left a trail of permanently 
visually impaired
youngsters
 and injured in the state.  
It reads, "Jammu and Kashmir is the most militarised zones in the world where an estimated 7,00,000 Indian armed forces have been deployed. For the past 26 years, civilians have faced widespread and systematic attacks by Indian forces resulting in 70,000+ extra-judicial killings, 8000+ enforced disappearances, 7000+ unmarked and mass graves and numerous cases of torture and sexual violence. 
With Parvez at the forefront, JKCCS
 has extensively documented and litigated human rights violations by Indian state forces."   
It calls detention of Parvez "typical of the Indian state's consistent use of the Public Safety Act" to suppress the voices of those who talk about "India's human rights abuses" and keep them "out of circulation".  
It is 
estimated
 that more than 9,000 people from the valley including political activists and minors have been jailed, and at least 500 are detailed under Public Safety Act during the ongoing curfew since Wani's killing. Use of pellet guns have injured thousands of civilians in the state, including a large number of children.  
Referring to these appalling numbers, the dossier read "Over the last three months, the fundamental rights of the people of Jammu and Kashmir have been severely curtailed through continuous curfews, restrictions on peaceful gatherings - marches, funeral processions and public prayers – and a blockade of telecommunication services. A popular news daily, Kashmir Reader has been banned, working journalists have been physically attacked by state forces, and their homes vandalised. State forces have killed more than 100 civilians and injured more than 15,000. 1000 civilians have had their eyes damaged due to the use of shot gun pellets on protestors."
JKCCS has demanded immediate release of Khurram, and total reinstatement of "his rights and freedoms". The dossier cites international support for Khurram as a result of his diligent work in the human rights area. It reads, "Parvez's arrest has drawn expressions of international solidarity, demands for immediate release, and strong condemnation of the Indian state, from the world community, including in an open letter signed by eminent scholars, thinkers and activists, such as Dr. Naom Chomsky, Dr. Judith Butler, and Arundhati Roy."   
Several organisations have spoken up for Khurram and have extended their support to the human rights activist. The list in the dossier includes names like Amnesty International, Human Rights Watch, Lawyers Watch Canada, International Commission of Jurists, Asian Federation against Involuntary Disappearance, Frontline Defenders, as well as local, Indian and Pakistani human rights groups such as Kashmiri Pandit Sangharsh Samiti, Parveena Ahanger-led APDP, Peoples' Union for Democratic Rights, Peoples' Union for Civil Liberties, Coalition of Democratic Rights Organizations, Jamia Teachers' Solidarity Association and Defence for Human Rights, Pakistan.
Releasing the Dossier, the JKCCS President, Advocate Parvez Imroz 
reportedly
 said, "Despite widespread global condemnation of illegal detention of Khurram Parvez, the Indian State has chosen violence over processes of justice and rule of law. The government has ignored the demand of five Special Rapporteurs Working Groups of the UN for the immediate release of Khurram Parvez. Today's release of the dossier must serve to once again draw attention to the unlawful detention of Khurram Parvez and the ongoing violence against the people of Jammu and Kashmir."  
Malik's arrest and Mirwaiz's detention
A day after release of the dossier by JKCCS, in which the government has been criticised for its unending session of arrests, Yasin Malik was arrested while the Hurriyat leader Mirwaiz was put under house arrest.
Image credit: The Indian Express
This came a day before the scheduled 'separatist march' that was to take place on Friday in Srinagar.   
The Indian Express
reported
 that the joint leadership of separatists, comprising Syed Ali Geelani, Mirwaiz and Malik, had also called upon people to march towards Jamia Masjid for a "freedom congregation" Friday. The three leaders were to address the people at the mosque.
However, police arrested Malik from his residence in Maisuma locality of Srinagar and shifted him to the central jail. Malik had been released last month after four months of imprisonment. Hurriyat Conference chairman Mirwaiz Umar Farooq at his residence in the capital.