In Odisha, fast on the heels of
Maharashtra's spectacular farmer's protest,
15,000 farmers   
farmers
 converged on 
Odisha
 capital on Monday to press for farm 
loan waiver
 and pension. Around 180 farmers are on an indefinite hunger strike.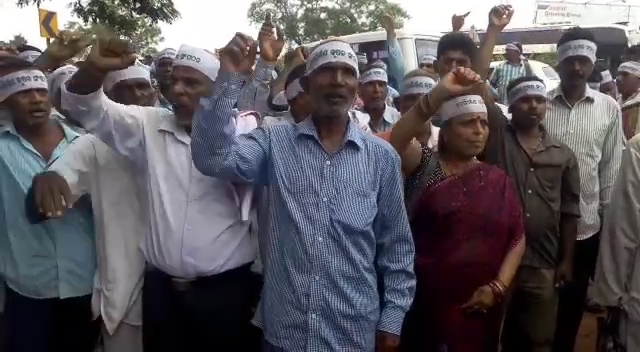 Representation Image
Over 150 farmers from Gujarat's Palanpur
district have threatened self-immolation.
  These farmers, hailing from the
flood-hit areas of Ratangadh village
 of Kankrejtaluka in Banaskantha have made the threat of 
self-immolation
 over 
non-payment relief compensation
, by the government.In a letter sent to district collector DilipRana, the farmers threatened to immolate themselves at the collectorate premises in Palanpur in the first week of April if their demand for compensation for erosion of land due to flood was not met by March 31.
The farmers stated that despite several reminders and request nothing had been done. This is in a state held up for the 'Gujarat model' of development. The Times of India quotes Dinesh Chaudhary, a farmer from Ratangadh, said, "On October 16 last year, we had given a memorandum to the collector bringing to notice about corruption in survey of compensation work for deciding the amount. We personally requested the officials but they turned deaf ears to our pleas."
"A team of officials comprising gramsevak, revenue talati and a survey team visited the village but they considered just 10 rich farmers who had political backing while poor farmers were ignored," the letter stated.  
Odisha Farmers Demands: Their demands include, among others, the allocation of Rs 21,600 crore in the state budget for aRs 5,000 pension a month to each poor farmer in Odisha, which has 55 lakh farmers, of which 36 lakh are poor and marginal ones.
Protesting under the aegis of NavnirmanKrushakSangathan (NKS), the farmers came in a procession staged a protest near the assembly in Bhubaneswar. They also demanded a hike in the minimum support price (MSP) of paddy to Rs 3,000 per quintal from the current Rs 1,550. "The state government can give a bonus of Rs 500 on every quintal of paddy procured. We also urge the government to waive the farm loan," said NKS national coordinator Akshaya 
Kumar
.
Talking about the Maharashtra protests, Kumar said, "The demands of farmers are similar across the country. Not only Maharashtra, farmers from Kutch to Arunachal Pradesh and Kashmir to Kanyakumari will also rise in protest against the government's indifference to their problems."