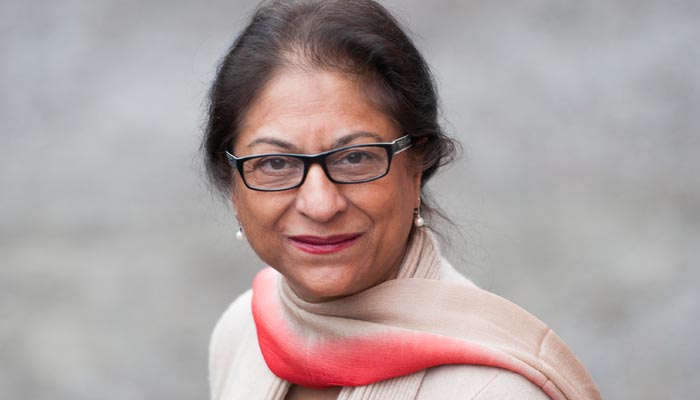 Photo credit: The News, Pakistan
My first meeting with Asma Jahangir was in Vienna in 1993 during the World Conference on Human Rights. She was with the late Justice Dorab Patel, and IA Rahman. At the conference, the official representatives of India and Pakistan had hijacked the discussion on right to self-determination by bringing in the Kashmiri issue and reduced the discussion to an ugly exchange of accusations.  
It was an obnoxious show of self-aggrandizement, with each side boasting and preening like peacocks. Some of the non-official India and Pakistan delegates to the conference walked out feeling ashamed. Outside the main hall we met, shame faced and angry. Asma was fuming. We sat down at the cafeteria and over a cup of coffee we discussed how to take the discussions on Kashmir out of the narrow confines of national sovereignty and national security.  
I remember Asma saying that we cannot allow a handful of politicians, bureaucrats and army generals to hold the people of Kashmir hostage to so-called cause of "national security". Ordinary citizens of India and Pakistan were not allowed to meet. We did not read each other's newspapers. Those were the days when Indian and Pakistanis meeting and discussing the Kashmir issue would have been seen as an act of treason. We agreed that we must defy the governments and openly discuss the policies of our governments, focus on the democratic aspirations of the people of Kashmir.  
We agreed to try and create a forum where the ordinary citizens of India and Pakistan, from all walks of life, would meet and examine the positions of the two states with open mind and try and shift the debate away from narrow confines of control over territory, national security. The main thrust should be on the legitimate aspirations of the people of Kashmir on both sides of the divide. That was the beginning of the Pakistan-India Peoples' Forum for Peace and Democracy, which was formalized in September 1994 in Lahore.   
Asma always spoke truth to power and defended the weak and the marginalised, women and minorities against injustice. She gained international acclaim for being the voice of conscience in a country where liberal, secular voices have been continuously under threat. She never minced words while defending democracy and human rights, despite threats to her life, both from military dictators and militants. She championed the rights of religious minorities — especially those who were charged under the country's blasphemy laws — and women and men killed in the name of honour. She faced bitter criticism from the military and right-wing nationalists. Rightwing extremists tried to kill her. The army and sections of the media denigrated her for advocating peace with India, and often accused her of being an Indian agent or a traitor.   
Even as a student, she had taken up the legal defence for her father Malik Ghulam Jilani who was jailed by General Yahya Khan in 1971 for protesting the imprisonment of Shaikh Mujibur Rahman. When others remained silent she spoke out against Ziaul Haq's military rule. This led to her imprisonment in 1983.  Again in 2007 she was kept in house arrest for protesting the removal of the Supreme Court chief justice. During a visit to Dhaka she addressed a meeting of human rights activists and spoke out against Pakistan's military action in Bangladesh in 1971.   
She was a strong advocate of women's rights. She challenged the Hudood Ordinance in Pakistan and spoke out for women's freedom and dignity in different forums. She defended persons accused of committing blasphemy.  She was able to secure freedom for a number of poor bonded labourers from their "owners" through pioneering litigation. She also won a landmark court case that allowed women to marry of their own volition.   
Asma was co-founder of the Human Rights Commission of Pakistan and of the first free legal aid centre in Pakistan. She was also co-founder of the Women's Action Forum, set up to oppose law that reduced a woman's testimony in court to half that of a man's. Asma was the first woman leader of Pakistan's Supreme Court bar association. Asma was an inspiring frontline defender to ensure women's human rights. She influenced international human rights norms and standards setting as she had served as the UN Special Rapporteur on  extrajudicial, summary or arbitrary executions and the Special Rapporteur on freedom of religion or belief. At the time of her demise, she held the position of UN Special Rapporteur on the situation of human rights in the Islamic Republic of Iran.  Although she was not given permission to pursue her mandate within the country she collected evidence of human rights violations and documented these for her submission to the General Assembly.  
Asma was fearless and tireless. I remember meeting her in London a day before she was to go into the hospital for bypass surgery. She walked into the meeting of the Board of Trustees of the Equal Rights Trust, of which we were both members. I asked should she not be resting as she was clearly not keeping well. She smiled and said, "What are you doing here with an oxygen concentrator next to you". We both laughed. Asma loved life. She worked hard, partied hard, drank her share of wine and smoked more than her share of cigarettes.   
Asma Jahangir's last ten days before her sudden death were spent arguing a landmark case in the Supreme Court to determine whether politicians can be disqualified from contesting elections for life. Two days before her heart attack, she delivered a fiery speech at a protest in Islamabad, organised by the Pashtun community to demand the arrest of a police officer involved in killing a young aspiring model accused of being a terrorist in a staged police 'encounter'.  
It was a chilly night and standing outside the National Press Club, on the ninth day of the protest, coughing, with a bottle of water in hand, she said, "I have been fighting cases for those boys locked up in military internment centres. I know who has occupied their homes. Without the Pashtuns, without Bacha Khan, Pakistan would be a narrow-minded Pakistan."  
Rabindranath Tagore believed in eternity of life. Asma is dead. Her spirit and her indomitable courage to stand up for all victims of oppression will continue to inspire many generations. In the words of Tagore, she came out on the chariot of the first gleam of light, and pursued her voyage through the wilderness of worlds, leaving her track on many stars and planets.  
The author is co-chairperson of Pakistan-India Peoples' Forum for Peace & Democracy.