Gujarat ranks 2nd in crimes under Atrocities Act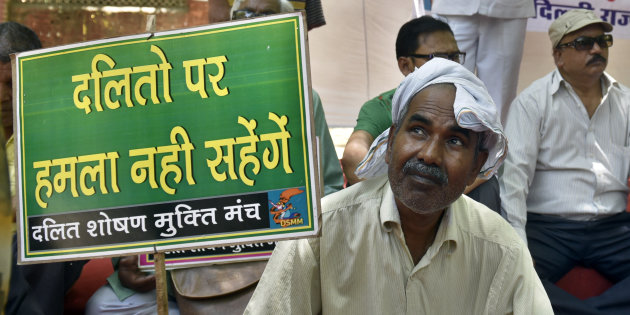 Image: Getty Images
NCRB data shows the state has one of the highest crime rates for injuries and riots,
reports DNA.
The newspaper reports that when Piyush Parmar, 24, a youth from Limbodara village in Kalol taluka was assaulted by members of the dominant caste, little did he realise that he was part of a larger crime data in Gujarat that reflected how Dalits are at the receiving end of violence.For, Gujarat ranks second in the country (next only to Bihar) among 29 states in crime rate registered under sections of the Atrocities Act where the victims are grievously hurt.
The rate of crime refers to incidence of crime reported per one lakh of Schedule Castes (SC) population.According to statistics available with the National Crime Records Bureau for crimes committed against Schedule Caste during 2015, 40 incidents were reported in 2015 which led to the victims (in this case Dalits) being grievously hurt. The number seems minuscule, compared to Bihar (216), Uttar Pradesh (366), Odisha (75) and Madhya Pradesh (68).
But, if you start comparing the crime rate for incidences in which Dalits who were grievously hurt, the  crime rate for Gujarat under the category is highest at 1, second only to Bihar which has a crime rate of 1.3. Gujarat has an SC population of 40.7 lakh against Bihar's 165.7 lakh.
Is this because more such crimes are reported in Gujarat than elsewhere?James Dabhi, research director at the Human Development and Research Centre at St Xavier's College Campus in Ahmedabad has an interesting explanation. He said Dalits in Gujarat were more aware of their rights and the Atrocities Act than say Bihar or Uttar Pradesh. "This means, they are more likely to protest against an injustice, although it doesn't always mean that their complaints will be taken or heard. But the mere fact that they are more likely to raise their voice would mean they are more likely to be targeted for violence," said Dabhi. This he said could be one reason why the crime rate for sections of the Atrocities Act in which the victim is grievously hurt is so high.
GV Gohil, ACP, SC/ST Cell in Ahmedabad said the figures are a reflection of better reporting of atrocities not more crimes being committed. "People are more aware of their rights and are coming forward to register complaints. It is not that the instances have seen a sudden spike. The figures are a reflection of better awareness among people about their rights," said Gohil.
Dabhi's explanation may also hold true for another interesting statistic about Gujarat as far as crimes registered under the Atrocities Act is concerned.
The crime rate for Gujarat under the riot category for cases under the Atrocities Act is second only to Maharashtra for the 2015. Data shows that Gujarat recorded 73 instances of riots under the Atrocities Act, which had 95 victims making the state's crime rate for the category 1.8. This is second only to Maharashtra which has a crime rate of 2 for 270 riot cases and 365 victims. The all India rate for the category is 0.7.
But those like Dabhi don't believe that the statistics reveal the true picture. "In rural areas discrimination against Dalits is a daily practice that is accepted as a way of life and the statistics that NCRB collects don't take into consideration the many cases that are either not reported or are not registered by the police," said Dabhi.
Jignesh Mewani, who led an agitation of Dalits in the state after the Una incident, said the statistics about atrocities against Dalits are an eyewash. "You may think more cases are being reported and hence the rate is on the rise. But the devil is in the detail. Why don't you analyse the conviction rate in atrocity cases and that will show you the true picture," said Mewani.
He said the conviction rate for atrocity cases in Gujarat is less than 3%. "What is the point of registering case after case if it is not leading to any conviction? Dalits may be hurt, maimed or killed but are the perpetrators getting punished? No, and that shows how well the police investigate the cases and how well the system works to give Dalit's justice," Mewani said.