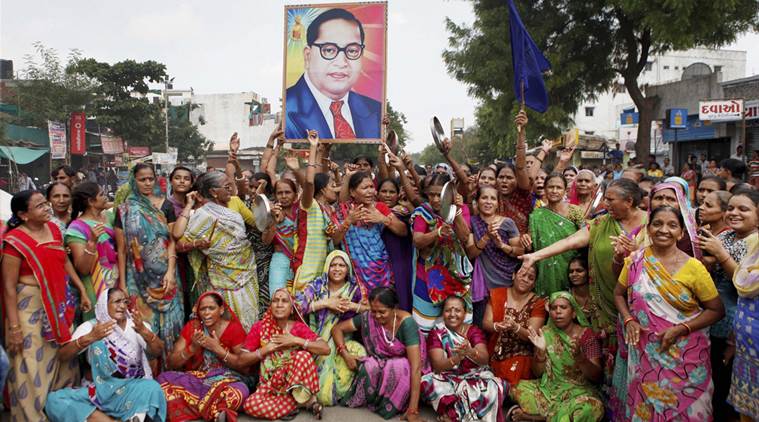 Representational Image: Dalits protesting atrocities against the community. Photo credit: NDTV
Agitated over growing attacks on Dalits across several cities of Uttar Pradesh,  the president of the Bharatiya Valmiki Dharam Samaj, Lalla Babu Dravid has said 500 of its members would be converting to Islam.
The
Times of India
reports that dozens of members of the Valmiki community took out a procession to immerse the idols of Rama, Ganesh and other Hindu gods into the Ramgunga in Moradabad on Saturday. The procession was intended to be a symbolic farewell to Hinduism.
The protestors raised slogans against the BJP and declare they will help rebuild the Babri mosque.
Bajrang Dal activists who tried to stop the procession were outnumbered.
"Incidents of attacks on Dalits have increased after Yogi Adityanath has taken over. Dalits have been targeted in Saharanpur, Sambhal, Moradabad, Meerut. The perpetrators are being shielded by the government," Dravid told the
Times of India
.
Dravid also alleged that Dalits were being boycotted in several villages.
Moradabad's BJP MLA, Ritesh Gupta, told the Times of India: "Its their constitutional right to embrace any religion. But allegations against Dalit atrocities are baseless."
Gupta alleged that Dravid is trying to give a political colour to the issue after the BJP refused to shield his son Vishal who s wanted by the police in a recent firing incident.