Aurangabad: In yet another name change series, albeit by some unidentified individuals this time, Aurangabad railway station was renamed as 'Sambhaji nagar,'on Sunday.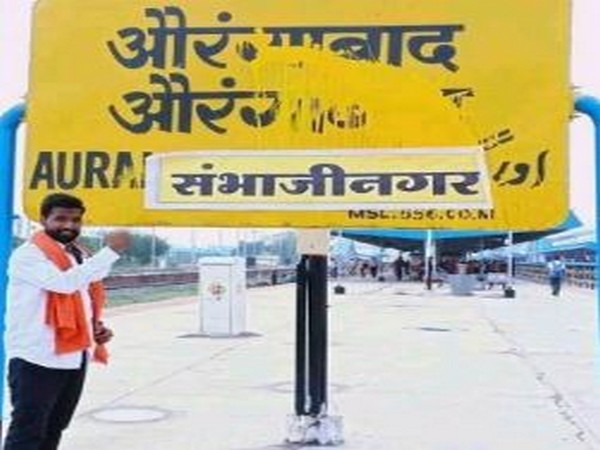 Image Courtesy: ANI
As reported in the
ANI
, a group of unidentified miscreants threw paint on the board at the Aurangabad railway station, thereby erasing its name and then stuck a poster on the board which read 'Sambhaji nagar.'
In a
video that has gone viral
on social media, a group of three men can be seen indulging in this act with the man in saffron scarf executing the entire scenario while the others are seen laughing and smirking. The man with the saffron scarf then posed with the renamed board.
Police Inspector Rameswaram Rodge said, "We will give strict punishment to the miscreants. They will be arrested soon."
This comes after various governments have renamed cities as well as railway stations across the nation. It is pertinent to note the trend in this official name changing decisions, where a Muslim name gets replaced by a Hindu name. 
Just last year, the Elphinstone railway station on the Mumbai Western railway was
renamed as Prabhadevi
in honour of a local deity Prabhadevi and to erase a "colonial" name. Interestingly, the demand for change of name of the station had been raised by leaders of the ruling BJP and Shiv Sena. In 2018, the Yogi Adityanath led-BJP government renamed the Mughalsarai Railway station to Deen Dayal Upadhyay, Allahabad city to Prayagraj among others.
Though in the latest incident, the change of name of Aurangabad is done by unofficial sources, but one cannot ignore the saffron scarf worn by the miscreants. This clearly indicates that they belong to or believe in a particular ideology, Hindutva to be precise. Whether it was an independent act or supported by some powerful sources is something that the further investigations will reveal.

Related Articles: