Thane: In a brazen attempt to communally vitiate the atmosphere of the twin cities of Mira Road-Bhayander in Thane district, the Bajrang Dal was reportedly conducting an arms training camp inside a local school. Images of the arms being used were widely publicised by a local functionary of the Bajrang Dal on Facebook. These posts were taken down after  residents raised a hue and cry and informed the police. Notably, the school in question, Seven Square Academy School is owned by BJP leader and MLA, Mira - Bhayandar, Narendra Mehta.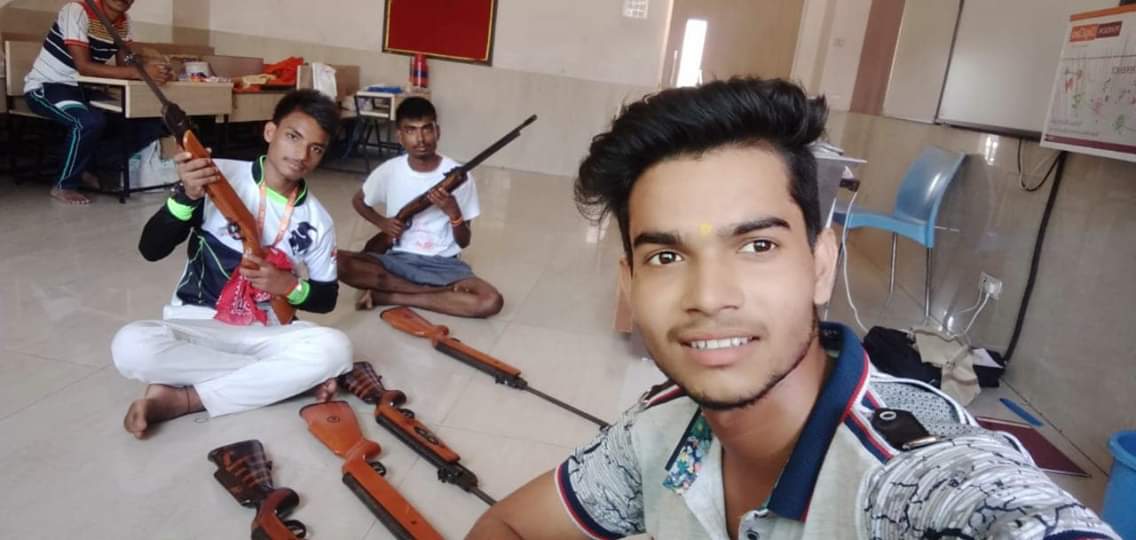 Experts say such training camps are called 'self-defence camps' and air guns are used instead of actual guns to avoid legal scrutiny. However, according to section 3 of the
Arms Rule, 2016
, manufacturing, selling, acquisition and possession of air guns require a license from the designated authority as mentioned under schedule IV. It is not yet clear whether the organisers had the necessary license. Also, such activities attract criminal proceedings as mentioned under
section 153A (1) (c)
of the Indian Penal Code which states that any activity in which training of using criminal force or violence is conducted which may lead to promoting enmity between different groups on grounds of religion, race, place of birth, residence, language, etc., and disturb the harmony will be liable with an imprisonment which may extend to three years, or with fine, or with both.
According to Sadique Basha, a local resident and leader of the CPI(M) in Mira -Bhayander, banners of the training camp organised from May 25 to June 1 were put outside the school and pictures from the camp were put up on facebook by Prashant Gupta, a bajrang dal activist. On visiting the school himself, Sadique and his friends witnessed the training of around 150 youngsters many of whom seemed like they were below the age of 18.
Senior Public Inspector (PI) Ram Eknath Bhalsing, of Navghar PS, initially refused to take a complaint from Sadique and other citizens citing that this was a private activity being conducted on a private property but later accepted a letter that stated their concerns.
Following up on the matter, the residents also met the Deputy Superintendent of Police, Atul Kulkarni today. Consequently, senior PI Bhalsing was directed to visit the school and check if any such activity is going on. Following this the FB post has been taken down and all banners removed.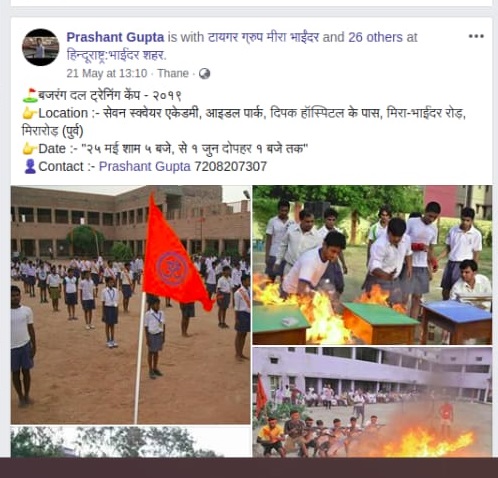 On being questioned how an education institute can grant permission to such training camps being organised, the school authorities have said that the vacation period was going on and they permitted such activities on their premises since "the order had come from the top management."
Following the hue and cry, Prashant Gupta, who deleted all the posts related to the training, has now posted a threatening message on his Facebook account.
There have been multiple instances in the past when Bajrang Dal has conducted several 'trishul distribution' programmes. In 2016, there were
reports
of arms training being given to VHP's women wing, Durga Vahini, at a school in Varanasi. Another self defence camp was
organised
at Ayodhya which had created a lot of public outrage.
On June 1, CPI(M) will hold a protest rally at Mira Road at 8.30 pm to ensure that the complaint gets registered against the organizer as well as the local MLA and such self defence camps are not permitted henceforth.
On contacting Sadique and asking him about why he and his organisation was against the training, he said, "Such training camps are places where people are basically taught to take the law in their own hands...It is nothing but an attempt to spread fear, especially among minority communities."
Related Articles: