Begusarai: Union Minister and BJP candidate from Begusarai, Giriraj Singh, stoked another controversy on Tuesday after he said that the Election Commission (EC) should ban the use of  green flags alleging that they spread hate and create a perception of being used in Pakistan.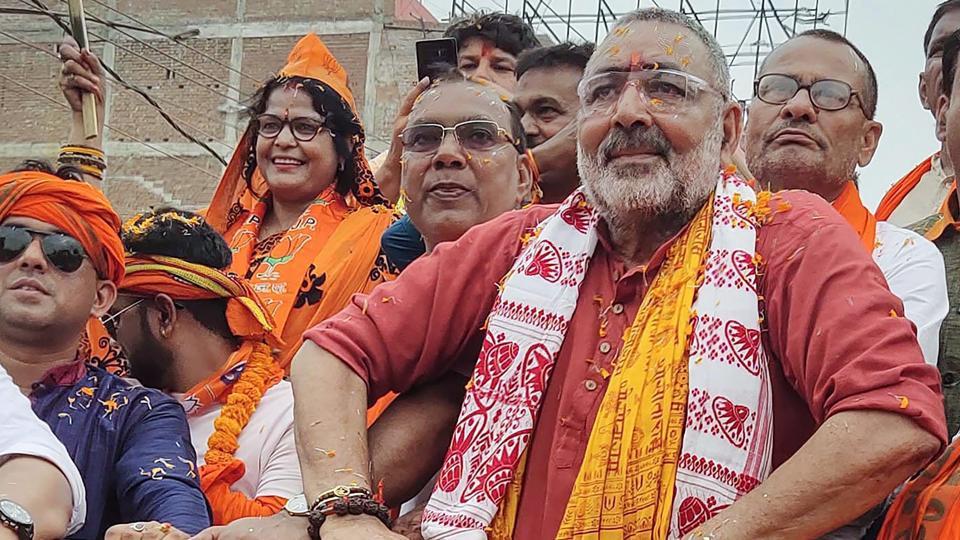 Taking a dig at Rahul Gandhi's nomination from Wayanad (a Muslim majority constituency), Singh said, "Did you see the procession in Wayanad when Rahul Gandhi filed his nomination papers? It seemed he was going to contest from Rawalpindi in Pakistan. The flags seen there bore so much resemblance with Pakistan flags. They spread hate, not love," further alleging that green flags gave an impression of Muslim-affiliated religious or political institutions. Further, he said that his fight from this parliamentary constituency is against a "gang" working for "breaking up" India, and asserted that he represents the agenda of cultural nationalism and development.
Continuing with his communal remarks, Singh said, "I would like to say, Giriraj Singh's ancestors died and were cremated. You need a yard of land even after you die, for the burial of your mortal remains. If you say you cannot chant Vande Mataram, this nation will never forget you," in an election rally at Begusarai where BJP chief Amit Shah was also present.
Opposition parties such as the RJD (which has a green flag) and Congress have condemned Singh's statement with RJD demanding a ban on Singh.
RJD national spokesman Manoj Jha said Giriraj spat venom whenever he spoke. "He should be named Vishraj (the venom king) Singh instead of Giriraj Singh," said Jha, wondering how the national flag would look if green was removed from it.
Commenting on Singh's statement, RJD leader and former Deputy Chief Minister of Bihar Tejashwi Yadav said, "This is an insult to the tricolour. The green colour is there in Tiranga too. One ideology, one thinking cannot be forcefully imposed on everyone. I don't like the name- Giriraj Singh. Change the name."
Bihar Pradesh Congress Committee (BPCC) spokesman Harkhu Jha said, "Singh's demand demonstrated his distorted mentality aimed at polarising voters on the basis of religion in his constituency. He wanted to link religion with politics. The ECI must take note of it and act against him forthwith."
Bihar chief electoral officer, H R Srinivas, said he had not received any petition from Singh either in individual capacity or as the BJP candidate. "We will see if any such demand is formally made to the ECI," said Srinivas.
Later a complaint was lodged with the EC wherein the complainant stated that Singh's remarks hurt the sentiments of a section of a minority group.
A case has been registered against Singh on Thursday at Begusarai police station for violating the model code of conduct by making controversial remarks against the Muslim community.
The FIR was lodged under sections 125 of the Representation of People Act and 153 A, 295A, 171C, 188, 298, 505 of the Indian Penal Code.
Known for its hardline Hindutva views, the
BJP and its members have passed communal and questionable remarks
in the past as well. Addressing a rally in Nagpur on April 9, the BJP national president Amit Shah had said, "..And this Rahul baba, for his alliance, is contesting from such a seat where when a procession is taken out, it is difficult to make out whether it is India or Pakistan", referring to Gandhi's Wayanad rally in which the Indian Union Muslim League (IUML) participated with their green flags.
Giriraj is infamous for his radical views. During the 2014 general elections, he had said that those who do not vote for Modi should go to Pakistan. At another occasion, he asked whether the Congress would have given the leadership to Sonia Gandhi had she not been 'white-skinned'. In 2018, at a function in Mathura, he had
accused the Muslim community
for the population explosion that was thwarting India's development.
Such statements by senior leaders only reinstate the right wing party's Hindutva ideology and polarisation tactics.
Singh is contesting from Begusarai against RJD's Tanveer Hassan and CPI's Kanhaiya Kumar, besides others.
Related Articles: