Under international pressure, the Bangladesh Government has now called off the repatriation move. However the threat continues and there is no guarantee that force will not be used again.
--Editors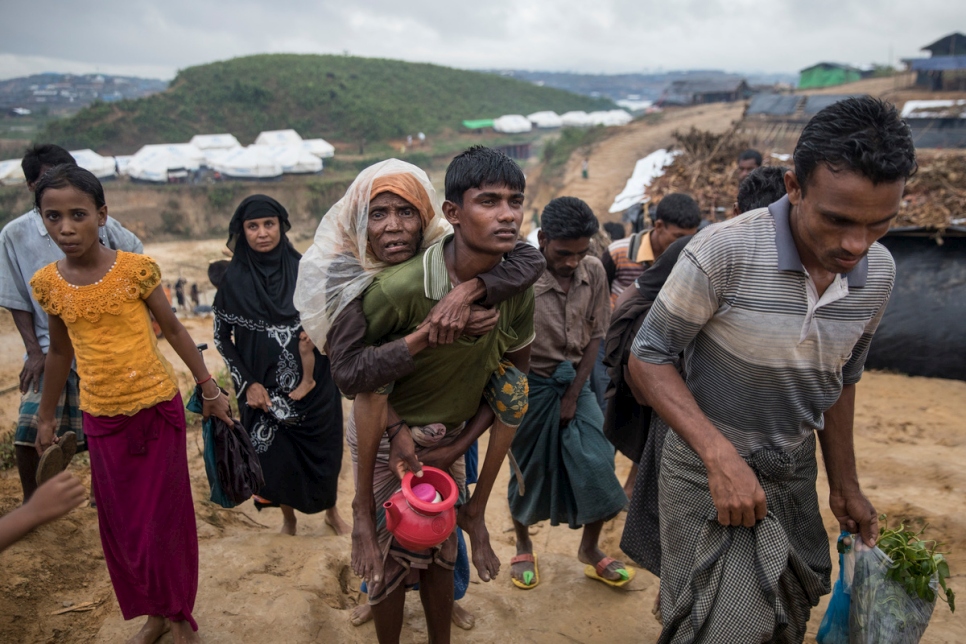 Image Courtesy: UNHCR/Paula Bronstein
The presence in Bangladesh of more than 1million Rohingya has raised security concerns in the region and put pressure on the government of Prime Minister Sheikh Hasina. She is also worried about the prospect of the sprawling camps at Cox's Bazar near the Myanmar border becoming permanent settlements.
Bangladesh government has begun the process of repatriating Rohingya refugees who fled across the border from their homes in Myanmar during last year's military crackdown. Refugees, Repatriation and Rehabilitation Commissioner Abul Kalam told the AP on Wednesday that 30 refugee families would be handed over Thursday at the Ghumdhum border point near Cox's Bazar, where refugees have been living in crammed camps.
According to the AP news story,
Mr. Abul Kalam claimed that they discussed the situation
with the U.N.'s refugee agency, which gave a report after discussion with the refugees who are on the list. Details of the repot were not shared, but Kalam said they were "hopeful" of beginning the repatriation on Thursday. Kalam said that about 2,260 refugees from 485 families would be sent back in an initial group. Myanmar officials said recently that they would receive 150 refugees each day.
I have learnt from my contacts and Rohingya refugees based in Cox's Bazaar that since November 14, Bangladesh army has surrounded Once Prank Refugee camp and Unchiprang refugee camps in Cox's Bazaar. They have forcefully taken some Rohingya refugee families to the transit camp. I have learnt that the list approved by Myanmar for repatriation include a number of Rohingya refugee families who are located in Jamtoli, Balukhali and Chakmarkul refugee camp. To escape repatriation more than a 100 heads of families have run away from the camp and are now hiding elsewhere hoping that the their families will not be repatriated in their absence. Bangladesh army and para-military forces have moved into the camps to prevent the heads of families from going into hiding. There are reports that 'Majhis', Bangladesh army appointed Rohingya community leaders, have been beaten up by army and security personnel for non-cooperation. It seems that some Hindu Rohingya families have already been taken to the transit camp by Bangladesh authorities. Rohingya refugees have said that they will not go back without rights, justice and UN security.
About 10 days ago, in the Once Prank Refugee camp Dil Mohammad, a 57 year old Rohingya refugee drank poison saying it was better to die than be forced to go back to Myanmar. Fortunately, he survived. On October 14, a Rohingya beef seller, Ziaul Hassan was brutally attacked in the Rakhine village of Nga Ching Pauk under Kyauktaw Township. He received serious cuts on his head. There is news from inside Rakhine state that last week Buddhist mobs were holding protest rallies against resettling Rohingya returnees in Rathidaung and southern Maungdaw region, which the Buddhist Rakhine have taken over since the forced expulsion of the Rohingya last year.
The UN fact-finding mission to Myanmar recently told the UN Security Council that the genocide in Rakhine is "ongoing". Last week there were demonstrations by Rakhine nationalists against the return of the Rohingya. On November 13, the UN High Commissioner for Human Rights, Michelle Bachelet, on Tuesday urged Bangladesh to halt the plans, warning of further grave violations against the Muslim minority. She has further said, "We are witnessing terror and panic among those Rohingya refugees in Cox's Bazar who are at imminent risk of being returned to Myanmar against their will." Non-governmental aid groups have also voiced concerns that the refugees would be sent home against their will, or moved permanently into camps. "The Rohingya have told us that they do eventually want to return to their homes and communities in Myanmar, but they want guarantees that they can enjoy equal rights and citizenship, and they want those responsible for the violence to be brought to justice," said Evan Schuurman, a Melbourne-based official for Save the Children, the charity.
The presence in Bangladesh of more than 1million Rohingya has raised security concerns in the region and put pressure on the government of Prime Minister Sheikh Hasina. She is also worried about the prospect of the sprawling camps at Cox's Bazar near the Myanmar border becoming permanent settlements.
While the international community is against repatriation of the Rohingyas to Myanmar without equal citizenship rights and without assurance from Myanmar government for their safety and security, China, the most powerful nation in the region is opposes seeing the conflict internationalized. In the UN Security Council, it is opposing the push to prosecute Myanmar's military and police officials responsible for the violence. Myanmar and Bangladesh, under pressure from China and other regional powers, signed a bilateral agreement on repatriation in November 2017.
India, the largest country in South Asia is also supporting Myanmar. India has declared all the 40,000 Rohingya refugees living in India as 'illegal immigrant' and has threatened to expel them. Indian government claims that the Rohingya Muslims are a potential threat to its national security as these people were vulnerable to the influence of Pakistan's ISI and other Islamic jihadi groups. In September 2018, India expelled 7 Rohingya refugees and handed them over to Myanmar authorities. Though the Indian government had told the Indian Supreme Court that Myanmar had agreed to accept these persons as its citizens, Myanmar government has given them National Verification Certificate, which identify them as foreigners. They are now confined in concentration camp like situation in their village in Rakhine.  
Myanmar's government has said it would give returnees temporary accommodation in border camps and supply them with food, before allowing them to return to their homes. If their homes are no longer standing, they will be provided with newly built accommodation or be housed in the Hla Phoe Khaung transit camp near the border.
Nay San Lwin, a coordinator for the Free Rohingya Coalition said "If the Bangladesh government forces them, the Rohingyas will go into hiding. The repatriation will not happen voluntarily because nobody wants to go back." He pointed out that there was no guarantee that the Rohingyas won't be persecuted again, and there was no assurance for their citizenship, for their safety.
"The whole talk of repatriation is the Myanmar government's way of distracting the world from mass atrocities committed by the army," said Matthew Smith, founder and chief executive of Fortify Rights, a human rights group. "The reality is that there have been no tangible improvements for Rohingya rights in Myanmar."