Tracking heat and water stress across India this summer.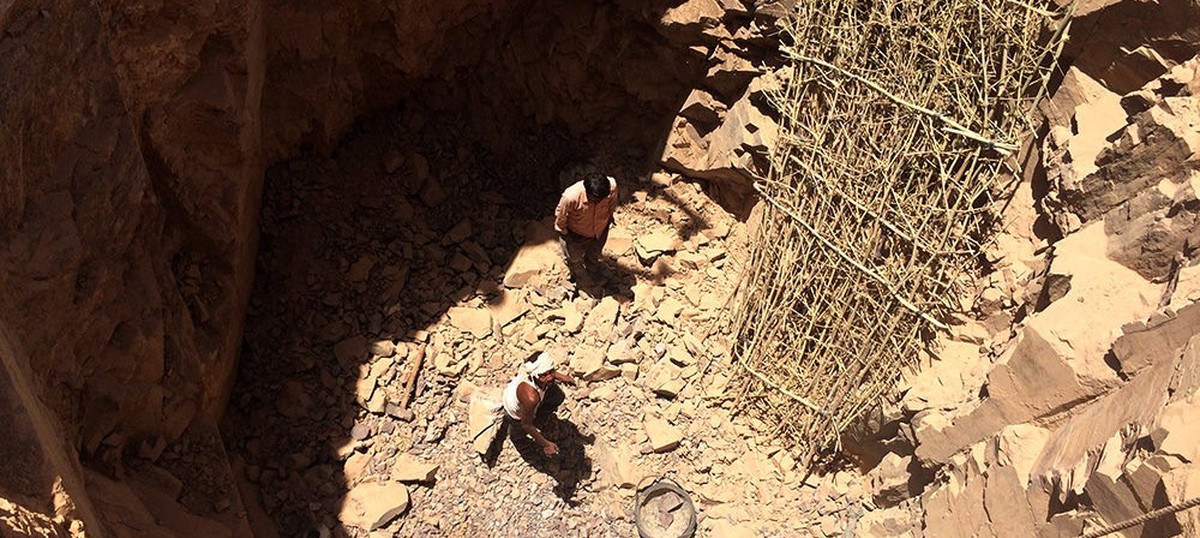 Image:  Supriya Sharma
---
In Mastapur village in Tikamgarh, Madhya Pradesh, a group of workers laboured under the hot sun in the last week of April, digging a well under the Mahatma Gandhi National Rural Guarantee Act.

Using MNREGA funds to dig wells and ponds in drought-hit areas is a good idea. It helps generate income for people at a time when work is hard to find. Last year, for instance, the rainfall in Tikamgarh was so low that the government put a ban on drawing water from public sources for irrigation and most farmers were not able to sow the winter crop. A large number of families migrated to the cities, looking for work. MNREGA can help stop the migration, while also preparing the ground for water conservation in the monsoon.

Prime Minister Narendra Modi himself said so. On April 21, addressing a gathering of district collectors, he said, "If I know there is a drought situation, water is scarce, but also that the monsoon is expected to be good, then I have April, May, June, can't I use MNREGA funds to run a special campaign for water conservation?"

But the well being dug in Mastapur village showed the gulf between the government's declared intent and actions.

Workers said they had not been paid for six months. Hari Ram Kalar, a frail man in his fifties, said he had worked previously on two wells. This was the third well he was digging under MNREGA. "But I haven't even got a single paisa," he said.


Video: Scroll.in
None of the workers had their job cards. "The pradhan keeps them with him," said Kalar. When they asked the pradhan why their wages had not been paid, he said it was yet to come into their accounts.

A district official, who requested anonymity, said the wage payments had been delayed because the funds had not released by the Centre. In April, after the Supreme Court had pulled up the Centre, it had released Rs 12,230 crore. But two weeks after the funds had been released, workers in Tikamgarh were yet to get them. In Lalitpur district, in neighbouring Uttar Pradesh, officials said payment for work done by MNREGA workers in January were made in the third week of April.
Nationwide water shortage
More than 300 districts in 13 states across India are facing acute shortages of drinking water. Ram Kripal Yadav, minister of state for drinking water and sanitation, told the Rajya Sabha on Monday that 50 districts in Uttar Pradesh, 46 in Madhya Pradesh, 33 in Maharashtra and 27 in Karnataka have been affected by these shortages. Other badly affected states include Odisha, Andhra Pradesh, Telangana, Bihar, Chhattisgarh, Jharkhand, Haryana, Gujarat and Rajasthan.

The drought this year that has caused enormous hardship to at least 25% of India population has not been caused by just a failure of the rains, experts say, but also by failures of water and crop management and by corruption.

Water and sanitation minister Yadav, in his answers to the Rajya Sabha, listed out a number of projects that state governments had undertaken under the National Rural Drinking Water Programme. In the past year, the minster said, almost 10,000 water sustainability structures like pits, trenches, check dams, percolation tanks and ponds have been built.

Yet, severe water shortages have forced extreme measure like water trains and have left trails of migrants from rural to urban areas. The failure of the government to provide water to rural areas has also driven people to take matters into their own hands. Driven by desperation, many people have dug their own wells, sometimes single handedly and in record time. Here are some of the stories reported by newspapers over the past week.
Dashrath Manhjis of the drought
Bhagwan Singh, a 38-year-old farmer in Nevari village in the Agar district of Madhya Pradesh is being called the Dashrath Manhji of his area. The much-celebrated Manjhi took 22 years to single-handedly chisel a road through a mountain so that his village near Gaya in Bihar had better access to a hospital. Singh dug a 90-foot deep well on his land in just 20 days. The farmer had suffered crop losses for two years because of two consecutive failures of the monsoons.

Nevari village is not supplied by irrigation and has only a couple of handpumps that fell far short of the needs of 650 residents, Singh told the Hindustan Times. Despite scepticism from his neighbours, Singh reached water in at 90 feet in just three weeks. Now others are also digging wells on their farmland. Despite bans on new borewell construction in Indore and other big cities, the Agar district administration has allowed people to dig wells on their farms. Other residents of Nevari are now following Singh's lead.

In Maharashtra, drought and discrimination forced Bapurao Tajne to dig his own well. Tajne is a Dalit abourer in Kalambeshwar village in Washim district and had never dug a well before. But after his wife was denied access to a well in the village, Tajne spent six hours every day for 40 days till he struck water at 15 feet, according to a Times of India report. Tajne told journalists that after his family was turned away from an upper caste well he resolved to never have to beg for water again and to provide water to all Dalits in his locality. Even though he had no hydrological data and picked a spot for the well by instinct, his bet paid off.
In Karnataka's Shivamogga district, a 17-year-old boy dug a 55-foot well own his own so that his mother would not have to make repeated trips to the public well to get water. With scarce water supply this summer, Kumar's mother would have to make multiple trips to the public well each evening after returning from work at a printing. Kumar decided to find a more permanent solution to the family's water problems by digging a well in his backyard. It took him nearly 45 days to dig thrguh rocky ground, Kumar told The Hindu, but he felt a sense of fulfillment when he found water at 53 feet.Singh, Tajne and Kumar have all been compared to the mountain-man Manhji as people who have accomplished the seemingly impossible to provide for their families. But behind their heroic stories is the fact that they were driven by frustration over systemic failures that led to this drought.

Article first publshed on: Scroll.in