Close on the heels of the brutal lynching of Mohammed Ayub by alleged Gau Rakshaks (Cow vigilantes) last week saffron outfits in Gujarat have declared Muslims will not be allowed to participate in upcoming Navratri festival next month.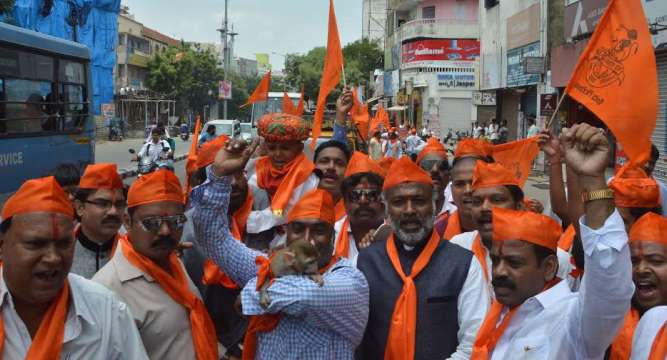 Image: News Nation
Navratri, meaning nine nights, is one of the most popular and widely celebrated Hindu festivals in many parts of India. Gujarat, however, is the only state that erupts into a nine-night dance festival (
garba
), perhaps the longest in the world. Each night, all over the state, villages and cities alike, people gather in open spaces to celebrate feminine divinity, referred to as Shakti. This year it will begin on 1st October.
Last year, VHP leader Pravin Togadia had demanded that Muslims be banned from
garba
events, and that the identity cards of every person entering the venue of the event must be checked at the door. "Navratri is the festival of Mother Amba's prayers and worship, so we cannot allow beef-eating Muslims to enter into
garba
places," Togadia had said.
This latest attempt at dividing India into Hindus, Muslims and other religions, comes as a brutal incident played out in Ahmedabad. Earlier this week, some people beat to death a young Muslim man and critically injured another one. The incident took place on September 13 when Mohammad Ayub and Sameer Sheikh were traveling in an Innova car towards Ahmedabad with two calves.  
The 29-year old succumbed to his injuries and breathed his last week. According to reports while Ayub and Sheikh travelled to Ahmedabad, the
gau rakshak
mob chased them all of a sudden. It was reported that they pulled them out of the car and thrashed them. The group rammed into their car near Honest T-junction near Karnavati club in Ahmedabad.  
Now, the organisers of two
garba
events in Gujarat's Bharuch district have decided not to allow Muslims at the venue after protests from the VHP. The Bharuch unit of the VHP opposed two
garba
events which also have Muslims among the organisers. The VHP members handed over a memorandum to the district collector, seeking to ban Muslims at the event for "security" and "law and order" reasons.  
The organisers of the first event -- a real estate group which also has a Muslim partner -- said it will check the identity of ticket seekers for the event which is scheduled to be held in October. The real estate group's partners include: Jaydeepsinh Raj, Jasu Patel and Asif Patel. They are organising a mega
garba
event at Dudhara dairy ground in Bharuch. Among those invited to the nine-day event, 'Raas-e-Bharuch', are actors Jackie Shroff and Zarine Khan.  
The second event is being organised by Shehzada Shaikh, a social worker, in partnership with two others from the majority community whose names he did not disclose. This event is scheduled to be held at Sonal party plot on College Road.
Jaydeepsinh Raj, organiser of 'Raas-e-Bharuch', said, "We partnered with Asif Patel because he has good relations with Bollywood celebrities. Because the VHP is opposing the event, we removed our original banners (for the event) and put up new ones which do not have Asif's name on them. We have also contacted two private security agencies — one from Bharuch and another from Ahmedabad — for deployment of security personnel on the
garba
grounds. We will not issue or sell passes to Muslims and the tickets will be given to participants only after they show an identity card. We have also applied for police permission and it will come shortly."  
Viral Desai, VHP joint secretary (south Gujarat), who is based in Bharuch, met Bharuch district collector Sandip Sagale, along with other VHP members and handed over a memorandum demanding not to give permission to Muslim organisers of the
garba
event in the town.  
Asif Patel, who also is a choreographer and runs a local newspaper, said, "We decided to organise a big Navratri event by inviting Bollywood celebrities. The proceeds from the funds raised through this event will be used in building steps and infrastructure for pilgrims going to Chitra Mata temple on the banks of Narmada river. Our motive was to build communal harmony by organising this event."  
However, after the VHP protests, Asif Patel said he will not allow Muslims. "After the VHP's opposition, we have decided that Muslims should not enter the ground. We will not sell passes or tickets to Muslims. I'm director of the company and my name on the banner was obvious. But since they have objected, we have decided to remove my name. If they demand that I should not enter the ground, I will not be at the venue," said Asif Patel, adding that the passes for the event are available at Rs 1,200 (for all nine days).
Desai, in his memorandum, cited the Uri terror attacks on army headquarters in Jammu and Kashmir and said that Gujarat was always on high alert. He also cited the murder of BJP leaders Shirish Bengali and Pragnesh Mistry last year, detected by the NIA as an operation by the underworld.  
The memorandum further said, "Garba festival is important and our religious feelings are attached to it. Some Muslims have taken this festival as a business opportunity and with the help of Hindu partners, they have organised two such events in Bharuch. The motive is clear as they wanted to earn money by organising it and have thus invited Bollywood celebrities.  
The writer is the editor of Gujarat Siyasat published from Ahmedabad and general secretary, All India Milli council, Gujarat chapter.