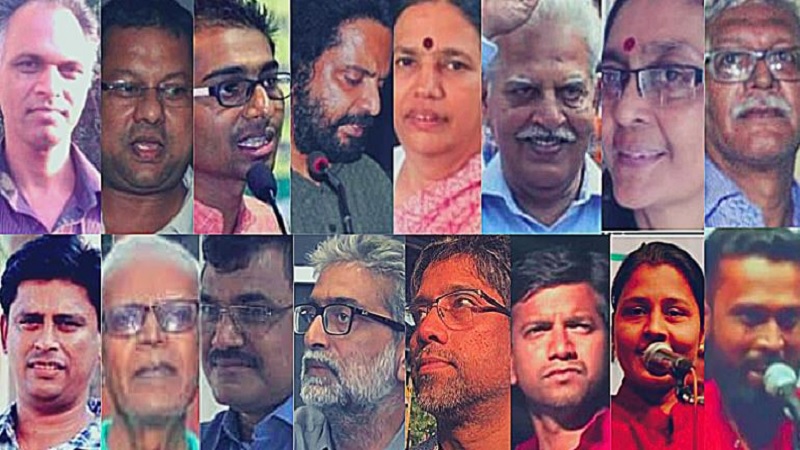 Representational Image
The family members of the accused undertrials in the Bhima Koregaon violence case, have written to the Additional Director General of Police (Prisons) and Special Inspector General of Police (Prisons) to continue the weekly phone calls with them.
The letter has been signed by Vimal Jagtap, Koel Sen, Maisha Bharadwaj, Jenny Rowena, Surekha Gorakhe, Pranali Pranab, Minal Gadling, Rama Ambedkar, Sahba Hussain, Sharad Gaikwad, Monali Raut, Susan Abraham, Jennifer Coutinho and Roy Wilson.
The family members were recently informed that the weekly calls allowed to the inmates of Taloja and Byculla prisons will be discontinued since the prisons are all set to resume physical mulaqats. They have alleged that this will cause problems to the inmates whose relatives don't live in Mumbai and it will be extremely difficult for out-stationed family members to travel to Mumbai to physically meet them.
Their letter reads, "Similarly, economically weak relatives of many of the inmates will also not be able to afford the travel to the prisons, which would include the use and hiring of private vehicles. Older relatives of inmates will also find it extremely difficult to come to Mumbai from distant places."
They have also shared the plight of members who are now old and have to wait for long hours in a queue to meet the inmates, which is a tedious and taxing process. In the letter they have also stated that there are many telephones installed in the jails and a system for the purpose of bi-weekly phone interviews is in place, and hence should continue to function for everyone's convenience. They have said that the option should be given to relatives of the undertrials living in Mumbai to either go to jail for visits or to continue the telephone interviews.
They have also given examples of jails in Gujarat, Jharkhand, Tihar in Delhi, that have continued with the hybrid system. It also states that Sunil Ramanand (DG Prisons) during a visit to Taloja jail some months ago, had promised some Taloja jail inmates that phone interviews would continue even after resumption of physical visits. Ashutosh Kumbhakoni, the Attorney General, had been appraised of the same by senior advocate Mihir Desai, who was the amicus curiae in the suo motu matter regarding prisons, taken up by the Bombay high court.
All family members have requested the prison authorities to "continue with the phone mulaqat system, which has been working well so far and which would allow the inmates to continue communicating with their relatives for those whom it will not be possible to travel to Mumbai for the purpose of family mulaqats with the prisoners in Mumbai jails."
In related news, senior journalist 70-year-old Gautam Navlakha's health has allegedly worsened after being shifted to the Anda circle, the high security barrack of Taloja on October 12, as per his partner Sahba Hussain. In a statement issued by her, she said that phone calls have been discontinued and since she is above 70 years of age, traveling to Navi Mumbai frequently is difficult for her.
Well-known journalist and writer Gautam Navlakha has been languishing in Taloja jail, part of the 16 accused in the totally trumped up UAPA #bhimakoregaon case. Now he is denied telephone calls. As his partner asks, to what extent will authorities go to break his spirit? pic.twitter.com/fLMghfP3Aj

— geeta seshu (@geetaseshu) October 24, 2021
She has said, "Apart from the calls to me, regular access to lawyers through phone calls is an essential facility for undertrial prisoners. To deprive any undertrial prisoner of this effective and efficient mode of securing legal advice and help, or access to family, is the height of unfairness".
Further, she said Navlakha's fragile health and wellbeing will be further jeopardised by this withdrawal of phone calls to his family and lawyers. Navlakha is also not able to take the daily walks that he used to earlier.
In a letter to his partner Sahba, he had allegedly written, "Confinement in Anda Circle means denial of fresh air/oxygen as there is not a single tree or plant in the open space of the Circle. And we are forbidden to step outside of the Anda Circle…. In other words, we spend 16 hours out of 24 cooped inside our cell and the 8 hours we are let out we are confined to a corridor 71/2' x 72' for our daily walk on a cemented floor surrounded by high walls all around."
Navlakha, who has been in jail since April 14, 2020, was denied default bail in May this year by the top court. Sahba has finally written, "Gautam has faced his unjustified incarceration with courage and spirit. How much longer is he going to be persecuted for his views, and to what extent will the authorities go to break his spirit?" Navlakha has also moved the high court seeking house arrest.
The letter written by the family members has also been sent to the Home Minister of Maharashtra, Chief Justice of the Bombay High Court and Sharad Khatavkar (DIG Prisons, Pune).
The letter may be read here:
Related:
Only 'objectionable' letters of Bhima Koregaon accused are being withheld by prison authorities: NIA to Bombay HC
Bhima Koregaon: Prisoners accuse ex-jail superintendent of 'political censorship'
Bhima Koregaon case: NIA files draft charges under UAPA, sedition & conspiracy against 15 accused