NSUI bags President, vice-President posts, ABVP gets Secretary and Joint Secretary Posts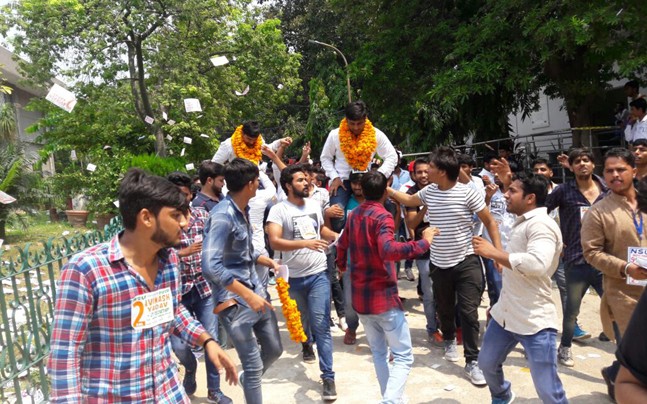 The students' wing of the Congress – National Students Union of India, NSUI – dealt a stunning blow to the students' wing – Akhil Bharatiya Vidyarthi Parishad, ABVP -- of the BJP/RSS, winning the top two posts of the Delhi University Students Union.  
The post of president and vice-president was bagged by the NSUI while the ABVP had to be content with the posts of secretary and joint secretary. The NSUI has won the president's post after a gap of 5 years.
NSUI claimed it had actually won three of the top four posts and would contest the results for the joint secretary's post in the Delhi High Court. In the outgoing students' body, the ABVP had held three of the top four posts with the NSUI having to be content with the post of joint secretary.
Political observers attribute ABVP's setback to its hooliganism and its bid to stifle the dissenting voice on the Delhi University campus. The All India Students Association (AISA), the students' wing of CPI (ML) secured a significant number of votes in this election marking its arrival on the Delhi University campus.
Congress leaders Shashi Tharoor and Randeep Surjewala
hailed the Delhi University victory
as "a triumph of liberal values and wake-up call for Prime Minister Narendra Modi".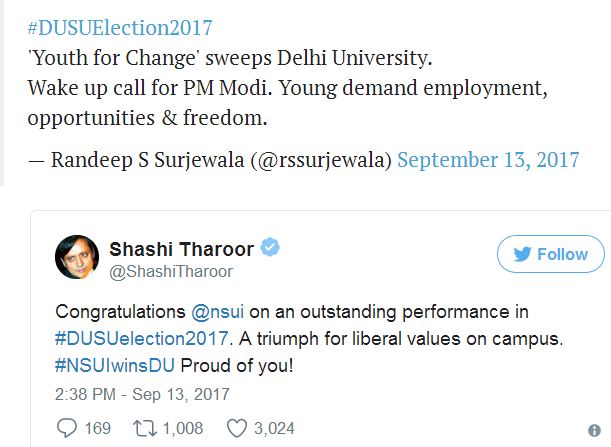 The Congress party's vice-president Rahul Gandhi tweeted: "Congratulations @nsui on a stellar performance & Pres win in DUSU! Thank students of DU for reposing faith in Congress ideology."
In a statement issued after the poll results the NSUI said, "This mandate shows that students throughout the country have rejected poisonous & divisive ideology of RSS."
In the elections to the JNU Students Union, results of which were declared a week ago, all top posts were won by candidates of Left Unity.
Meanwhile downplaying the results, the general secretary of BJP's Delhi unit said he did not find "any political reason behind ABVP's defeat" in the top two posts of Delhi University's Student Union.
Welcoming the results, Prashant Bhushan of the Swaraj Party tweeted, "Kudos to DUSU for booting out ABVP goons in 3/4 seats. After losses in JNU, Guwahati Univ, Punjab Univ, it's clear that Students rejecting ABVP."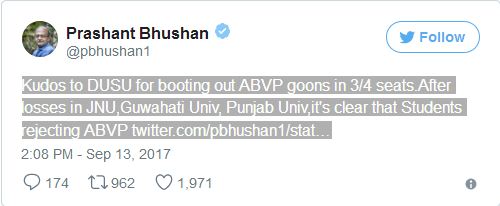 The new panel comprises
Rocky Tuseed
and Kunal Sehrawat of the NSUI as president and vice president, and the ABVP's Mahamedhaa Nagar and Uma Shankar as secretary and joint secretary.