West Bengal has been a hotbed of violence and political aggression, especially during the recent election period, be it local, state or central elections. Currently, there is an ongoing intense BJP-TMC turf war after an unprecedented victory of the BJP in the 2019 Lok Sabha elections. There were incidents of violence even during the election season, with the situation worsening to such an extent that the police force used
tear gas and water canons
to control the violent crowd. The state law enforcement authorities
imposed section 144
yesterday in Bhatpara and Jagatdal areas of North 24 Parganas district after
one person, Dharamveer Shaw, was killed
and several others injured in firing in the Bhatpara-Kankinara area.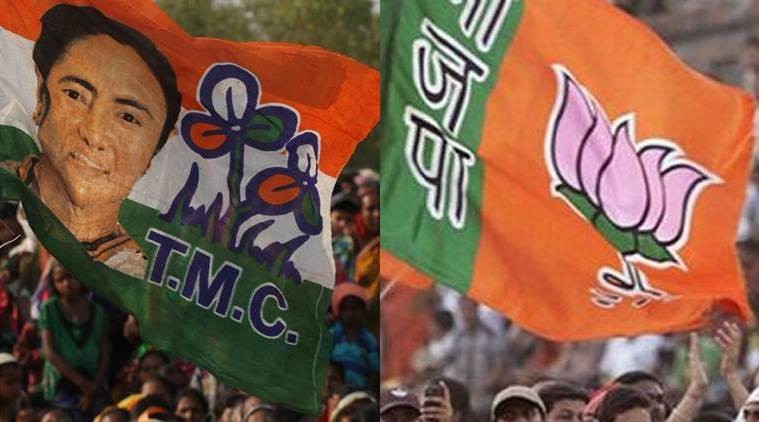 Violence in the 2019 election season replete with BJP-TMC blame game:
Murders, clashes, stone pelting, lathicharge, firing, arson, you name it and some corner of West Bengal has witnessed it in this election season. As has always been the case, the BJP, TMC (and also the Left) have been accusing each other of attacking and murdering their workers and supporters. The constituencies witnessing severe law and order issues are - Barrackpore and Basirhat - former having a BJP MP, Arjun Singh, and the latter represented by TMC MP Nusrat Jahan Ruhi.
A
Ministry of Home Affairs report
, puts the number of political violence in West Bengal to 773 incidents in 2019 alone (till date) down from 1,035 in 2018. The report also states that 26 deaths have already taken place in 2019 till date due to the political violence.
In the immediate context, the BJP-TMC fight started in the run up to the panchayat elections held last year. As per media reports, nearly 50 people died during these elections which witnessed a four cornered fight between the BJP, TMC, Congress and the Left. During the single phase election held on May 14, 2018, two CPM workers, Apu Manna and Jogeswar Ghosh,
were killed
. A TMC worker named Arif Gazi was shot dead in Kultali area of South 24 Parganas district. In Burdwan, CPI(M) and the BJP accused the ruling TMC of terrorising voters and hurling bombs outside polling stations.
Cut to 2019, on February 10, sitting TMC MLA from Krishnaganj,
Satyajit Biswas, was shot dead
in West Bengal's Nadia district. The TMC held BJP responsible for this murder, while the BJP predictably rubbished it saying Biswas was probably killed due to infighting in TMC. On March 28, a BJP leader, Utpal Mondal's brother
Patanu Mondal was allegedly murdered
in Malda district. The BJP accused the TMC for this.
In third phase held on April 23,
one person was killed
and several injured during clashes between the Congress and the TMC in Murshidabad. In the fourth phase, on April 29,
violence was reported
from Bandar in Nanoor area of Birbhum district as BJP supporters clashed with TMC men over allegations of electoral malpractices. At Asansol, the then BJP candidate and now MP, Babul Supriyo was seen
arguing inside a polling booth
. He alleged that agents of his party were driven out of polling booths and that his vehicle was also attacked. During the fifth phase of the general election held on May 6, a clash erupted between BJP and TMC workers in Barrackpore after BJP's Arjun Singh alleged that he was
attacked by TMC workers
.
The last phase also
witnessed intense clashes and violence
with BJP's Rahul Sinha alleging that a crude bomb was hurled near Girish Park in North Kolkata. Police, however, said crackers were burst in the area, and polling was underway peacefully. In Kolkata South, TMC's Mala Roy alleged that she was stopped from entering polling booths. Sporadic clashes were reported in Kolkata and its surrounding areas, with TMC workers claiming that voters were being intimidated by central forces outside booths.
On May 14, BJP's then president and now Home Minister Amit Shah's rally in Kolkata was marred by violence as clashes broke out between TMC and BJP workers. What worsened the situation was that a bust of
Bengal icon Ishwar Chandra Vidyasagar
was vandalised in the mayhem.
After an unprecedented performance of the BJP in West Bengal in the 2019 general elections, the state continues to witness immense unrest, with the BJP and TMC workers at loggerheads with each other.
Reportedly
, many TMC offices at block and village level in the state were painted in the BJP colour (saffron) after the party made inroads into West Bengal by winning 18 of the 42 seats in the state, cutting the TMC down to 22 seats against the 34 it had won in the 2014 Lok Sabha polls.
On June 8, two BJP workers and one TMC worker were
allegedly killed
and one BJP worker missing after clashes broke out between the two parties in Bangipara village under Sandeshkhali I block, Basirhat. According to the local residents, the area has been in a tense situation since the time the results were declared in which the village had given the BJP a lead of around 150 votes. Villagers alleged that since then, TMC workers have been targeting the BJP workers. On June 13, a BJP worker named Saraswati Das, was
allegedly shot dead
by miscreants in Basirhat. BJP alleged that Das was killed by TMC 'goons.'
The Bhatpara-Kankinara area in Barrackpore has been the worst-hit in the on-going political violence. On June 17, BJP and TMC workers
clashed at a market
in Bhatpara, leaving six injured, two of them critically. Yesterday, the party workers from both sides allegedly hurled bombs at each other after which the police reportedly opened fire to control the violence which led to the death of a street food vendor,
Dharamveer Shaw,
The victim's uncle alleged "the police opened fire without any provocation and killed his nephew." However, a police officer said they had not "fired and killed civilians."
In a clear threat of violence, BJP national general secretary Kailash Vijayvargiya, at a
party meeting yesterday
, said "I want to warn the ruling party (TMC) here to not think that we are weak. Our party does not believe in responding to violence with violence. But if forced, we also can take the path of violence, but we believe in doing politics of courtesy."
TMC's Tapas Roy said the BJP was "instigating such violence to destabilise the government."
While the political tussle continues between the two parties, what is also concerning is the recent Doctor's strike in West Bengal after
two junior doctors at the NRS Hospital
in Kolkata  were reportedly attacked by the relatives of a patient Mohammad Sayeed who died at the hospital. The incident took a communal angle after it was revealed that the patient was a Muslim with the BJP leader Mukul Roy, along with party MP Locket Chatterjee,
saying
"people of a particular community had carried out the attack."
However, the junior doctors in West Bengal called off their strike on Monday evening ending the seven-day standoff, between them and the State government over lack of security at the workplace after a two-hour meeting Chief Minister Mamata Banerjee, who assured them of improved security.
The situation in West Bengal has worsened so much that there is a constant law and order problem in the state with reports of
President's rule soon being imposed
. However, it is not then difficult to understand that a President's rule will work in favour of the centre (BJP) which is notorious for, time and again, giving such threats whenever any state witnesses any violence. Also, the current violence seems to be nothing less than BJP-created  which is trying to strengthen its position in its new power kingdom, by instigating the TMC workers who have suffered a severe loss this election. The local TMC workers who were having immense powers until the results have now suffered a huge setback and this instigation by the BJP is nothing but taking undue advantage of their precarious condition, thereby attempting to defame the entire party and removing it from its existing strongholds.
History of poll-related violence:
Poll-related violence has been a constant in the state of West Bengal and has its roots much before the TMC and the BJP became the major political parties in the state. Election Commission's (EC) reports on past Lok Sabha elections and annual reports of the National Crime Records Bureau (NCRB) show that West Bengal and poll-related violence go hand in hand.
During the 2014 Lok Sabha elections, a total of 16 political workers were killed across India in poll-related violence and
West Bengal had the highest share
with seven deaths (44%). Further, the EC report shows that 64%  (1,298 of 2,008) of the political workers injured during the 2014 Lok Sabha elections were from West Bengal. Besides this, all the 1,354 onlookers who were injured in poll-related violence were from West Bengal.
Reports of the NCRB also reveal that in the 18 years between 1999 and 2016, on an average West Bengal witnessed 20 political murders every year. The highest was in 2009 when 50 murders were motivated by political reasons. This was followed by 2000, 2010 and 2011, each of which saw 38 political murders.
In August 2009, the Communist Party of India (Marxist) released a pamphlet in which it accused the TMC of having murdered 62 of its supporters between March 2 and July 21 that year. However, the history of violence dates back to the 1980s and 1990s when neither the TMC nor the BJP had any presence in the politically aggressive state. During that time, the Left and the Congress were at loggerheads.
In 1989, the then Communist Chief Minister of West Bengal, Jyoti Basu, presented some figures in the state assembly. His figures, as reported in a
May 1989 report of India Today
magazine, revealed that at least 86 political workers were killed in inter-and-intra-party clashes in West Bengal in 1988-89.
Therefore, West Bengal has a history of political conflicts and extreme cases of poll-related violence everytime there is a change in power dynamics. The current scenario is nothing but a turf war between BJP and TMC as BJP rises to power and TMC continues to lose its hold. It is thus not difficult to understand that the BJP is not leaving any stone unturned to belittle the TMC with reports of the BJP workers sending 'Jai Shri Ram' postcards to Mamata Banerjee, Kailash Vijayvargiya warning TMC of counter-violence, reports of President's rule and the BJP communalising the doctor's strike, doing the rounds.
Amidst this constant political battle, the citizens continue to suffer the brunt with a constant law and order problem.