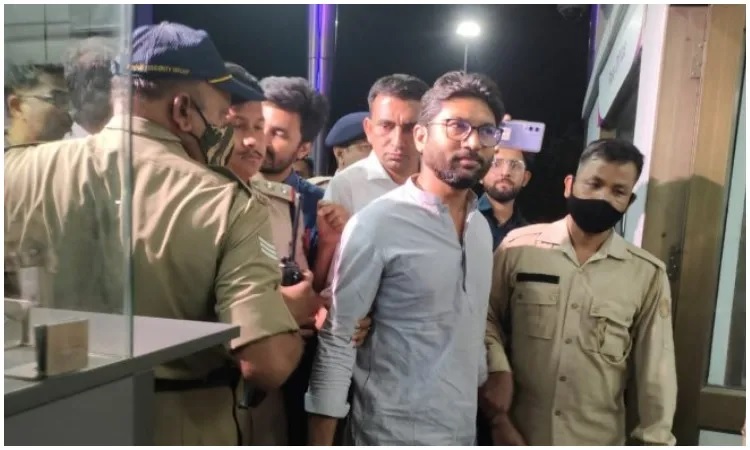 Within hours of being granted bail by the Chief Judicial Magistrate's court in Kokrajhar in Assam, Jignesh Mevani was re-arrested, this time by Barpeta Police.
While the exact case is not known, sources tell SabrangIndia that he has been arrested under IPC sections 294 (obscene acts and songs), 323 (voluntarily causing hurt), 353 (assault or criminal force to deter a public servant from discharging duty) and 354 (outraging the modesty of a woman).
It is not known who Mevani assaulted and when, and who was the woman whose modesty he allegedly outraged. While details about the case are still awaited, this re-arrest shortly after getting bail is being seen as a way to harass the youth leader who is one of the shining stars of the Opposition in Gujarat, and is all set to join the Congress party at the end of his term as MLA. Assembly elections are due in Gujarat this year, and Mevani could not join the party along with Kanhaiya Kumar last year due to a mere technicality.
But this has not stopped the Congress party from providing him with legal aid and other forms of support. Ever since his arrest on Thursday, the party has been rallying behind him. Mevani was flown to Assam the following day, and it was Monoj Bhagabati, the chairman of the legal cell of the Assam Pradesh Congress Committee (APCC) who appeared for the MLA for the proceedings that took place at 8 P.M, along with advocate Anshuman Bora. Since then, the Congress has put its full might behind securing Mevani's release.
A delegation of Congress leaders even visited him in police custody in Kokrajhar to ensure he was given proper food and clothes and was being treated in accordance with all statutes laid down to protect human rights of people in detention, especially the provisions laid down in the landmark DK Basu judgment. Another youth leader turned MLA Akhil Gogoi also visited Mevani with this team.
Today met @jigneshmevani80 at Kokrajhar Police Station.He is in a pretty jovial mood and is in a fighting spirit. He doesn't seem to be tensed at all. After that protested outside the police station for his release. pic.twitter.com/lSJoXTnxNE

— Akhil Gogoi (@AkhilGogoiAG) April 22, 2022
Gogoi would know. He has been harassed by the regime using multiple cases against him. Whenever he managed to get bail in one case, yet another was filed against him in another jurisdiction. It got so bad, that Gogoi had to fight the Assam Assembly election from behind bars as the candidate from his newly minted party Raijor Dal… and yet he won! Gogoi is now the MLA from Shivsagar. He has long been a thorn in the side of the regime for demanding rights of peasants and workers, and more recently for protesting the Citizenship Amendment Act (CAA) which led to him facing charges in two police stations and a probe by the National Investigation Agency (NIA).
Protests were organised across Assam and even in some parts of Gujarat in the run up to Mevani's bail.
On Saturday, it was a large contingent of the Youth Congress that held protests outside the Kokrajhar police station:
Youth congress protest outside Kokrajhar police station for Shri Jignesh Mevani ji. @jigneshmevani80 pic.twitter.com/5f0hHDKtdy

— Assam Pradesh Youth Congress (@IYCAssam) April 23, 2022
On Sunday, APCC president Bhupen K Borah had led a silent protest march from the Congress Headquarters to the Kokrajhar police station along with MLA AK Rashid Alom, Daiganta Barman and INC party workers:
Today participated in a silent protest from Kokrajar District Congress office to Kokrajar police station against unlawful arrest of @jigneshmevani80 . Diganta Barman MLA, AK Rashid MLA, many APCC ,DCC Office bearers & workers were present along with me. I met him inside Thana. pic.twitter.com/ergrcPrQhP

— Bhupen kumar Borah (@BhupenKBorah) April 24, 2022
Borah once again led demonstrations outside the Kokrajhar police station on Monday with Alom and Barman in the hours before Mevani was granted bail:
Protest Dharna for the release of MLA Shri @JigneshMevani in front of Kokrajhar PS headed by Hon'ble APCC President Shri @BhupenKBorah , accompanied by MLA A K Rashid Alom, Diganta Barman & INC office bearers. The fight continues. pic.twitter.com/SLU9cDH6mH

— Assam Congress (@INCAssam) April 25, 2022
Sources tell SabrangIndia that orders to put the full weight of the Congress party behind Jignesh Mevani came from Rahul Gandhi himself. Infact, Gandhi had tweeted in Mevani's favour shortly after his arrest with the #DaroMat hashtag:
Modi ji, you can try to crush dissent by abusing the state machinery.

But you can never imprison the truth.#DaroMat #SatyamevaJayate pic.twitter.com/Qw4wVhLclH

— Rahul Gandhi (@RahulGandhi) April 21, 2022
Debabrata Saikia, Leader of the Opposition in the Assam Assembly, also threw his support in favour of Mevani:
Arresting MLA @jigneshmevani80,a dalit leader from Gujarat,only for a tweet is unconstitutional & I condemn such discriminatory activity. Meanwhile, Assam has been continuously ranked on top for crimes against women for several years. @assampolice check your priorities. pic.twitter.com/EiyXoEyULt

— Debabrata Saikia (@DsaikiaOfficial) April 21, 2022
Hard to process the fact that @assampolice has actually arrested @jigneshmevani80 for urging the PM to appeal to the public to maintain peace and harmony. Assam Police should read the IPC and know that maintaining peace and harmony is not a crime. Embarrassing.#JigneshMevani

— Debabrata Saikia (@DsaikiaOfficial) April 21, 2022
Others in the Congress top brass also expressed support for Mevani:
The unlawful & unconstitutional arrest of Jignesh Mevani at midnight by Assam Police is the latest proof of authoritarianism under BJP.

Such an arrest of a people's representative not only betrays their fear of criticism but also attacks the foundations of our democracy.

— K C Venugopal (@kcvenugopalmp) April 21, 2022
Related:
BREAKING: Assam court grants Jignesh Mevani bail
Order in Jignesh Mevani's bail plea expected today
Jignesh Mevani arrested over tweet against PM Modi
Assam court remands Jignesh Mevani to three days police custody
Were search, seizure and arrest procedures violated in the case of Jignesh Mevani?
MLA, HRD Akhil Gogoi to walk free, NIA court discharges him in last UAPA case