Youth leader and spokesperson Samajwadi Party (SP) Richa Singh was attacked in Allahabad on Tuesday afternoon. She was allegedly physically assaulted by police personnel and left bleeding and unconscious on the road.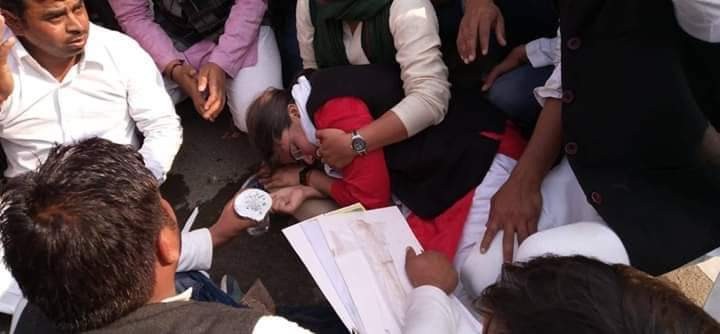 When some of the protesters tried to take her to a hospital, the police promptly arrested her and whisked her away to the police station!
SP Chhatra Sabha leader Illyas Adnan who was at the spot shed light on the incident saying, "SP leader Akhilesh Yadav was to address University students at a program here today, but the administration did not even allow him to board his flight from Lucknow. MP Dhananjay Yadav then addressed the nearly 10,000 strong crowd that had gathered here to hear Akhilesh Yadav. We then commenced a Shanti March. Richa Singh and several student leaders were present in the march. That's when the police attacked us!"
Adnan added, "They beat up several SP leaders including Dhananjay Yadav, Azamgarh MLA Sangram Yadav and also Mahindra Patel from Phulpur who were present at the protest. But were particularly brutal in the manner in which they beat up Richa Singh. She sustained head injuries and they also broke two of her teeth! She fell unconscious but we were not even allowed to take her to the hospiatl. She was arrested and taken to police lines!"
Richa Singh is a feisty former student leader and holds the distinction of becoming the first woman President of the Allahabad University Students Union in its 119 year history. She has been a constant thorn in the flesh for the Adityanath administration. She had earlier been subject to police brutality and institutional violence for protesting Adityanath's visit to the University and showing him black flags.