Sending a message of peace, harmony and brotherhood, Jaunpur village hosted Muslim devotees in their Shiva temple on Sunday afternoon after they were stuck in a traffic congestion and left with no place to pray.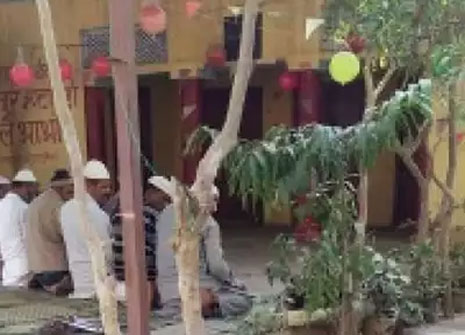 Jaunpur: Nobody in Bulandshahr's Jaunpur village would've thought that the western UP region will be marred by communal violence on Monday. Only a day before, the residents of Jaunpur village had hosted Muslim devotees in their Shiva temple on Sunday afternoon.  
Muslim devotees that had gathered for the Ijtema, an integral part of Tablighi Jamaat, were stuck at Jaunpur due to increasing traffic congestion. It was time for their Johri (Afternoon) Namaz and they had no place to pray as reaching the mosque on time was out of the question.  
They narrated their tale to the locals and the villagers decided to consult the temple committee members. Together they decide to open the temple gates of the local Shiva temple. Water taps were opened for 'wazu' and prayer mats for the Namaz were organised in the courtyard.  
"The message of love and brotherhood should spread far and wide. Some Muslim brothers got stuck in the traffic jam here and it was namaz time. Since there wasn't any other place for them to offer prayers, we opened the gate of the Shiva temple and asked them to come inside,"
said
Amar Singh, a priest at the Shiva temple to Time of India.  
"Love is prayer and prayer is love, and we just did our little bit," said Chaudhary Sahab Singh, a member of the temple management committee. He had said that nobody should be stopped from offering prayers in a temple.  
They wanted to send a message of peace and brotherhood but this feat was eclipsed by gory violence on Monday when cow vigilantes took to the streets protesting cow slaughter and caused a stir. A policeman and a local student were murdered in the crossfire.