An allegation of cow slaughter brought out Hindutva vigilantes onto the streets and resulted in the death of police inspector Subodh Kumar Singh, 47, and a young student Sumit. The murdered SHO was incidentally also the investigating officer in the Akhlaq lynching case.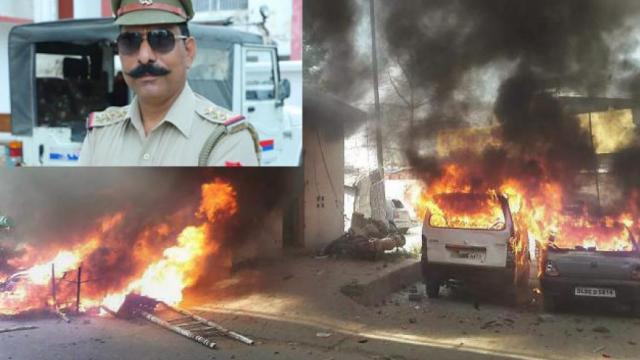 Bulandshahr: Communal tension gripped western UP again as another violent mob lynching in the state took two lives. An allegation of cow slaughter brought out Hindutva vigilantes onto the streets and resulted in the death of station house officer (SHO) Subodh Kumar Singh, 47, and a young student Sumit. This incident happened on the last day of Ijtema, an essential part of the Tablighi Jamaat and nearly 10 lakh Muslim devotees had gathered in Bulandshahr to pray on Monday.  
Among the first administrative officers to reach the spot in Mahaw village was Tehsildar Rajkumar Bhaskar.
Talking
to News18, he said, "Dead cow meat was hanging in a sugarcane field. Head and skin of a cow hung like clothes on a hanger. It is strange because anybody who would indulge in cow slaughter would not put it out for display knowing the situation in the state. It was visible from far away."  
The Tehsildar said that as soon as the news of dead meat spread, members of Hindu Yuva Vahini, Shiv Sena and Bajrang Dal appeared on the spot and started agitating. The crowd then loaded the carcass on a tractor and tried to take it towards Bulandshahr-Garhmukteshwar State Highway to protest. This is the same highway that the Muslim devotees were going to take for their return.  
The incident is being seen as a pre-planned attempt to spread communal tension and many believe that this incident will throw a spanner in the attempts to reconcile the two communities since the last six years and especially after the Dadri lynching of Mohammad Akhlaq. The murdered SHO was incidentally also the investigating officer in the Akhlaq lynching case.  
The incident
According to media reports, a group of people allegedly found remains of a dead cow strewn across farms in Bulandshahr's Mahav village on Monday. Soon after, a group, led by activists from fringe Hindutva groups, identified as Bajrang Dal, Hindu Yuva Vahini and Shiv Sena, blocked the highway that passed through the village.  
The group then proceeded to the nearest police chowki (sub-station) in Chingravathi village to report the alleged incident of cow slaughter, which is illegal in Uttar Pradesh.  
When a bigger crowd started to gather at around 11 am, police personnel from the main police station in nearby Shyana village arrived at the chowki to control the volatile situation. It was reported that over 100 men came in tractors and were asked to contain themselves and file an FIR but they wouldn't budge.  
"People carried these carcasses in tractors and other vehicles to state roads, and in front of the Chingravati police chowki. Police officers from Syana station began questioning these people to file an FIR. During that process, certain anti-social elements created a ruckus and light force had to be used to contain them. Matters escalated and people began pelting stones," said Bulandshahr District Magistrate (DM) Anuj Jha.  
It was during this clash that Siyana SHO Subodh Kumar Singh was shot dead while his gunner sustained a critical injury.  
"I would say that the police officer was brave that he ventured into the crowd alone to pacify them. He was just doing his job. He was known to be a person who never backed down from any tough situation. We have lost an asset," DM Jha added.  
"Inspector Subodh Kumar Singh, before he was shot dead, reportedly tried to control mob violence in the village after carcasses of 25 cows were found in forests close to a police post. A local man was also killed in an hour of violence provoked by allegations of cow slaughter. The mob also burned down a police station and set fire to several vehicles. Video footage, recorded from a cell phone, shows Subodh Kumar Singh's limp body in his car with its windscreen shattered and doors open. A post-mortem report confirmed that Mr Singh died of bullet injuries. The mob that allegedly killed him took away his service gun and mobile phone as well,"
reported
NDTV.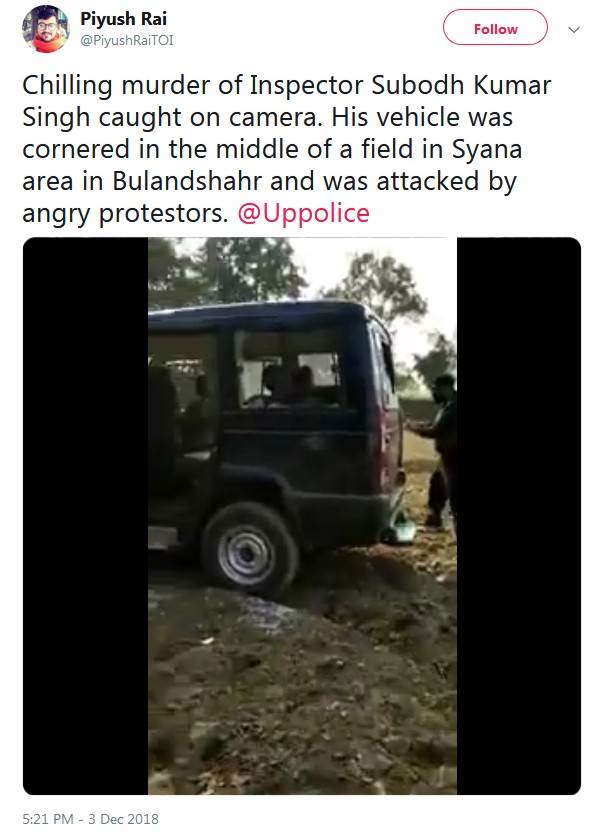 The autopsy report of the SHO revealed that he was shot in the head. He was hit with a .32 bore bullet near his left eyebrow. Sumit, 20, breathed his last after coming in the way of police's retaliatory firing. He was a second-year student of Bachelor of Arts. His sister and their friends said that he was shot by the police in the chest when he had gone to drop a friend on his motorbike. Reports also say that he was a BJP activist.  
"One of the villagers residing very close to the field where the carcass was found said he did not see any cow meat the day before. "I live right opposite the field. There was no dead meat during the previous day. It was only on Monday did we see these things. Also, I didn't see anybody cutting the meat," he said in a report by News 18.  
No communal angle here, says police
Uttar Pradesh police denied that any communal angle was involved in the case and said the incident was not linked to the conclusion of the Ijtema, a three-day religious congregation.  
"Please don't spread misinformation. This incident is not linked to the Ijtema procession in any way. The Ijtema concluded peacefully. The current incident happened 45-50 kilometres away from where the Ijtema was held. Some rowdy elements are the perpetrators of this incident. Statutory action is being taken in the case," Bulandshahr Police tweeted.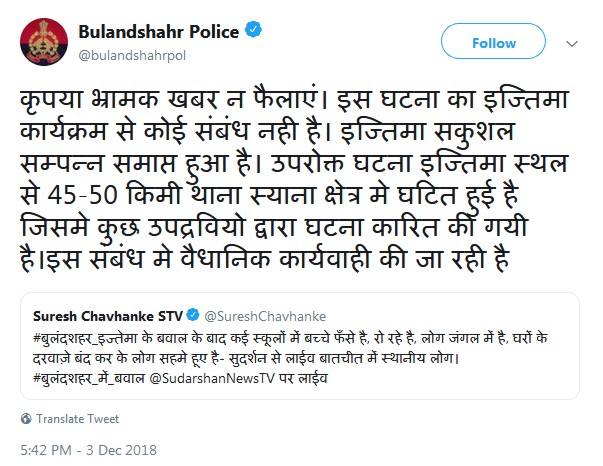 CM Yogi Adityanath announced Rs. 50 lakh assistance to the family members of Subodh Kumar Singh. The government also promised a job to a family member as well as "extraordinary" pension for the dependent family members.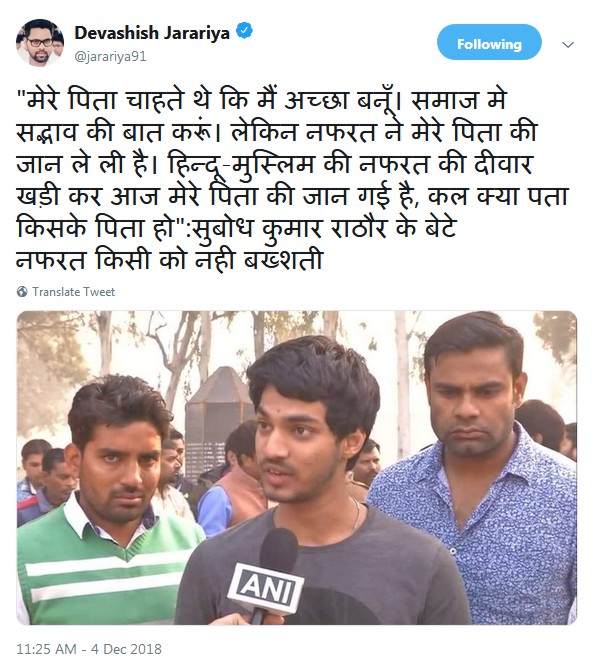 "In the aftermath of 2013 Muzaffarnagar riots, many landless Muslims were forced to move out of this small town in Uttar Pradesh. The clash over a polarising issue like cow slaughter, political observers say, could dent the six years of effort that has gone into healing the wounds between the two communities,"
reported
The Wire.  
Two arrested, SIT probe underway
The police arrested two people and detained four others in connection with the violence on Tuesday. "Two people have been taken to custody. A Special Investigation Team (SIT) has been formed to investigate why the violence happened and why the police personnel left Inspector Subodh Kumar alone," ANI quoted Prashant Kumar, ADG Meerut Zone, as saying.  
An FIR has been filed under 17 sections including murder, rioting and assault.
According
to the Indian Express, there are 27 named accused and 50-60 unnamed accused in the FIR.  
Yogesh Raj, a member of the Bajrang Dal is being considered the main accused in this violence.