Citizenship Amendment Bill-2019, Safeguard for Indigenous nothing creates uncertainty and unrest in Assam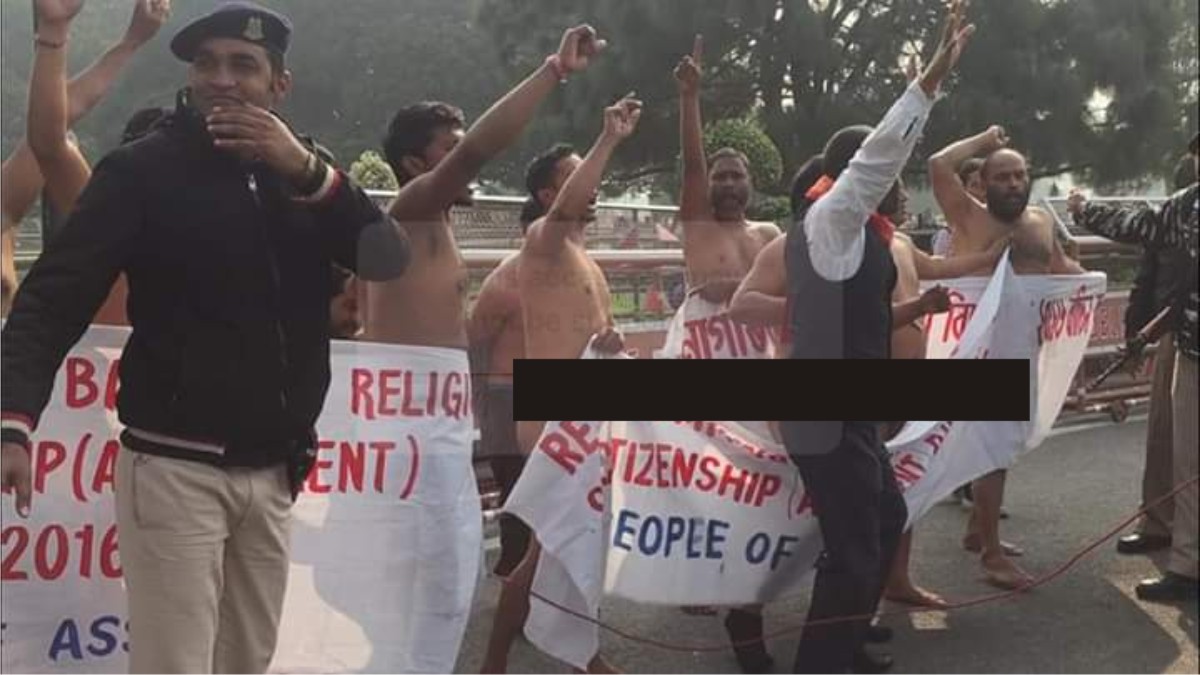 Guwahati, 9 January: While addressing a huge rally at Ramkrishna Nagar, Silchar, on January 4, Prime Minister Narendra Modi made two announcements that sent the entire North East, especially Assam into a tailspin!  
First, Modi announced that the Citizenship Amendment Bill-2016 will be passed immediately. The second assurance was to pacifying the Assamese nationalist group that, implementation of sixth chapter of Assam Accord, 1985 for Socio-Economic and Political safeguard to indigenous people of Assam. The twin declaration created huge controversy not only in Assam, but entire North-East India.  
Just after this, prominent intellectuals, writers and thinkers of the state, cutting cross socio-political lines, assembled in Guwahati and decided aim for long term movement to save Assam and save the Constitution, under the leadership of eminent thinker and public intellectual Dr Hiren Gohain.  
Krishak Mukti Sangram Samiti (KMSS), in association with 70 other ethnic and civil rights organization promptly organised a press meet at Guwahati, and appealed for united movement to pressurize the State and Union Government so that Citizenship Amendment Bill-2016 can't be turned into a law.  
On the other hand, All Assam Student's Union (AASU), which remain close to BJP for long time, in association with 29 other organizations, refused to accept the lofty implementation of 6th para of Assam Accord, in exchange of scraping 5th para of Assam Accord, that deals with detection, detention and deportation of any foreigners, who entered Assam after 24th March, 1971. AASU Advisor, Dr Sammujjal Kumar Bhattacharyya, briefed the media that, "the Citizenship Amendment Bill-2016, once becomes law, it will allow all Bangladeshi Hindus to enter into Assam, without any time limit. Thus, killing 5th para of Assam Accord, the 6th para of the Accord will be meaningless. So, AASU and 29 other organizations, associated with AASU, can't accept it."   
Shortly after the announcement by Modi in Silchar, Association of 70 organizations under KMSS, started hunger strike all over the state. On the next day, before taking the initiative to pass the Citizenship Amendment Bill, the Union Government hurriedly formed a High-Powered Committee for implementation of 6th para of Assam Accord, for formulating the safeguard of indigenous people of Assam in regards to Social, Cultural, Economic and Political rights. The initiative of Union Government could pacify the much created unrest in the State. The AASU and its allied organizations called a North-East Bandh on 8th January at the eleventh hour.  
The day, the JPC report was submitted in Parliament, a strong reaction rocked Assam. On 7th January, the time was fixed for tabling the JPC report in Parliament, simultaneously, 15 youth from Assam, under the call of protest by united forum of 70 organizations, protested against Citizenship Amendment Bill-2016 by marching in the nude. At the same time, Left Democratic Forum (LDF), a common platform for 11 political parties marched for Deputy Commissioner's office at Guwahati against Citizenship Amendment Bill. All District headquarters of also witnessed march of hundreds of people against the Citizenship Amendment Bill (CAB), in response to the call by LDF, an association of 70 organizations and "Save Assam, Save Constitution" movement under the leadership of Dr Hiren Gohain. When the protest rally was on all over the state, the prominent intellectuals, writers, artists gathered at hear of Guwahati city to observe black day as per the call given by "Save Assam, Save Constitution" Movement.  
Eminent thinker and Educationist Dr Hiren Gohain hoisted the black flag in presence of huge gathering. In the rally Dr Hiren Gohain, Former DGP Dr Harekrishna Deka, Prominent Advocate Arup Barbara, Former Additional Chief Secretary of Assam and noted Historian Dr Lakshmi Nath Tamuly, Former Chief Minister Tarun Gogoi and Prafulla Kumar Mahanta, Eminent writer, Poet and Actress Maini Mahanta, Singer Loknath Goswami, famous Neurologist Navanil Baruah besides others strongly criticized BJP for it's more to breakdown the secular ideals of Indian Constitution and violating the Assam Accord. Each and every speaker called on for continuous statewide campaign so that BJP can be defeated each and every constituencies of the State. Most vocal in this regard was legal expert Arup Barbara and Lakshmi Nath Tamuly, who backed BJP in the last Assembly election in the State. Nationally re-knowned singer and Lyricist Jubin Garg and most popular Actress of Assam, both of them known to be close to Chief Minister of Assam and BJP leader Sarbananda Sonowal, also declared their eagerness to involve themselves in active campaign against CAB and BJP. All of them, who spoke in the gathering was critical to AGP for the party still have not break alliance with BJP. When one after another speaker was criticizing AGP for remaining alliance partner of BJP, the AGP President and Minister, Atul Borah declared that the AGP has withdrawn support from the BJP led Government of Assam and also break the alliance with BJP.  
Throughout the day, hundreds of women gathered in front of the BJP state headquarters. The Assam Police used batons to vacate the door of BJP office. 
On 8th January, Assam witnessed an unprecedented Bandh against the Communal action of BJP. Even the Bandh was total in all North-Eastern State. In Tripura, 7 tribal youth, who came out in support of the Bandh called against CAB, were injured in police firing. In Dhibrugah, Golaghat and Morigaon District of Assam, hundreds of Bandh supporters came out into the streets and attacked District head office of BJP in their respective districts. By the evening on 8th January, when the Lok Sabha passed the Citizenship Amendment Bill, the anguish of the people increased all over the State.   
In response to the people's anger, the State Spokesperson of BJP, Mehdi Alom Borah, tendered his resignation from primary membership of BJP. Speaking to Sabrang India, Borah said, "The Citizenship Amendment Bill is against the interest of Assam. It will encourage further infiltration to the State and it will marginalize Assamese People in their Homeland. It also violated the basic principle of our Constitution." He further stated, "Basic ideals of Assamese Society is secularism. So, the Communal agenda of BJP doesn't suit with the ideals of social harmony of the State. BJP will have to suffer a lot for ignoring the basic teaching of Assamese Society."