As water scarcity continues to plague Maharashtra in 2019, it is noteworthy that the state has been experiencing poor rainfall, drought or drought like conditions since 2012. But what is the reason behind this severe shortage of water? Is it purely natural or is this recurring calamity by-and-large man made?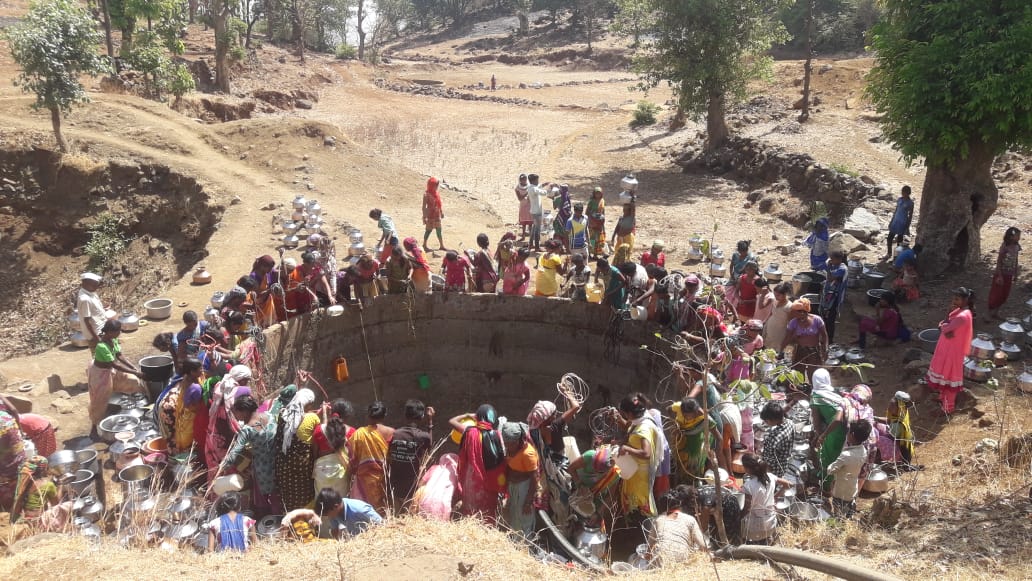 Image Courtesy: News Click
Agriculture in Maharashtra
Before we delve into a brief history of the water scarcity in Maharashtra, let us have a look at a few facts and figures pertaining to agriculture in Maharashtra. According to the
Ministry of Agriculture
:  
Principle crops grown in the state are rice, jowar, bajara, wheat, tur, mung, urad, gram and other pulses.
Maharashtra is major producer of Jowar and Arhar contributing 46.09 and 29.11 %, respectively to the total production of India.
The state is major producer of oilseeds such as groundnut, sunflower and soybean.
Important cash crops grown are cotton, sugarcane, turmeric and vegetables.
It is second largest producer of Cotton (22.21%), Soybean (28.14%), and total cereals (13.56%) in the country.
The state has an area of 10.91 lakh hectares under various fruit crops like mango, banana, orange, grape and cashew nut etc.  
Paddy, jowar, groundnut and various lentil crops are predominantly rainfed.
Traditionally farmers who practice dual cropping patterns, typically intersperse two sets of food grains or cash crops with on crop of lentils as they enrich the soil with nitrates.
Now, let us examine how climate change, poor water management, corruption, theft and other factors are perpetuating the agrarian distress in the state.  
Maharashtra Drought 2013
Below normal rainfall during June to September 2012 is believed to have led to what was termed as the
worst in four decades
in 2013. As per the 2012 monsoon data as published in the
Rainfall Statistics of India 2012
report by the Hydromet Division of the Indian Meteorological Department (IMD). In the month of June, 2012, the South West monsoon showed a shortfall of 28 percent and in July 2012, the shortfall was 13 percent.
Therefore, in 2013 when the drought hit a whopping 11,801 villages were affected. The worst affected districts included Solapur, Ahmednagar, Sangli, Pune, Satara, Beed and Nashik. The situation was also serious in Buldhana, Latur, Osmanabad, Nanded, Aurangabad, Jalna, Jalgaon and Dhule districts.
Most of these districts fall in Marathwada and Vidarbha, two regions that were already grappling with agrarian distress and farmer suicides. This area lies in what is called a rain-shadow region and has been dealing with water shortage and agrarian distress for several years.
An Empowered Group of Ministers (EGoM) under then Agriculture Minister Sharad Pawar had at the time
approved a relief package
of Rs 1207 crores for the state. The government also arranged for tankers to deliver water in over 1600 villages and set up 554 cattle fodder camps. But one cannot ignore how much of this crisis was man made, especially in light of revelations of the Irrigation Scam.
The Irrigation Scam
The
Maharashtra Irrigation Scam
pertains to financial irregularities to the alleged tune of Rs 35,000 crores in Maharashtra during the period between 1999 and 2009 when Ajit Pawar of the Nationalist Congress Party (NCP) was incharge of the Department of Irrigation and Water Resources. The allegations of corruption gained currency in wake of the 2012 Economic Survey that claimed that the state's irrigation potential had improved by 0.1 percent despite spending Rs 70,000 crores on various irrigation projects.
Chief Engineer Vijay Pandhare, a whistle blower in the case, made a series of allegations ranging from cost escalation to poor quality construction, directly implicating Ajit Pawar in the scam. But the most shocking allegation was that the cost of 38 irrigation projects under the Vidarbha Irrigation Development Corporation (VIDC) escalated from Rs 6,672 crores to Rs 26,722 crores
in a span of just seven months
in 2009! The allegation was made by Jan Manch in a writ petition filed before the Bombay High Court. Many more
shocking allegations
were made in this petition which showcase how little was actually done to alleviate the water shortage in the region.
Interestingly, in November 2012, the Maharashtra Government released a white paper that predictably
gave Ajit Pawar a clean chit
. And though Ajit Pawar had resigned and handed over the irrigation portfolio to fellow NCP man Sunil Tatkare in 2009, after the white paper was released Pawar returned, this time as deputy chief minister.
Maharashtra Drought 2015
Though rainfall improved marginally in the intervening years, Maharashtra suffered acute water shortage in 2015 when reportedly
90 lakh famers were affected
across the state. The farmers had already suffered due to
unseasonal rainfall and hail storms
destroying crops such as wheat, cotton, jowar, papaya and grapes the previous year.
In 2015, over 23,000 villages were affected and faced a
drought-like situation
i.e crop yield was less than 50 percent of the standard yield in the area.
Worst affected districts
included Nashik, Arangabad, Buldhana, Beed, Amravati, Wardha, Nagpur, Yavatmal and Nanded. This year cash crops like cotton and soybean were the worst affected. Total agricultural land spread over
98.6 lakh hectares
was affected. 3,228 farmers reportedly committed suicide in 2015.
Maharashtra Drought 2016
Matters got significantly worse in 2016 when drought was declared in
29,000 villages
in Maharashtra. The state at the time had 1.37 crore farmers and two-thirds were said to have been affected by the drought. An alarm was raised in May 2016, when water levels in the Jayakwadi dam in Aurangabad
hit dead storage
. The water from this one dam is supplied to four cities, 500 villages and industrial clusters. It has been alleged that
influential sugarcane and grape growers
and sugar mills owned by powerful politicians had called dibs on the water.
The State Government
assured the Bombay High Court
that was listening to a batch of drought petitions, that all drought-like situations will be read as drought and relief will be provided as per provisions laid down in the
Drought Manual 2009
. The provisions cover a wide variety of relief pertaining to crop planning and support to farmers, relief employment, water resource management, food security, tax waivers and concessions, cattle camps and fodder supply etc.
Maharashtra Drought 2018  
Scanty rainfall in the period between June to September, 2018 led to drought like conditions in 20,000 villages. The Marathwada region
reportedly
saw a rainfall deficiency of 22 percent. Jalgaon, Solapur, Beed and Ahmednagar were the worst affected districts. Available water in reservoirs in Marathwada
reportedly
dropped to just over 26 percent.
The Maharashtra government
declared drought
in 151 talukas, including 112 classified as having been hit by severe drought.
The Tanker Mafia
During all these droughts, it is the state's infamous tanker mafia that makes hay when the sun scorches. There are 76 municipal areas in the eight districts of Marathwada. All face varying degrees of water shortage. Some get water every alternate day, some once in a fortnight. Therefore people here depend heavily on tankers.
This report
by Down to Earth exposes the devil's arithmetic. An investigation by them found, "The rate of tankers increased from Rs 2 to Rs 4.30 per km. Besides, the everyday charge of tankers increased from Rs 158 to Rs 338 based on different capacities." At present
6,200 tankers
are operational across Marathwada.
This investigation
by Moneycontrol shows that the tanker business is booming in big cities like Mumbai, Pune, Nashik etc. In fact, the tanker mafia is earning Rs 8,000-10,000 crore annually from water biz in Mumbai alone!
According to
this report
in Mumbai Mirror, the BMC has identified around 30 spots from where water is drawn illegally in south Mumbai to fill up tankers. These include Princess Street, Popatwadi and even opposite the LT Mark police station on Kalbadevi Road. Given how there is limited or no quality control or means to determine if the stolen water is fit for consumption, there is a very real chance of contaminated water being supplied by these unethical tanker operators. There are also allegations of complicity of corrupt municipal officials.
It is because of these illegal and unethical practices, that the water shortage gets even more acute. This is therefore the man made and completely avoidable part of the drought.
Drought and Monsoon in 2019
As per the
Drought Early Warning System
43.4 percent of India is facing drought and the situation in Maharashtra is critical. Latur, Beed and Osmanabad are the worst affected, especially in wake of a heat wave. The
El Nino effect
is also further exacerbating the crisis.
Let us look at the broader predictions about the 2019 monsoon. This year, as per the India Meteorological Department (IMD) India will experience
near normal rainfall
at 96 percent of its Long Period Average (LPA). LPA refers to average rainfall between 1951 and 2000, which stands at 89 cms. LPA of 96 to 104 percent is considered normal. But LPA below 95 percent falls under 'below normal' category of rainfall. But Skymet predicts
below normal rainfall
at 93 percent of LPA.
According to the latest weather forecast
released on June 20, 2019
, "Heat wave conditions very likely in some parts over Vidarbha" for the next 48 hours following which the region is likely to see some isolated and scattered rainfall. But will this be enough to restore or repair the fortunes of the hapless agrarian community in the region?
Also, when will we move past assigning the blame and invest in sustainable solutions that help conserve our natural resources and protect the environment, especially with climate change casting a dark shadow over all of us?