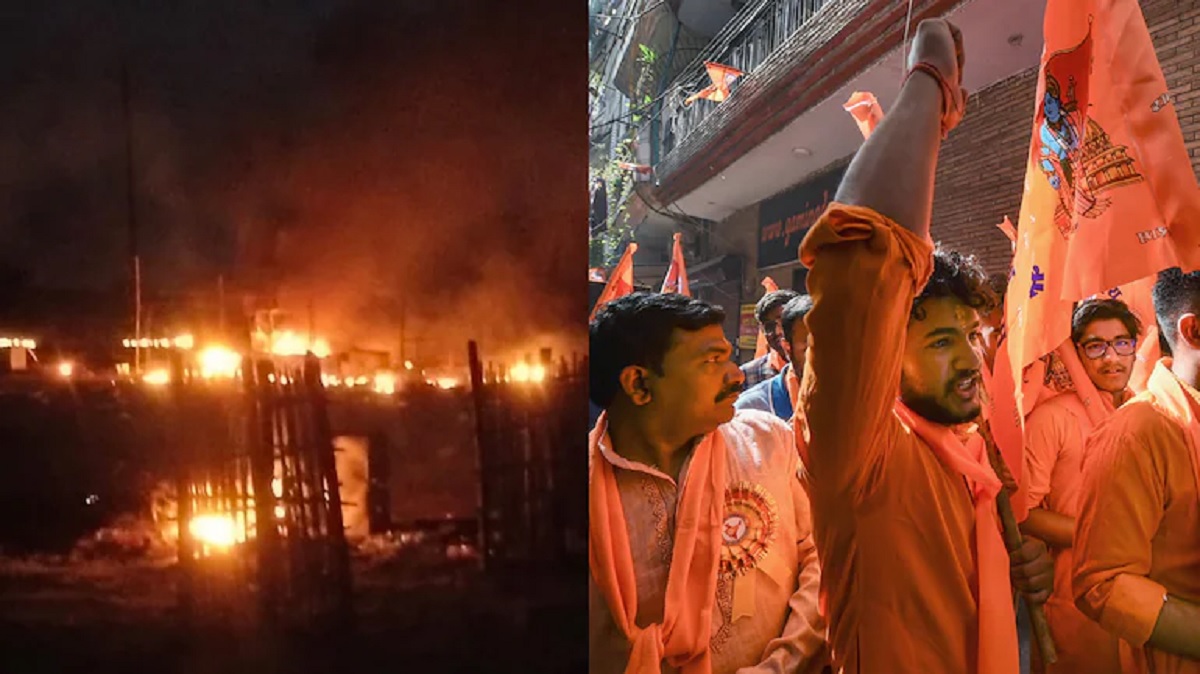 Image: PTI

Ram Navami on April 10, 2022 was marred with clashes, stone-pelting, trishul diksha, attacks on students and many other instances of violent communal confrontation across at least five Indian states. These include Gujarat, Delhi, Madhya Pradesh, Jharkhand and West Bengal.
At least one killed in Gujarat
On a day that marks the birth of Lord Ram, Gujarat's Himmatnagar town in Sabarkantha district and Khambat town of Anand district reported incidents of communal violence. According to Indian Express, a person in Khambat was found dead after incidents of stone pelting and arson. After a Ram Navami procession began on Sunday, the group ended up in conflict with another community, forcing the police to resort to lathi-charge and tear-gassing. Speaking to IE, Deputy Superintendent of Police Abhishek Gupta said the deceased is an unidentified person around 60 years of age. Although his body was found near the place of conflict, the cause of his death is yet to be confirmed. Nonetheless, Gupta said the police have detained four persons, although the FIR was yet to be registered.
Similarly, several persons in Himmatnagar, including four policemen, were injured, and shops and vehicles were set on fire. Here, the clashes began around noon shortly after a vehicle procession began. The motorcycles and four-wheelers reached Chhaparia – a region dominated by minority community folk – from where incidents of communal violence were reported until 3 PM.
DISCLAIMER: Unverified video.
Unfortunately, the attacks didn't stop there because another rally arrived at the same area around 4PM. This one was led by the Sangh Parivar outfit Vishwa Hindu Parishad (VHP) that started another bout of stone-pelting among the two communities. The situation in both towns reached a point where Home Minister Harsh Sanghavi called an emergency meeting with senior police officials late at night, said Indian Express. Meanwhile, a VHP member told the paper that SPs from three districts were providing security cover for the rally. After the Sunday attacks, officials in both towns assured the media that the law and order situation is under control. However, far from satisfied, the rights group Minority Coordination Committee (MCC) wrote to the Director General of Police (DGP) demanding increased security in the clash-hit areas.
They also demanded action against the goons who "disrupted peace and harmony in Gujarat" using the excuse of religious festivities. The MCC also demanded immediate arrest of those carrying weapons on Sunday. This refers to another 'Trishul Diksha' event in Himmatnagar by right-wing outfit Bajrang Dal on Sunday wherein 5,100 people received trishuls, swords and similar weapons. According to Economic Times, recipients were carrying this weapon during the procession. Most worryingly, MP Dipsinh Rathore and MLA Raju Chavda attended this event.
Incidents of communal confrontation were also reported from Bardoli in Surat, and from Vadodara.
Disruption in Jharkhand
Gujarat was not the only state to report such violence. In Jharkhand too there were reports of stone-pelting, arson and injuries to as many as 10 people despite heavy security deployment. According to Navbharat Times, miscreants pelted stones on the Ram Navami procession near the Bhokta garden in Hirahi village of Lohardaga district on Sunday. Overall, 10 people were injured from both communities and admitted to a local hospital for treatment.
It is reported that people retaliated by setting fire to two houses and a vegetable shop near the area. Some assailants also hurled stones at the Rajdhani Express travelling from Ranchi to Delhi and damaging the public property. Moreover, 10 motorcycles, three handcarts, one auto, four cycles and several shops in the village fair were set on fire damaging property worth lakhs of rupees.
The situation returned to normalcy once the police reached the area. Soon after, the region was evacuated by the police. The news is unfortunate considering the state police in Ranchi district had deployed more than 3,000 police personnel. CCTVs, officers in plain clothes, QRTs were also readied with instructions to all station in-charges to keep in touch with their respective PCR.
Madhya Pradesh 10 houses burnt down
As many as 10 houses were set on fire in Khargone Madhya Pradesh, during clashes between members of a Ram Navami procession and locals in Khargone Madhya Pradesh. More than two dozen people, including Superintendent of Police (SP) Siddharth Choudhary, were injured on Sunday, resulting in curfew provisions, said Indian Express.
The stone pelting and ensuing clashes started near Talab Chowk mosque in the evening when some people opposed the provocative songs being played during the procession. District Collector Anugraha P said the clash led to more conflicts in Qazipura and other parts of the city. Like in other states, vehicles were set on fire. Communal violence was also reported in communally sensitive Sedhwa block of adjoining Barwani district.
TMC joins Ram Navami rallies
In West Bengal, a political conflict flared up between the ruling Trinamool Congress (TMC) and the Bharatiya Janata Party (BJP) on Ram Navami. Although the state government issued prohibitory orders on arms in Ram Navami rallies, people at rallies of both parties were seen brandishing swords, reported The Telegraph.
In Barrackpore subdivision of North 24-Parganas at least two Ram Navami rallies had devotees showing their weapons and chanting "Jai Shri Ram". TMC members stood with VHP members and local clubs in organising such rallies.
The result could be seen in Shibpur in Howrah city where VHP made a purported provocative speech. According to Indian Express, the police said they were unable to stop this. As such, locals and rally members here too engaged in stone pelting near Panchsheel Apartments in the evening. Despite growing tension, the rally marched on towards Mullick Fatak and Fazir Bazar, injuring police and civilians alike.
Further, the Telegraph said Arya Samaj's Bhatpara rally crossing to Bhatpara reported around 100 youths armed with swords and daggers. The Mahavir Jayanti committee headed by Jaggaddal Trinamul MLA Somnath Shyam organised it, said the newspaper. It is noteworthy that Bhatpara is a communally sensitive area that has seen clashes in the recent past.
Attack on JNU students in Delhi
Although Lord Ram's birth has little to do with non-vegetarian food, the Jawaharlal Nehru University Teachers Union (JNUTA) reported and condemned how on Sunday a group of right-wing students allegedly attacked mess workers for serving non-vegetarian food in the Kaveri hostel. During dinner time, the group of students assaulted the mess Secretary and staff and then subsequently other residents of the hostel. The unarmed were also injured in an incident of stone pelting.
"The JNUTA… expresses its outrage at any effort to impose the food preferences of any group over others. The use of violence as a means of punishing difference has no place within a university community," said President Bishnupriya Dutt.
Dutt demanded that the JNU Vice Chancellor and her team, as well as the security forces, personally intervene in the matter to end the violence and to reaffirm the principles of pluralism and celebration of difference that this university stands for. JNU has been in the crosshairs of various right-wing extremists groups due to its vibrant student body being at the forefront of several key protests related to fees and university regulations, to Afzal Guru's hanging in 2017 and participation by their students in protests against the Citizenship Amendment Act (CAA). JNU alumni like Dr. Umar Khalid and Kanhaiya Singh are still seen as a thorn in the side by the regime.
Related:
Sheath the swords, while there is still time!
Rajasthan: All you need to know about the Karauli violence
Bajrang Muni Das openly threatens Muslim women with sexual assault
Right-wing's dangerous obsession with mosques and dargahs peaks during Ramzan
Gujarat: Antarashtriya Hindu Parishad is stage for anti-Muslim abuse, trident distribution
Teesta Setalvad is NOT making any movie titled "The Gujarat Files": CJP to YouTube news channels
Bajrang Muni Das openly threatens Muslim women with sexual assault
'What will it take for the Biden administration to call out Modi's regime for human rights violations?': US lawmaker, Ilhan Omar